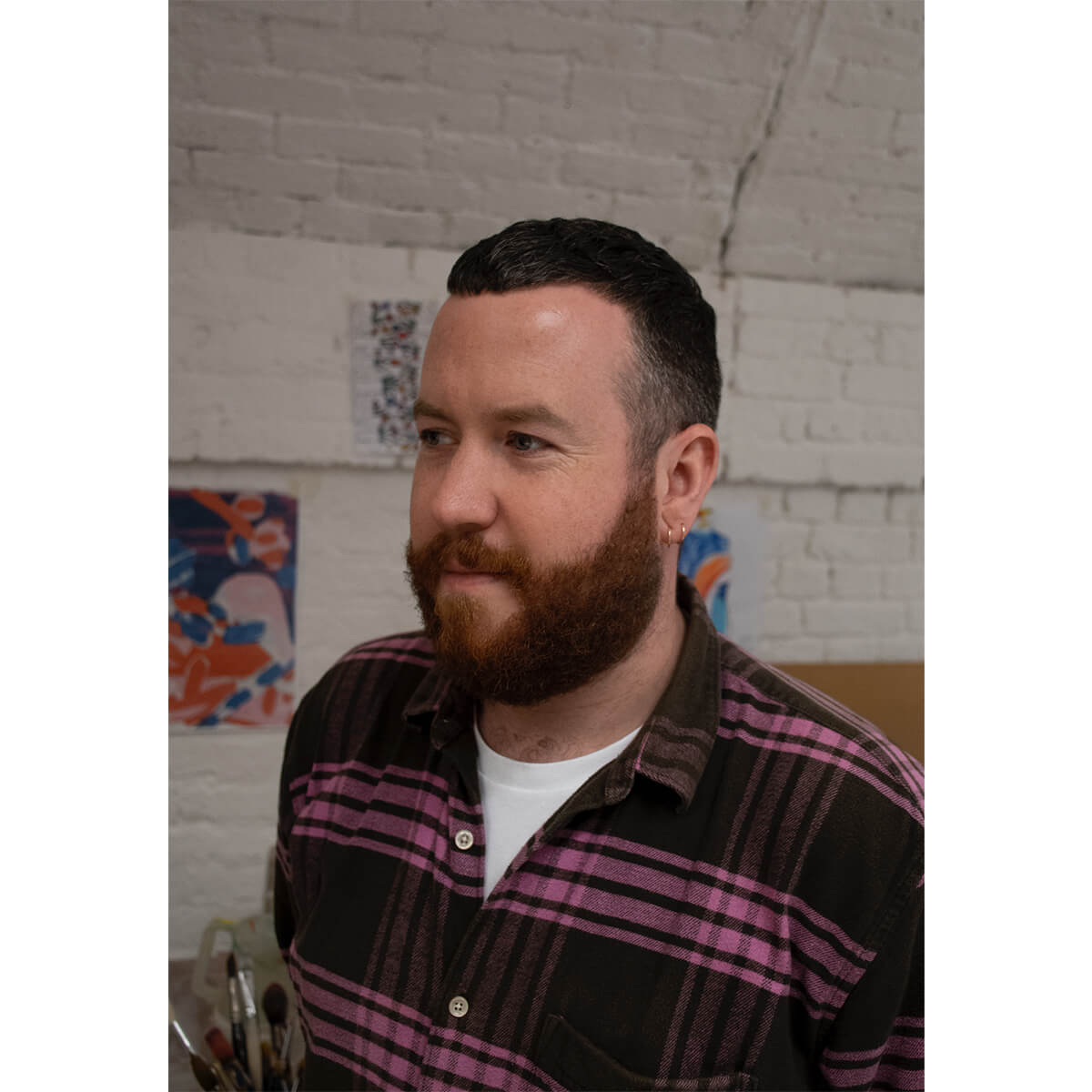 It's one thing to be a highly sought after name in the art world. But when Silvia Venturini Fendi calls upon you to turn your hand to Fendi menswear staples – you know you're good. Living in London, by way of Scotland, John Booth is an artist of many talents, with his foot firmly in the door of some of your favourite fashion houses.
Most recognisable by his illustration and delicate ceramic work, Booth has lent his joyous, pastel-hued illustrations to the designs of Paul Smith, Christopher Shannon, Lou Dalton and of course Fendi. "When working on paper, there are very few limitations" he explains over email. "But when working with wood, ceramics or printing textiles, there are actual technical implications and limitations, which are fun to discover along the way".
The aforementioned Fendi collab saw bags, wallets, t-shirts and even the brand's dedicated section at Harrods, stamped with Booth's naive line–portraits. His approach to working with luxury brands doesn't shy too far away from his own practice. Working in a fashion environment has allowed the artist to "have a laugh" through meeting new people, the best medicine he says in getting the clogs turning to create new, exciting ideas.
Booth studied fashion print at Central Saint Martins, where he later went on to lecture at the school. It was during his studies where he was encouraged to always put his pencil to paper as a starting point for any creative endeavour. "Hand drawing was drummed into me at Central Saint Martins, so now every single collaboration or piece of work I create starts with a drawing," he says. Booth's work is painterly impasto, bursting with tantalising colour, and in a way, an antithesis of overt opulence that suffocates the luxury fashion industry. A little studio underneath a railway track in Dalston is where he works. There, he has mastered his craft, where bold colour combinations and signature cartoon portraits have become key ingredients of the artist's oeuvre.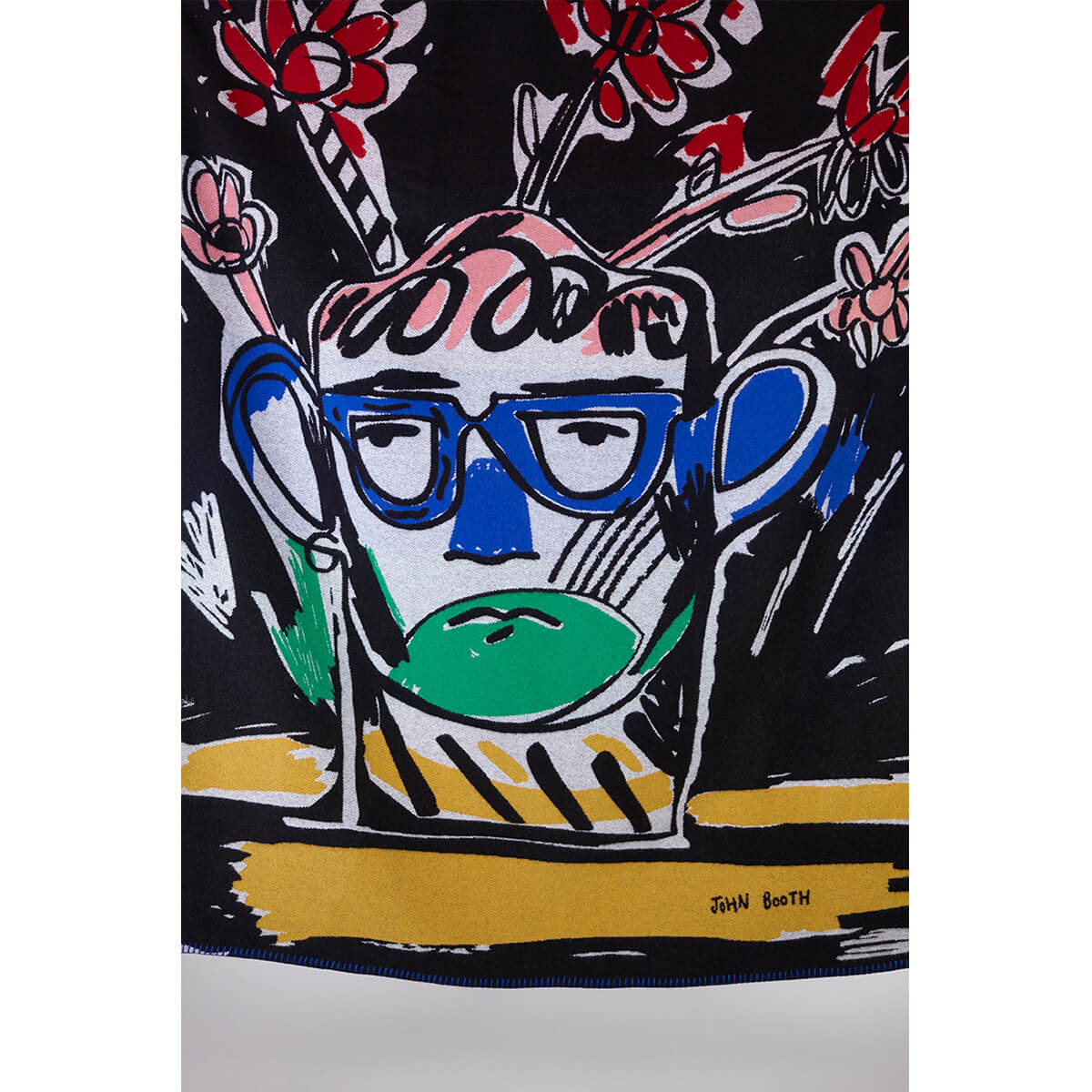 Keeping his foot on the pedal, the artist has now collaborated with Begg & Co for the second time round, on a capsule collection of blankets and scarfs. "I worked up at the mill with the other designers at the Begg & Co mill, and we looked at the different qualities the mill can weave," he says of the sophomore collaboration with the brand. "The patterns are based on the honesty and simplicity of brushstrokes and observation drawings of my ceramic works".
His first collaboration for the brand was an array of lightweight printed scarfs derived from six collages the artist had created prior. This time around, his paintings were lifted straight off the page, into heavy blankets and scarfs – where he was introduced to the technical aspects of how "patterns and colours are woven into fabrics, rather than being printed or knitted".
Whether it be painting, sketching a portrait or graphitising a £700+ handbag, Booth's illustrations carry high emotional value for the artist. "My illustration work is very personal and important to me" he admits, "it allows me to express my ideas of objects and things that I might not even know how to make, but at least I can draw it". Booth's creations, in whatever medium, are an escape from the grey. A much needed holiday from brutalist or graphic modern art. The artist sites a certain David Hockney quote which has shaped his own ethos… "I don't mind boring you, but I don't want to bore myself". Homogeneity is a dangerous game, and John Booth doesn't plan on playing it anytime soon.
John Booth's capsule collection for Begg & Co will be available exclusively at Selfridges London from April 1st 2019.