Would you look at that? It's that time of year again where we reveal the group of talented designers who've been chosen to take part in next year's International Woolmark Prize.
As with every year, Aussie wool experts Woolmark have tasked seven finalists, picked from hundreds of applicants, to create a mini-capsule collection made using Marino wool. If you're not up to date, the Woolmark Prize has been running since 1953, with Karl Lagerfeld and Yves Saint Laurent crowned its first-ever winners. This year, the recipient of the International Woolmark Prize will win a whopping AU$200,00, while a second finalist will take home the Karl Lagerfeld Award for Innovation and a pretty delicious AU$100,000.
Who's in the running this year, then? Representing London is the brilliant Ahluwalia, who is joined alongside sportswear maven Saul Nash. Also making the finale is New York success story Peter Do, rising Parisian label Egonlab, South African duo Mmusomaxwell, lingerie-inspired Chinese brand Rui and Australia's very own, Jordan Dalah.
This year, each brand will create a collection around the theme of 'Play', "a true celebration of forward-thinking design and innovation", as described in a press release. Following in the footsteps of York-based designer Matty Bovan, who quite impressively bagged both awards this year, the finalists will each create a collection that remains true to their design DNA, presented in April 2022.
Here, we caught up with the seven talents to ask: what's so wonderful about working with wool?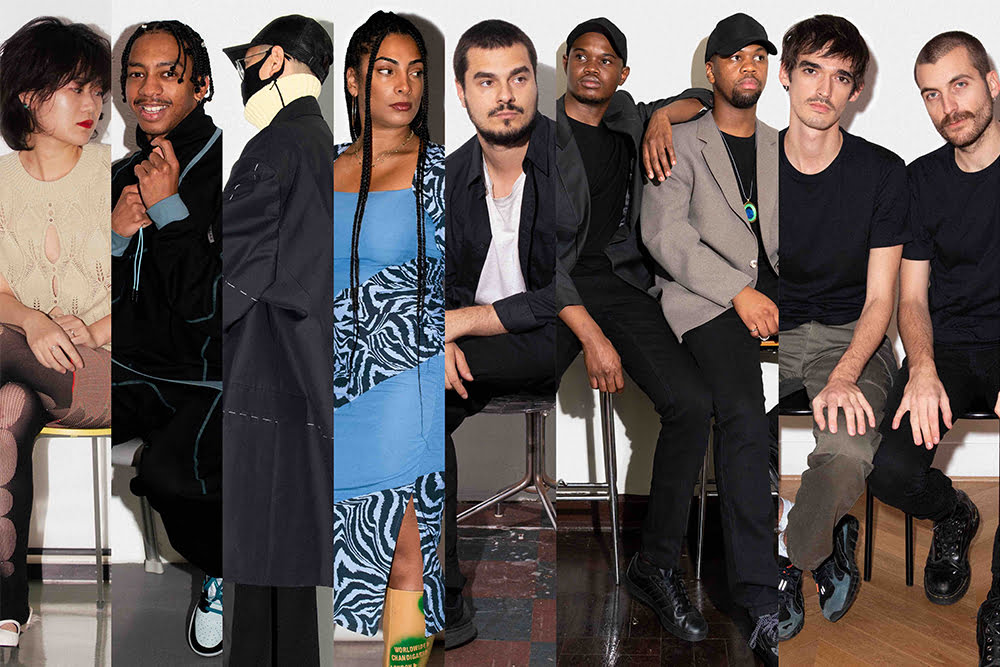 Ahluwalia, United Kingdom
"Wool is such a versatile material with so many interesting qualities, such as sweat-wicking or insulation. I think this prize is a great opportunity to show the versatility of wool, you could do a whole collection in wool and there would be so many different weights, textures and structures."
Egonlab, France
"Wool is at the heart of our tailored urban-punk wardrobe. We like to use this raw material for its eco-responsible aspect, its innate versatility and its technical properties. Now, thanks to the Woolmark Company teams, we are learning a lot about the whole process of wool production and innovation. Wool is a real chameleon allowing us to push the boundaries of our creativity. For the International Woolmark Prize, we will aim to challenge the wool from several angles. This is a very exciting project for us and we cannot wait to unveil the concept."
Jordan Dalah, Australia
"Wool, unlike a lot of other fabrics, is forgiving, easy to manipulate and a pleasure to sew. I always start designing with quick silhouette based sketches. Whenever I choose to use wool as the fabric that will inform a design, I know that the outcome is always going to look similar or better than the drawing or the toile development. Unlike silk, which has a mind of its own and really needs to be sewn by the hands of a seasoned machinist. Wool adapts to my level of sewing and for this reason, I am always drawn to it. I find that When I work with wool, it's more or less always the perfect drape or thickness for the garment it is being used for, without needing to use fusings or interfacings. All these things make such a difference for designers tasked with having to develop a collection from start to finish."
Mmusomaxwell, South Africa
"The versatility of wool is what makes it such an interesting fibre to work with. Its properties and characteristics allow us to effortlessly utilise and integrate it across different items or styles throughout the collection."
Peter Do, USA
"It's a material that's really dynamic because wool can be used in so many different ways. For what we do best in the context of tailoring, we can really rely on wool for its structural properties. Our approach to materials is so intensive so this is an incredible opportunity to really dive deep and experiment."
Rui, China
"Compared to other materials, wool has a smart structure and is a dependable medium for use in especially autumn/winter collections. As one of the natural fibres, wool also overlaps with the belief we hold – the nature or essence of things."
Saul Nash, United Kingdom
"What's really exciting for me about embarking on this journey is that wool's a fairly new fabric for me to work with in-depth – over the past few seasons, we've focused in other places as we've established the Saul Nash language. I'm discovering, already, that you can almost achieve the same effects as some of our core house fabrics – in a more sustainable, focused way – without compromising aesthetic. The education, already, around what wool can 'do' has been mind-blowing."
The International Woolmark Prize takes place April 2022.