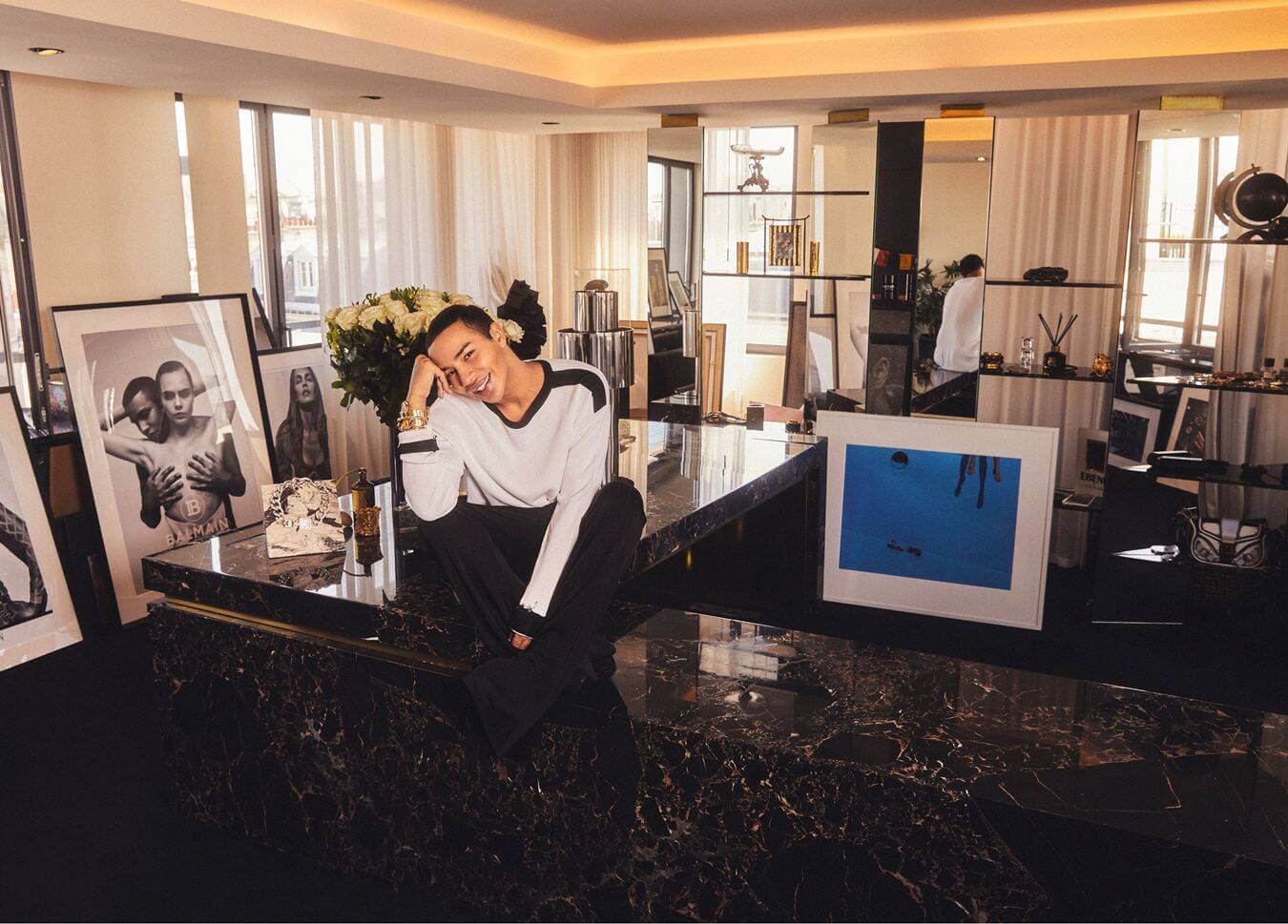 If the eyes are the window to the soul, the desk, you could say, is the pathway into the mind of the creative. Being the nosy bunch we are, we asked a group of our favourite designers, PRs and friends in fashion to let us inside their offices to see how they work. Expect pristine desks from the finest vintage dealers, the best stationary about, and of course, the occasional bit of clutter. Fashion folk are only human, after all…Today we step into the office of Balmain creative director, Olivier Rousteing. 
10: Where did you buy your desk?
OR: "My desk is made-to-measure marble from outside of Paris by an incredible artist who only works with marble from all around the world. They also worked on all the furniture in my house. For those who know me, I'm obsessed with marble. It's my favourite texture."
10: Do you like a tidy desk or a messy one?
OR: "I love a tidy desk, but it's often messy. I am the kind of person who has a hard time throwing things away from the past. I am really sentimental with objects and gifts, so I always love to have them around me. And there becomes the mess… I need to be tough on myself many times a month."
10: What's the most sentimental thing you have on it?
OR: "Most sentimental are my candles. I can't sketch without the smell and light of the candle. It reassures me and helps me create my own bubble where I get more creative and calmer. My Bang & Olufsen [headphones are] also really sentimental; they follow me everywhere and I can't sketch without music. Music is my life as much as fashion is. The sound, the music, helps me to sketch and escape. Every collection I have done has its own soundtrack."
10: What's the proudest thing you've created while sitting at your desk?
OR: "One of the things I created that I am the proudest of is my Renaissance couture with Beyoncé. I sketched the entire couture [collection while] listening to her album and being in conversation with her to exchange and create one of the most memorable collections I have ever done. Sketching days and nights on my desk and dreaming of this collection for months. In the end, my office is where the magic starts, where my dreams start. I would say if there is one sentence that defines my desk, it will be: the sky is the limit, everything is possible."
Photography courtesy of Balmain. Keep your eyes peeled for more inductees to our Me and My Desk series. Taken from Issue 58 of 10 Men – ELEGANCE, GRACE, BEAUTY – out NOW. Purchase here.