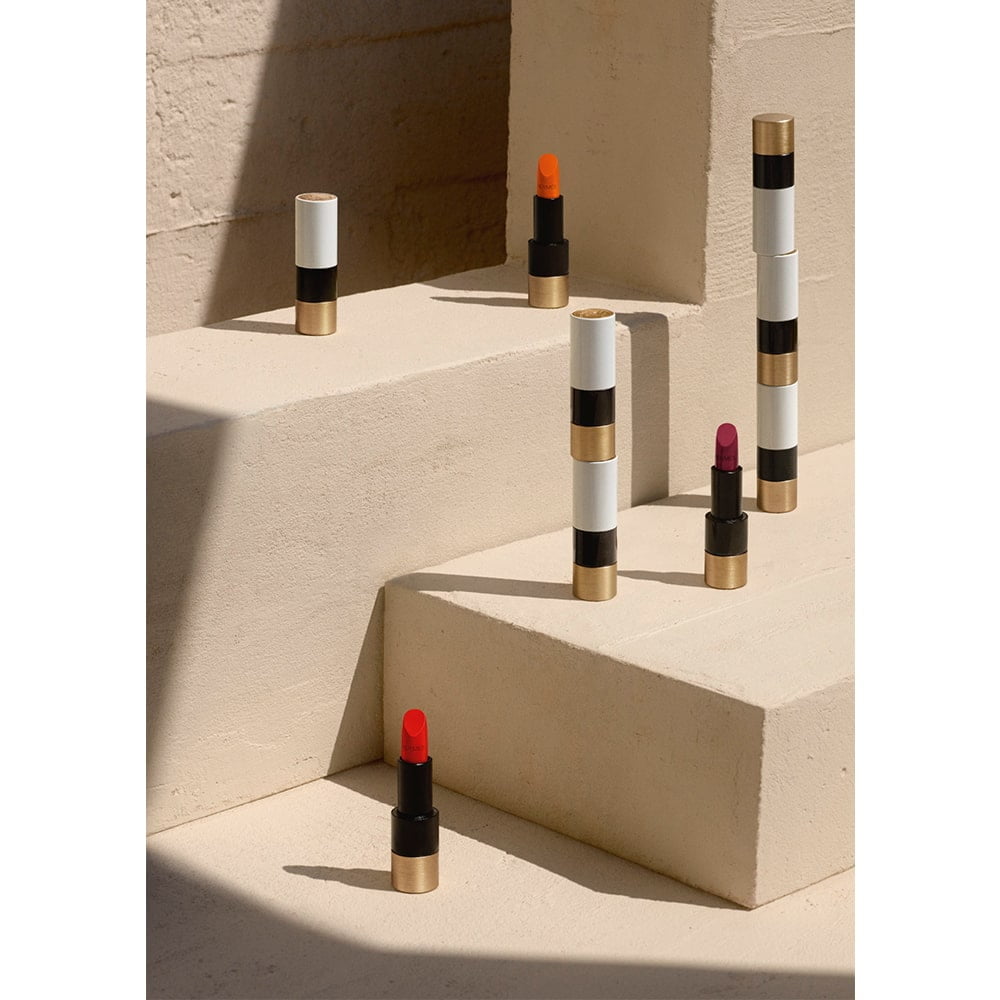 We're leaving all the beauty YouTube drama behind – it's time for the next wave of fashion designers heading into make-up. Miuccia Prada has already announced her break into the category after signing a licence deal with L'Oréal in December, and now it's Hermès' turn to turn their own vernacular of luxury into maquillage. Yesterday marked the global debut of Rouge Hermès, as the brand's new beauty range kickstarted with an extensive selection of lippies. Here's 10 things you need to know about the line:
1. Hermès Beauty is the brand's 16th métier, which is French for craft. As a house founded in 1837, they have already established their skills in making luggage, ready-to-wear, silk scarves, watches… "We approach this new métier in our own way, and with a great deal of pleasure. Hermès Beauty is part of who we are: a house where everything comes from creation, driven by artisans who seek to accompany the men and women of today with elegance, and with the integrity and authenticity that we represent. It is the quintessence of our affection for surprise and wonder, which embraces the object, its design, and the desire to be useful while inspiring dreams," said Axel Dumas, the brand's CEO.
2. The initiative for the beauty range began over five years ago, under the direction of Agnès de Villers, the CEO of Hermès Perfume & Beauty, and in partnership with the artistic director of the house Pierre-Alexis Dumas.
3. In addition to de Villers and Dumas, a whole army of Hermès' creative team worked on the final product. Pierre Hardy, creative director of Hermès jewellery and shoes, designed the actual packaging, while Bali Barret, artistic director of the women's universe and creative director of women's silk, contributed with her vision of femininity and colour. Jérôme Touron, the new creative director of Hermès Beauty, transformed this group effort into the form of make-up. Finally, Christine Nagel, Director of Hermès' olfactory collection, gave this collection its scent.
4. The first products to be released as part of this new line are Rouge Hermès, 24 shades of high-pigmented lipsticks in a mix of matte and satin finishes. Their colours were borrowed from the Hermès' extensive library of silks, with the infinite richness of its colour references (75,000 shades), and leathers (900 shades). "Like a silk scarf gracing a woman's neck that creates radiance and reveals her beauty, for Hermès Beauty we wanted to discover or rediscover the emotion of colour as a fundamental feminine trait," explains Barret.
5. The core line, which will grow seasonally, is accompanied by twice-yearly limited edition of three colours. The original trio includes Rouge H, a deep red inspired by scarlet-hued leather, an intense hue of intense tomato red named Rouge Casaque, and Boîte Orange, matching the brand's signature packaging shade. All of them come also come in multi-coloured cases crafted in unique colourways, distinguishable from the main collection.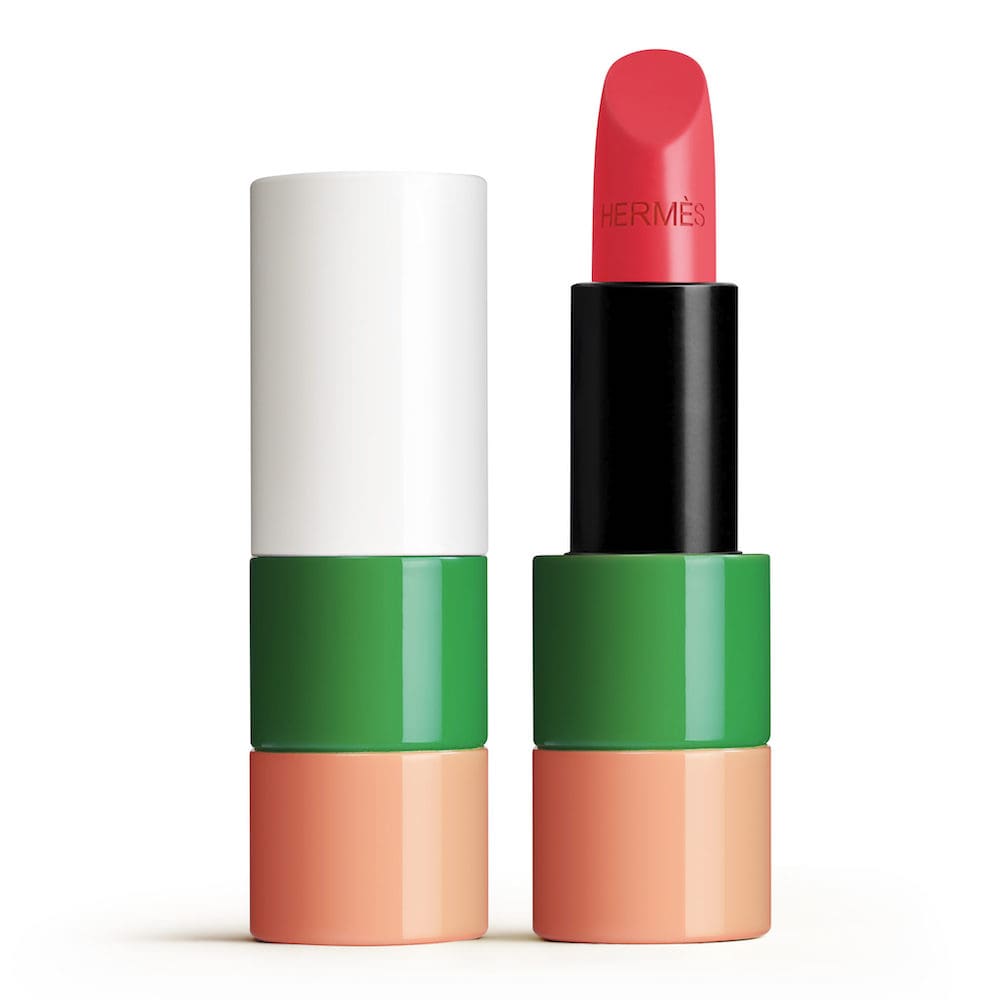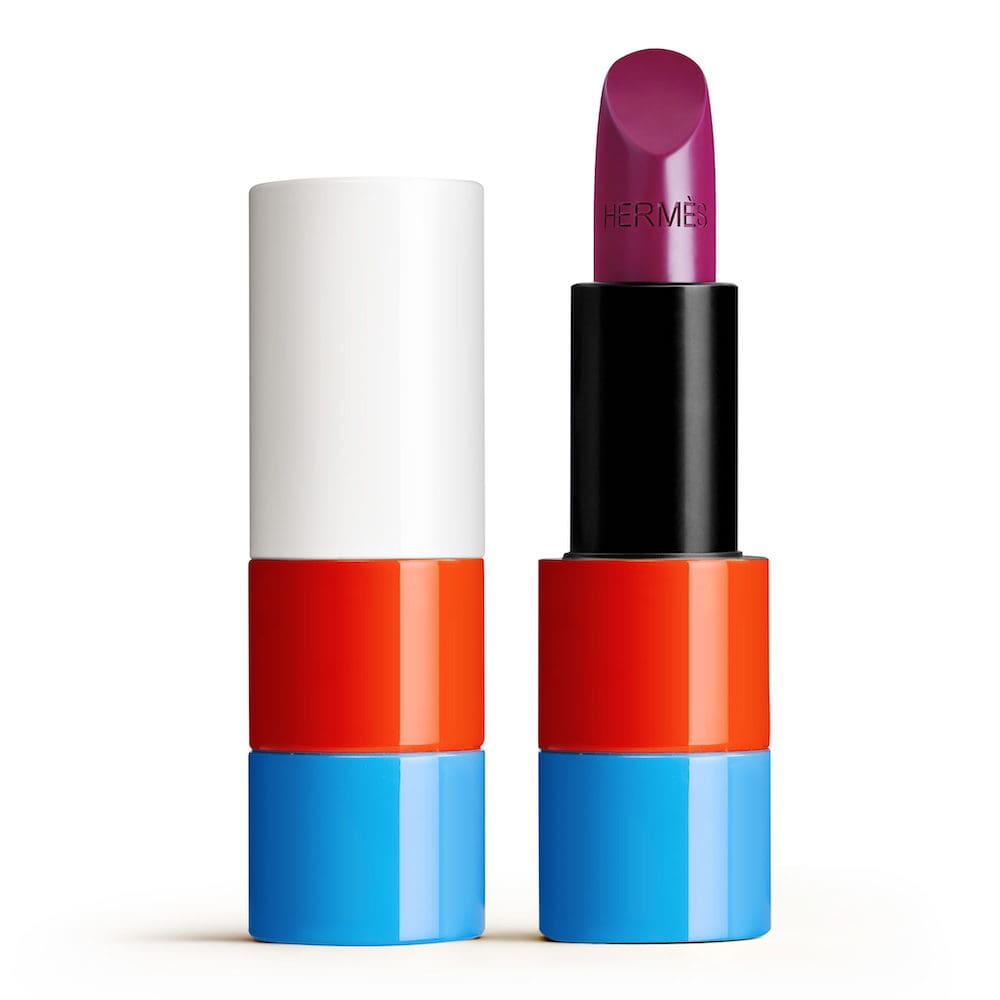 6. As well as the lipsticks, the debut also includes a colourless lip balm, Poppy lip shine, a universal lip pencil and a lip brush in lacquered wood. There's also a collection of leather accessories – cases and a moon mirror – which complete the lifestyle of applying Hermès Beauty.

7. Despite the product itself being at the top of its game, it's the packaging that stands out from anything else on the market. Designed by Monsieur Hardy, the lipstick units are created from luxe noble materials – lacquered, brushed and polished metal in black, white or permabrass gold. All of the lipsticks are also re-fillable and made to last as beautiful objects of luxury. Their creator, Pierre Hardy says how he loves "the simplicity of pure shapes that colours have the ability to animate. Intuitively, to become timeless, this object had to be able to morph, remain iconic, but stay fluid, be part of a connected sequence, and perpetually recognisable. A constant yet ever-changing object."
8. The attention to detail is expectedly unreal – cultivating the multi-sensory appeal of Hermès Beauty, all of the products come packaged in miniature versions of the famous orange box.
9. The range will be enhanced with other objects, which will be revealed every six months starting with September 2020, until a complete line of make-up is created.
10. Don't get too ahead of yourself though – this debut collection of Hermès Beauty is not launching until March 4th, when it will hit the shelves via a selection of the brand's stores and retail outlets in 35 countries. Set those alarms early and meet you in the queue!
Hermès Beauty will be available from March 4th in selected Hermès stores and retail outlets in 35 countries.