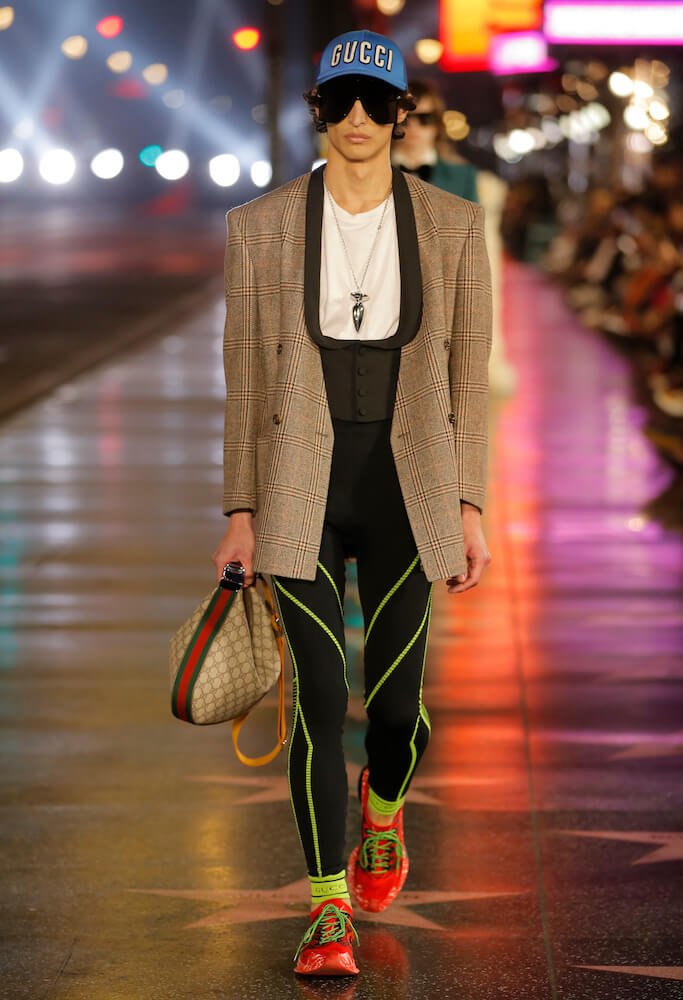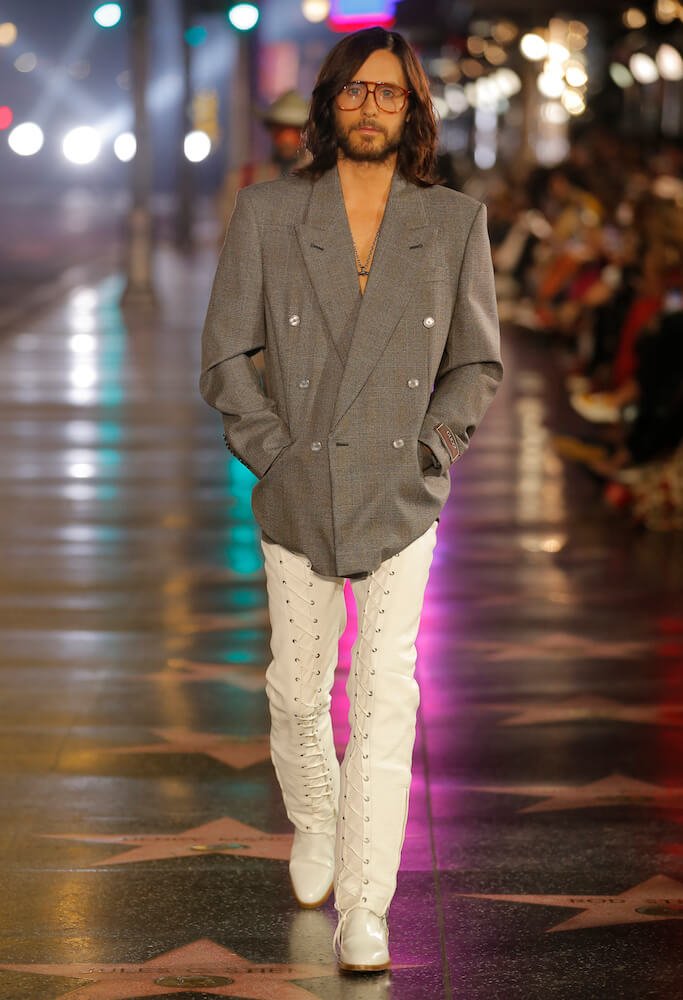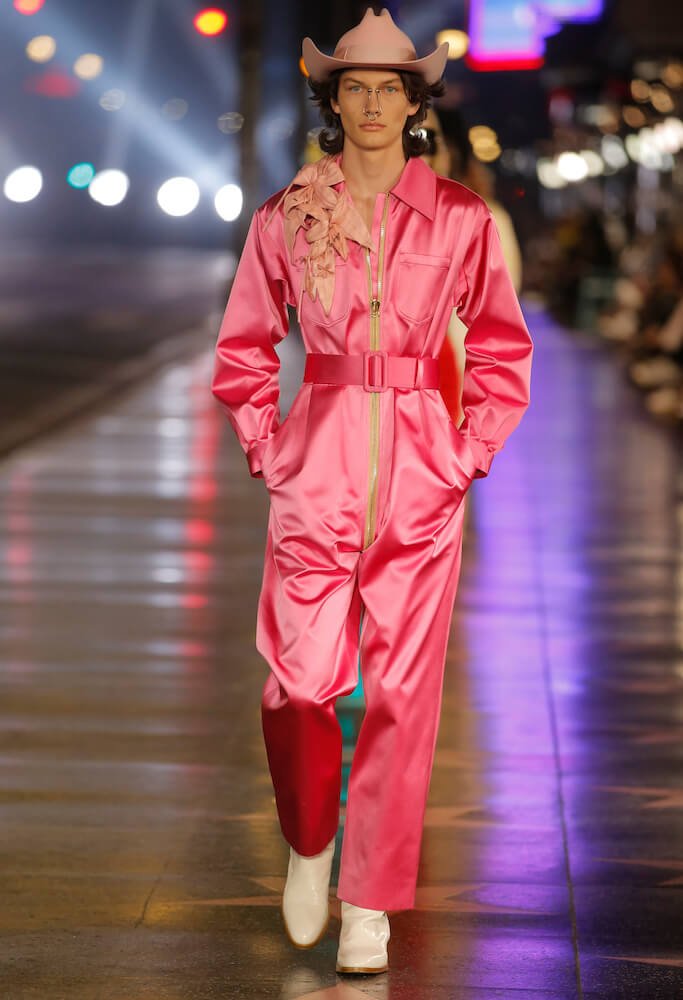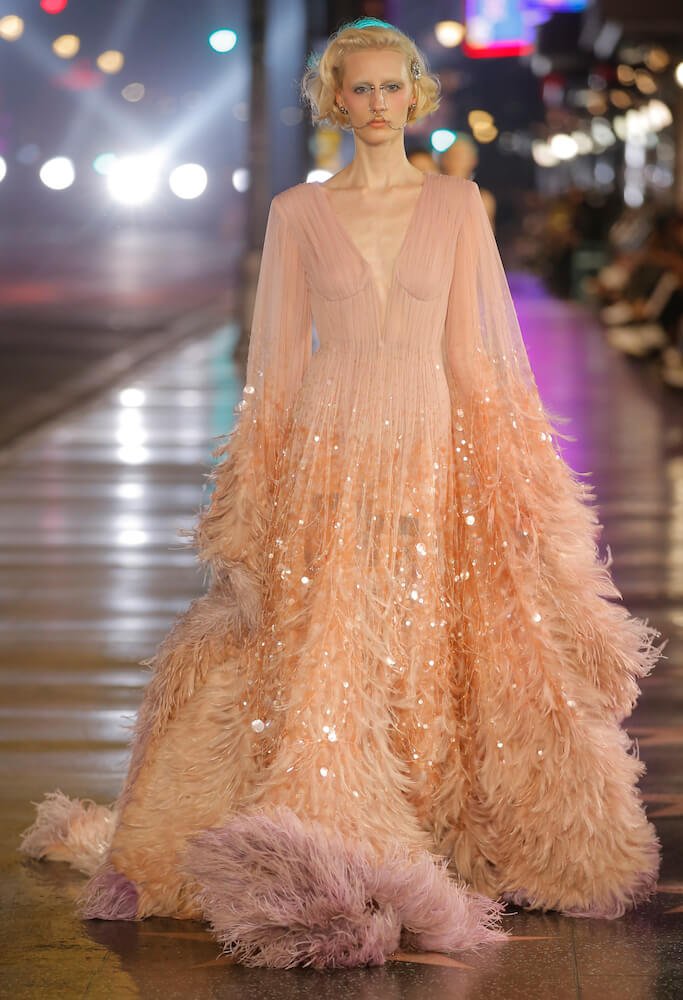 We've been waiting for this one. The wonderful world of Alessandro Michele's Gucci hit Hollywood with suitably cinematic flair. "The idea of coming here was something I've been deciding on for a long period of time there was no better opportunity to do it than starting shows [again] in person," Michele said backstage. "It is a huge, great, immense feeling for me." Us, too. Shutting down Hollywood Boulevard is one mean feat, and how surreal it felt to walk down the empty street under circling spotlights and the El Capitan theatre lit up with GUCCI LOVE PARADE flashing. Hearts were beating, hard and fast, and Billie Eilish, Lizzo, Mark Ronson, Diane Keaton and Tyler the Creator (and many more) were in the crowd. A thunderous booming, and then the cinematic strings of Björk's "Bachelorette" vibrated through the street as the Gucci gang descended onto Hollywood Boulevard from inside the Chinese Theatre. 
This was Michele's sweet spot: his love for Hollywood is inspired by his mother's work in the film industry as an assistant in a production company. "I remember all the stories she told me, and the details and the sparkles, about that dream factory," he wrote. The words Hollywood lured him in, "nine letters dripping with desire". We know that feeling. 
With Hollywood on his mind, this was a collection created for complete freedom and individuality. Michele does love to give us a chance to dress up and, most importantly, dream. It was also a chance for the House to give back. As part of the show, Gucci has donated $1 million in grants to local organisations, which will provide significant support to the city's most crucial needs: homelessness and mental health. 
The Gucci crew, which included Jared Leto, Phoebe Bridgers, Steve Lacy and Macaulay Culkin, sailed down the Walk of Fame. Dresses shined metallic, liquid gold swirling, suits came sharp or slouchy, and old Hollywood glamour come through with red-carpet-ready gowns, complete with feather boas and long gloves. Björk was the perfect soundtrack here, the filtered breakbeats of "Joga" cutting the air and the epic wailing of "All Is Full of Love" oscillating, as feathers bounced on cuffs and hems and dresses trailed dramatically. "Björk is an artist who speaks a contemporary language – it's for everybody. She uses poetic words and love," Michele said backstage. 
It was all about love. A total Love Parade, inspired by the love for his mother and her legacy, his love for film and his love for the city. It was, as he wrote in his letter, "a parade of enchanted and deeply free beings that go across a land where neither past nor future reside: only the miracle of the imaginative flair." Miracles happen with Gucci.
Photography courtesy of Gucci.