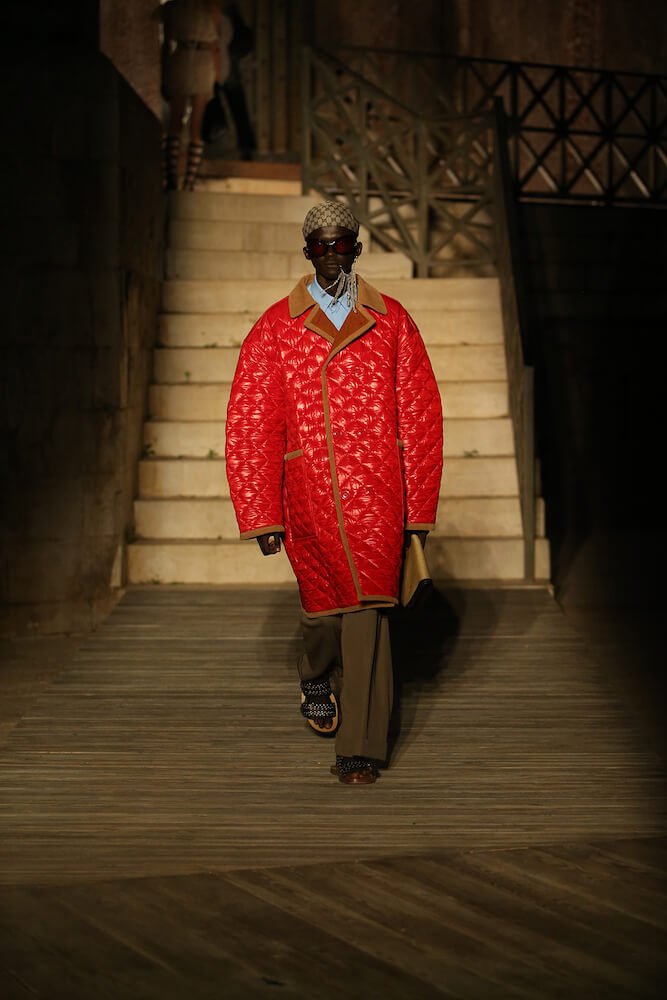 "I was thinking about throwing a rave in a place that's full of meaning," Alessandro Michele said on the afternoon of his Gucci Cosmogonie show, which took place at the Castel del Monte in Puglia built by Frederick II in the 13th century. Timed – by the mystery of fate – with a lunar eclipse, he based the collection on constellations: "I chose this place because, for me, it's a star between the Earth and the sky. It's a magical place, like fashion. The power of clothes and the things we put on our body is still a mystery. Being a fashion designer is very mysterious. It's a ride that's impossible to translate. There are things, objects, images that come to you… We didn't know it would be a lunar eclipse tonight, but that's proof that something magical is going on."
True to his word, Michele's models circled their way around the castle in clothes that transcended time and space. But the constellations he drew with the collection had a particularly regal sensibility in common: deep blue velvet gowns, faux ermine details, pearl chokers, Renaissance ruffs worn as contemporary scarves. "Gucci invented their things during a period of movies and show business and jet set, but they didn't make their suitcases for a king. They had this conversation with all kinds of people. That's what I'm doing now: I'm trying to translate what I'm living, what I'm eating, what I'm raving," he said. It made for Michele's most irreverently royal collection to date – an anarchic opulence for a new age.
"I'm just using the past to glorify the present. I'm like a fire starter. If you have wood you know you can make a fire. But that doesn't mean you only care about the wood," he said. The stars were out tonight, in so many ways. Every guest was gifted a star on the galaxy, which will carry their name forever after, and the circular row was studded with stars including Paul Mescal, Elle Fanning and Måneskin. But the biggest star of them all was Michele himself: a man who continuously lets his feelings guide him; who told press he goes to work every morning feeling guilty he gets to live a life of beautiful fabrics and colours when there's a war going on not far from here. But, he reflected, "In this moment, my mission is to keep life up. We need to glorify life. Fashion is about that."
Photography courtesy of Gucci.