This is 2019. Being a model isn't just about looking your finest in images and having the best hip sway on the catwalk. Boys and girls who front campaigns are using their public platforms to make a change in the industry and the world as a whole. That's why we decided to spotlight some of the trailblazers in the modelling world. First up, our Alaïa girl from Issue 2 of 10+, it's Genevieve Welsh with Inn Town.
From castings to shoots, models spend the majority of their time in motion. At the end of the day, being able to unwind and fall into a good night's sleep is top priority. While a lot of progress has been made in making sure models are receiving the support necessary to maintain good physical and mental health, many still find themselves dealing with precarious living arrangements. Seeing the need for secure housing that would provide a sense of relief to a fast-paced modelling career, model Genevieve Louise Welsh created Inn Town. Founded in 2016, the collective of apartments and studio spaces in London are reserved exclusively for models and creatives, offering housing that is both safe and affordable for when they travel to town for work.
Welsh is an Australian model and creative who splits her time between London and Paris. Having traveled to work with luxury houses such as McQueen and Mulberry and magazines including 10, she is acutely aware of the housing difficulties models may face when they touch down in a new city. The traditional model apartment is a set up still very much the go-to when it comes to accommodation. "Model apartments seem like a good deal at first as you don't have to look for a room yourself, you can leave as soon as you need to if you get a job in another country," Welsh explains. "Most of the time the agency will front the cost of the apartment initially and then it will go on the models statement."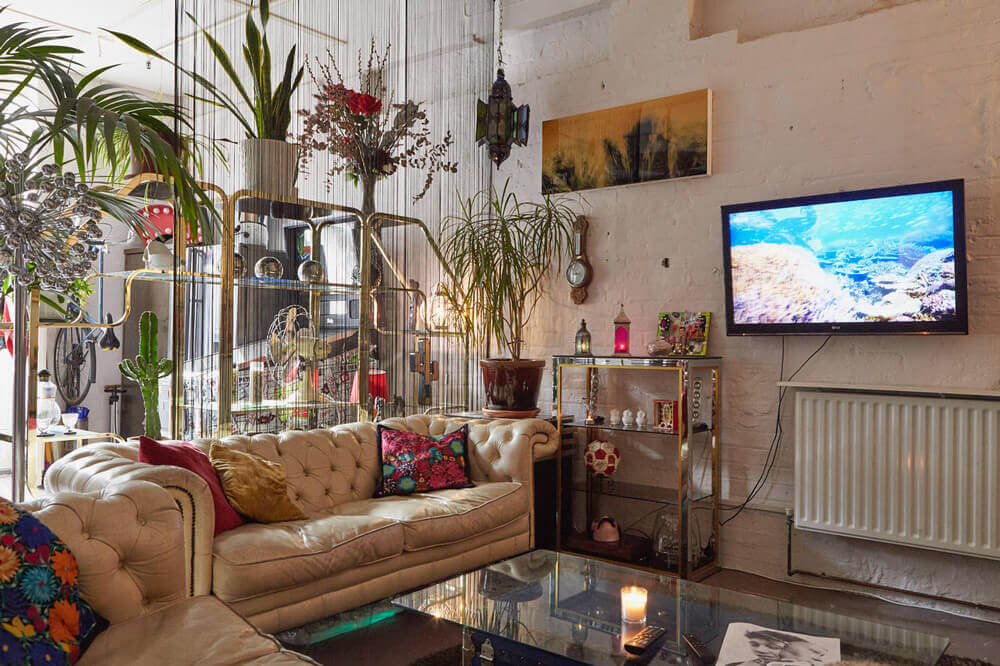 However, in extreme cases these apartments can be overbooked and extremely expensive. Welsh recalls a distinct memory in which she travelled to New York and was given the option to book into a two-room apartment that would ultimately house nine other models. Size aside, the rate quoted was $2400 per month. The model decided to forego the offer and worked with her agent to secure alternative housing but she realised others might not have had the opportunity to do so.
Inn Town offers private rooms in that can be heaven on earth after spending 10+ hours on editorial shoot. "The guest always has their own room in the home as I believe it is really important to have your own room when you're travelling for work. It gives you your own space to shut off and relax when you want to," says Welsh. The rooms also feature a proper bed – not the waterbeds that models and creatives, like hair stylists and makeup artists, may encounter during their travels.
In addition to housing, Inn Town has partnered up with local business that are compiled into a welcome packet that guests received after they have their stay confirmed. City staples, from nail salons to bars, provide discounts while also giving visitors a taste of the local life. To round out the community Welsh is growing, Inn Town has also launched bi-monthly events for models and creatives to have fun and meet others in the industry in the process. The events are open to the public and can really make a difference for those traveling to a new place for the first time. "Often it is young people using this service," says Welsh "and some of the young models are away from home for the first time and are nervous so having a personal touch to the entire service is really important to me as it makes them feel more comfortable and secure." Looking forward, Welsh is looking to continue putting on these events and has considered expanding to provide consulting services as well.
At this time, Inn Town primarily operates in London, although it is expanding to Paris and New York this year.  Ultimately, Welsh would like to have Inn Town accommodation in every fashion capital including Los Angeles and Sydney where models generally stay longer due to the travel distance. After extensive research into available housing and talking amongst people in the fashion industry, Inn Town was birthed. What started off as idea that Welsh kept coming back to now has the potential to change the quality of housing for the better and bring some much appreciated peace of mind (and a temporary sanctuary) to all the people who keep the industry moving.
Keep up with the Inn Town community online and via Instagram.
inntownapartments.com // @genevieve.l.w