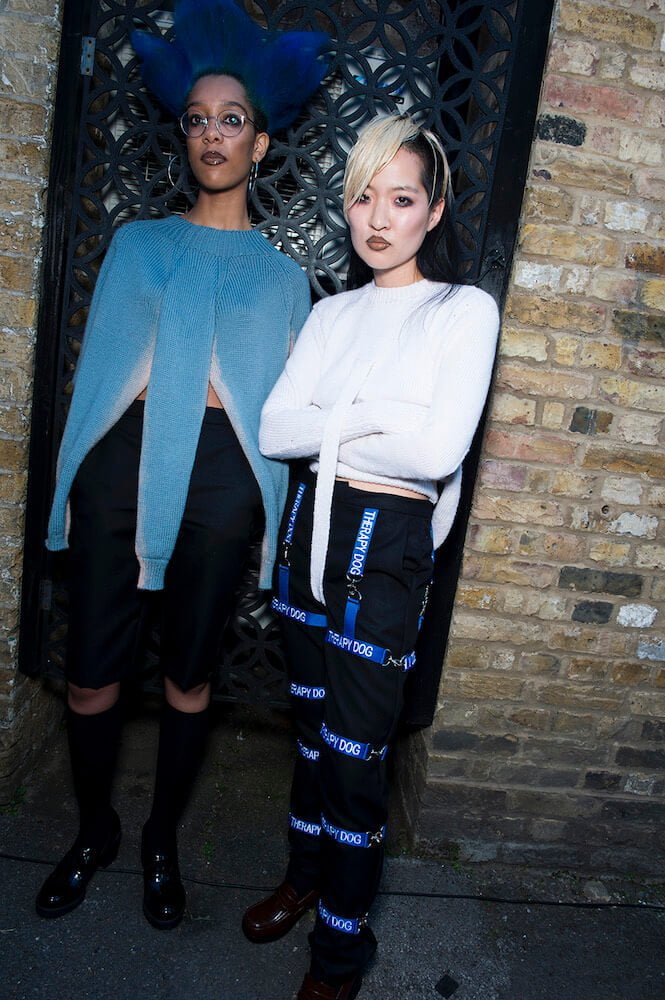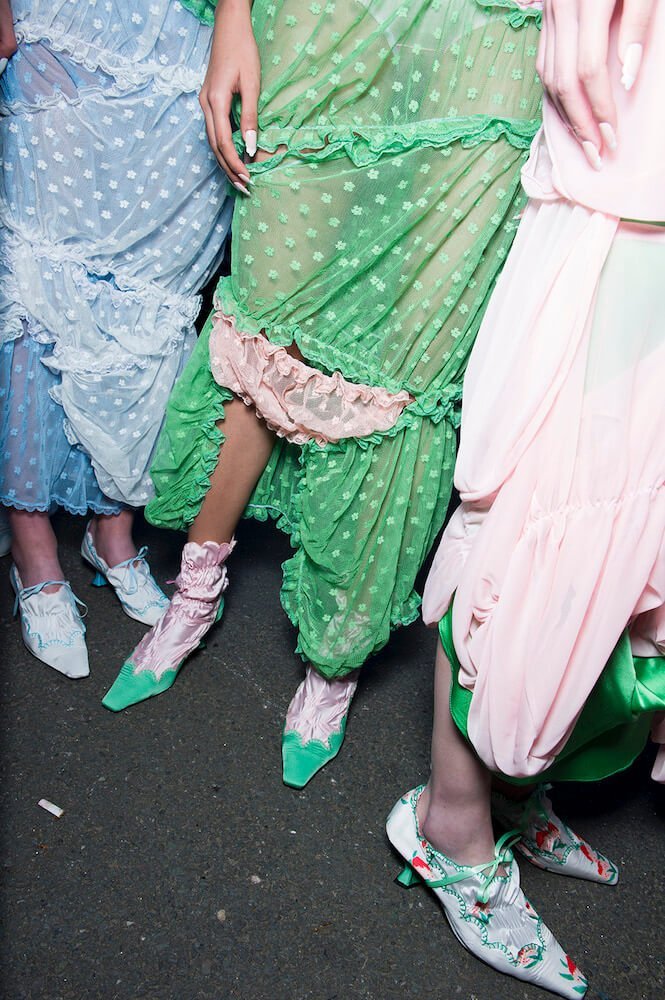 The Fashion East platform has hatched so many of London's fashion stars, that the schedule would be threadbare without it. 19 years on and judging by the number of top level international press buyers and alumni in the audience, this is still the place to see the future now.
Showgoers were greeted by a bank of models wearing shoes and not much else by Ancuta Sarca. The Romanian born designer made her Fashion East debut with an innovative footwear collection which recast up-cycling look as the polished option. Her reclaimed/ remade approach was borne of the dilemma she felt in discarding her old shoes, plus a commitment to a zero waste ethos. This she combined with a perfectionist's attention to craft and a sharp designer's eye for detail. Her appealing kitten heeled mules were sophisticated mash-ups of Nike trainers (found in charity shops or donated by friends) and Nineties Manolos (the elegant kind that Isabella Blow used to trash – because why save your best shoes for best when you can wear them, with pleasure, every day?). Her handmade hybrids are available to buy now at the LN-CC. 
Next up was Gareth Wrighton. A creative powerhouse and author of dystopian fashion fantasies, he rails against the inhumanity of fast fashion with ravaged, savage, hand made pieces. How else to explain the Y-fronts with a hole cut in the back ringed with silver duct tape, Sukeban sailor girl knits or a knitted asylum straight jacket. One jumper came encrusted with girly pastel hair barrettes, an eight armed jumper referenced tentacle porn. Wrighton has the kind of deviant eye that seeks truth where others don't want to look and speaks truth to power. When Benetton produced a striking similar version of his AW19 bucolic landscape jumper, Wrighton responded with his own viral pastiche of a Benetton ad. Touché.
Fashion East closed with Yuhan Wang whose gathered draped dresses rippled over the body. It was a celebration of femininity and the traditionally female craft of lace making and embroidery. Up-cycling – a strong LFW theme – was used for dresses made from lace doilies. Wang, who has a day job at Marni, pulled it all together with romantic panache. She showed her polish.
Photographs by Jason Lloyd-Evans