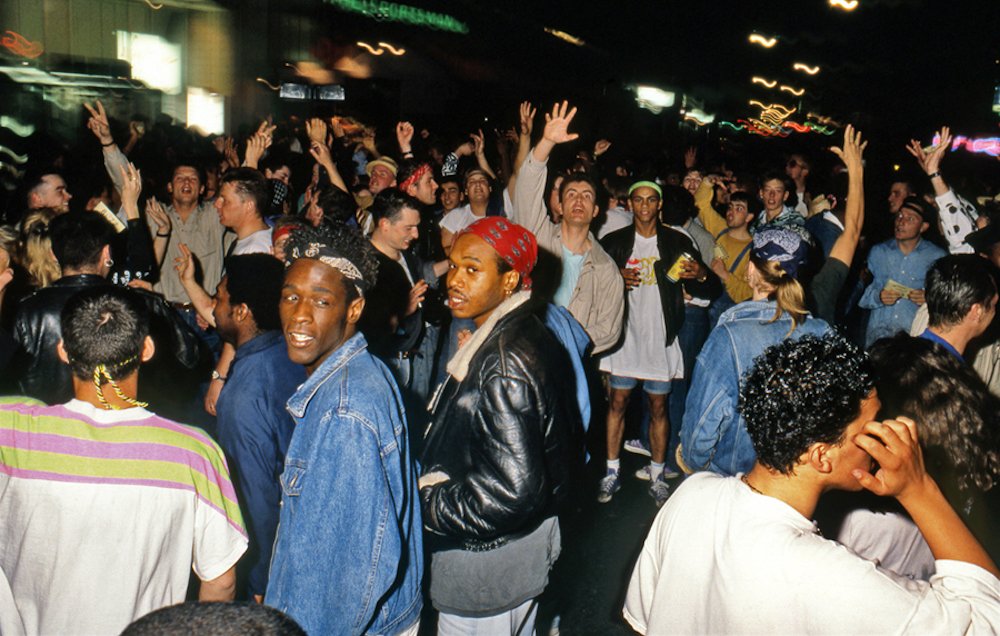 I recently dug deep into my pockets and forked out on a Martine Rose beige trench. A little silly it being so close to Christmas, I know, but the coat is rather brilliant. A girthy collar, deep pockets and double lined to shield me from galeforce winds to come – to say I'm rather pleased with my purchase is an understatement. But as excellently made it may be, what separates the trench from merely looking like a flasher's choice of attire is the rave flyer patches that appliqué the cuff, the back and where the trench sits below the knee.
The latter of which is an archive flyer by Kevin Millins for Rage, the seminal Thursday night party at Heaven nightclub conceived within the second summer of love in 1988. At the peak of the acid house euphoria, the club's dancefloors were mobbed with sweaty hugging teens; doused in technicolored, smiley-face laden, pseudo-hippy fashions. Arms flung frantically in the air, their gurns severe and their eyes wide pools of blackness – Rage was their mecca; a sanctuary equipped with the best music, the perfect atmosphere and a chance to lavish in a few hours of overt hedonism and forget about the dribs and drabs of living within Thatcherite Britain.
Fabio and Grooverider wouldn't join the Rage bill until 1991. Prior to their arrival, the pair preferred to head down to Heaven on a Monday, "this was a house club, a proper house club," confirms Fabio after a clunky beginning to a three-way Whatsapp call. "It was nothing to do with no urban music or anything else, so we never really went to it." Very early on into their DJ careers, an opportunity arose for the pair to man the decks of Rage's upstairs room; an opportunity both wouldn't dream of refusing. "When somebody offers us a chance to play in [Heaven], it doesn't matter where it was, we could have been in the bar, it was just the pinnacle of DJing at that time," remembers Groove. Fabio echoes this: "there was no club like heaven anywhere – it was way ahead of its time."
Heaven gave birth to the superstar DJ persona. To a crowd bubbling with substance-induced high-spirits, DJs like Paul Oakenfold were seen as godly figures – masters of the decks and messiahs in crafting the perfect soundtrack to an unforgettable night out. "There was something about [Paul], he was like a rockstar," says Fabio. The pair's Thursday night gig was a chance to grab a slice of such superstardom, whilst leaving their own, distinct footprint, on an already acclaimed club.
Choosing to go against the grain completely and establish a sound traveling in the opposite direction to the acid house that blared from downstairs, Fabio and Groove took a detour through a melting-pot of genres; each housed under a hardcore umbrella. The pair powered through sets of blistering techno, ferocious, choppy break-beat, and face-melting Jungle and D'n'B. "It was a big deal at the end of the day, there wasn't really people that even looked like us down there," recalls Groove. "We didn't fit the mold, like Ibiza-looking DJs, we were two black kids in baseball hats, we were just two ravers." Fabio continues: "not consciously, but we were flying the flag for so many black DJs that came through after that."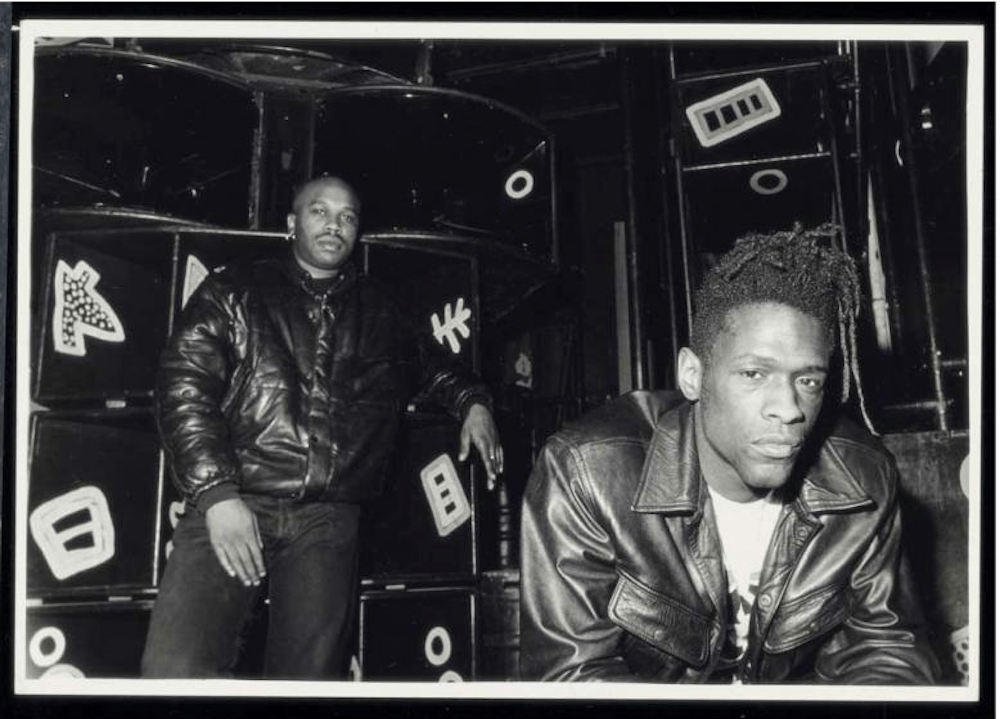 Spaced out club-goers would emerge from Heaven's underbelly to join pockets of Fabio and Groove fanatics in experiencing brand-new London nightlife phenomena. Through what Fabio describes as a strictly "underground and ghetto," sound now blasting from one of London's most prestigious clubs, soon enough Heaven's main room dancefloor would clear out for the new musical horizons emerging in the room above. "We didn't really think we'd ever go downstairs," Fabio explains. "There was a little bit of hate coming from the purists that we didn't play vocals." Yet, despite such tensions, Fabio and Groove made the big move to Heaven's main room – becoming Rage's poster boys in the process.
30 years since its inception, Rage makes its triumphant return under the arches for a one-off spectacular at Heaven this upcoming Sunday. Fabio and Groove kicked off the birthday celebrations back in May with a 32-track compilation. "I don't think we have picked the best songs," Groove confesses. "We just picked a handful of what was going on at that time, we haven't even touched the surface yet." While Fabio adds: "trust me I'm telling you me and Groove didn't even think about it. I think if me and Groove sat dow,n, give it an hour, and us kind of head-scratching, we could do four or five Rage albums."
Sunday's line-up trails off the tongue like a Jungle and D'n'B hall of fame list. The likes of DJ Storm, Kenny Ken, and Jumpin' Jack Frost with Ragga Twins & Five Alive will provide the base-heavy bangers deep into the night – whilst O.G Rage headliners Colin Dale and Trevor Fung lead the main room bill. Fabio and Grooverider will play not once but twice, finding themselves warming things up in the jungle room at 8pm; before closing out the night in the main room with what's going to be a monumental two-hour set of juggernaut house anthems.
What should one expect before returning to Rage? "Well I can tell you what not to expect – current drum and bass," splutters Groove before breaking into an uproaring cackle. Fabio jumps in: "I don't wanna hear anybody coming up to me saying are we gonna play any liquid or do anything like that. If you've never been to Rage before, it is going to be an education."
Return to Rage takes place Sunday December 8th at Heaven Under The Arches, Villiers Street, WC2N 6NG