"Timelessness is very attractive to me," Evan Kinori explains over the phone. Based out of a small studio in San Francisco, California, he wants to create clothing that would have looked good a century ago and that will look good 100 years from now. It's a rather ambitious goal for a brand whose team mainly consists of two – the designer and his mother. And yet, the latest edition from his eponymous label was inducted into the Dover Street Market roster and now sits among the likes of Raf Simons and Wales Bonner. Pay a visit to the brand's site and you'll quickly note quite a few items from the limited collection are sold out. We spoke to the emerging designer who still handwrites the tags on each of his garments about his journey into fashion as a self-described outsider and what innovation in menswear will look like going forward.
The journey into fashion was intuitive, another byproduct of Evan simply following his gut. He wanted to design clothes for himself, so he enrolled into FIDM. Prior to fashion design, there were philosophy studies at SF State. He was also a semi-pro skateboarder.
The influence of skateboarding on his collection is a topic Evan is hesitant to discuss. What was once a sub- or counterculture has now become the basis of mainstream fashion and is used by many as a means of promoting street credibility. For Evan, it is a lifestyle that proved fundamental to his way of thinking, one that he protectively upholds without wearing it on his sleeve. "That sh*t developed my brain and the entire way within I see the world," he says bluntly.
Current hype aside, there is a fundamental truth about skateboarding and its relation to aesthetics. Evan draws parallels between this perfect "marriage" and German designer Dieter Rams' philosophy that was revolved around serving the user while improving their quality of life. "I was interested in product through skateboarding," Evan explains. "In skateboarding, you rely on product not only to look cool but actually to perform."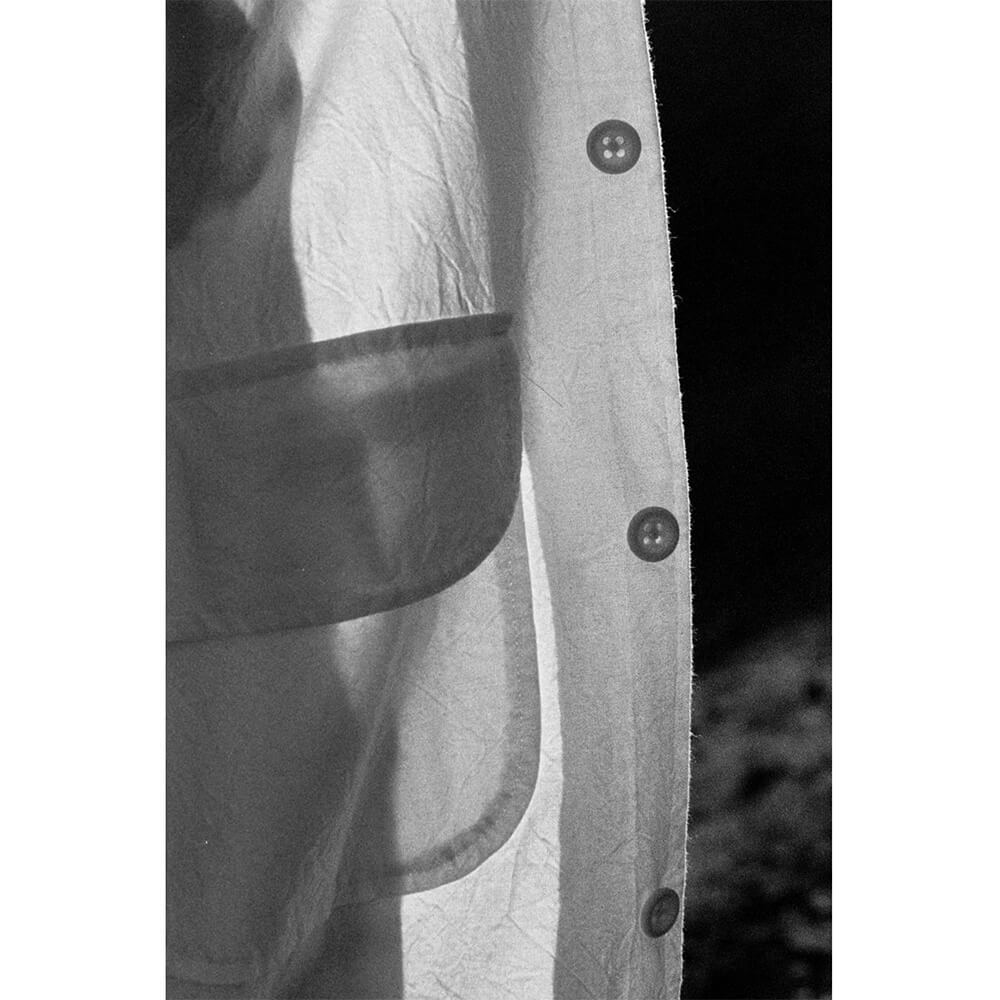 Look at the Evan Kinori line and you'll see how this design ethos translates into his garments. The Three Pocket Jacket constructed from a durable cotton/ twill blend features a "cut-away" curved hem that allows for greater flexibility and motion. Simple black buttons line the jacket, while three pockets, as the name suggests, are strategically placed along the front; there are no embellishments. It is a piece that can be dressed up or down, once that doesn't tap into trends and yet would fit nicely with a pair of kicked flares and some tie dye.
The simple lines that run through the collection are laid down with intention; it's how the designer demonstrates his belief that innovation in menswear will come down to the textiles, not necessarily the form: "The reality of what men have worn for clothes in the past 300 years has not changed that much. So, textile is like a huge part of the storytelling."
Some designers might find that limiting, thinking the more outrageous the proportions, the more ahead of the times their designs will be. However, for Evan the next wave of fibers and attention-holding patterns beats all. "I really like the idea of doing the same style forever; for now, I've been doing some of them for three years," he says with a light laugh. "And every season I can do like a completely different fabric with a completely different DNA and identity; it's a cool way of playing with design by having the parameters of the product stay the same."
The Elastic Pant, wide-legged trousers that fall into a relaxed fit, is refreshed with a clay-toned check pattern. With a slight crop these linen bottoms are sharpened with a matching pointed collar tipped Bellow Pocket Jacket which hits below the waist and doubles as an overshirt. The jacket comes in four different colour pathways, while the pants are available in six. Admirers of Issey Miyake will see a respect for textile development shared between the Japanese designer and Evan. Miyaki has been at the forefront of textile innovation, famously refreshing the pleating technique by using polyester jersey in his Pleats, Please collection, which was not only durable but adapted to fit the lifestyle of a modern woman who is always on the go. Perhaps that is why many are quick to associate Evan Kinori as a brand embracing the sustained influence of Japonism on Western design.
There is also the appreciation of human touch and thoughtful wear that designers like Rei Kawakubo and Yohji Yamamoto pioneered that are ingrained into the Evan Kinori practice. Each of his tags are hand-numbered in pencil, by either himself or with the help of his mother. In a time of rapid consumption and the strive for impossible perfection, the tags are a small but potent way to show the human trajectory of a Evan Kinori garment: "they're stamped and it's a way to communicate this isn't a commercial endeavour. This is something you should think carefully about before you get it." Without a question, Evan is taking a leap and landing in all the right places. He may be grounded in the streets of San Francisco, but his designs have a global appeal. The garments are designed for an ease of life. A concept that shows no signs of going out of style. It's as simple as that.
The Evan Kinori collection is available for purchase at Dover Street Market London, as well as online.