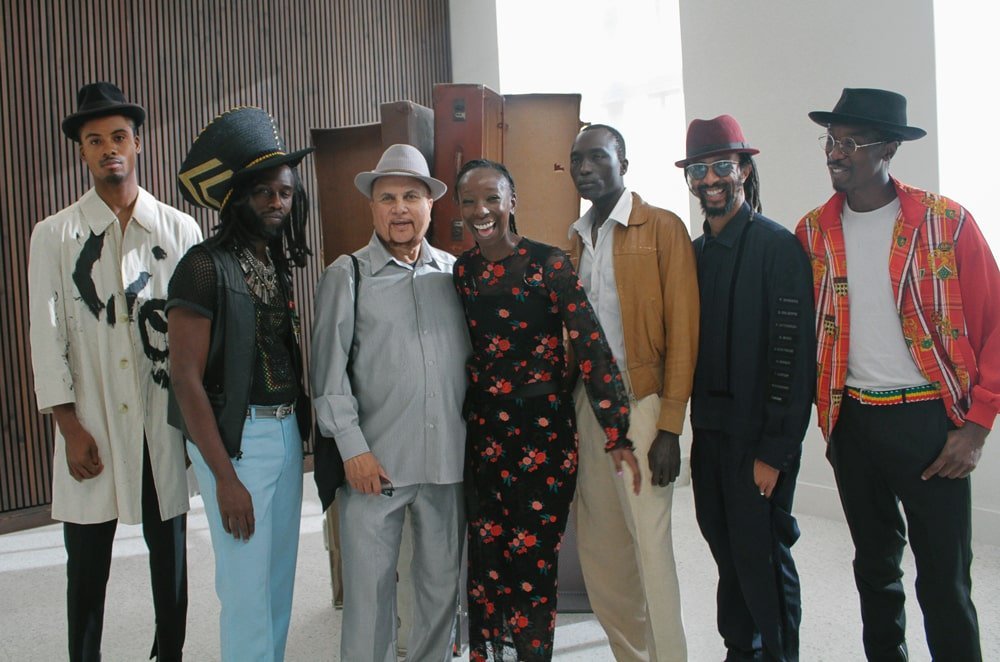 This is 2019. Being a model isn't just about looking your finest in images and having the best hip sway on the catwalk. Boys and girls who front campaigns are using their public platforms to make a change in the industry and the world as a whole. That's why we decided to spotlight some of the trailblazers in the modelling world. This London Fashion Week, we turned our attention to Eunice Olumide, the model turned art curator and actor who put on an unforgettable show to celebrate the Windrush generation.
Often when people think of London Fashion Week, they think of the glitz, the glam, and the next wave of fashion that will soon takeover the streets. And this all does take place there, but the city has increasingly been shedding light on matters aside from fashion during this time when London is at, perhaps, its most visible. Noticing just how much LFW has opened itself up to fuel conversation, in no small part because of the British Fashion Council's efforts to make fashion more inclusive, Next Generation Regeneration was born. The Windrush Memorial Day series of panels, fashion presentations, and a catwalk finale were launched by Scottish model Eunice Olumide MBE after she learned of the hundreds of elderly British residents being detained and sent back to the islands they had traveled from decades ago and wanted to do something about it. "Imagine the country just deported your mum and dad, it just really affected me," she says.
When the Windrush Scandal broke out in 2018, Britain was sent in a frenzy while its immigration policies were called into question. Several British residents who came to the country in the late 1940s from Carribbean countries, were having their citizenship denied. The Windrush Generation, as they are now famously known, were born British subjects and came to the UK at the behest of the government to rebuild the country after World War II. And last year, it came out that they were not only being denied citizenship but detained and threatened with deportation. Many were actually deported – the grandparents, aunties, and cousins of those who helped make Britain the bustling, innovate country it is today.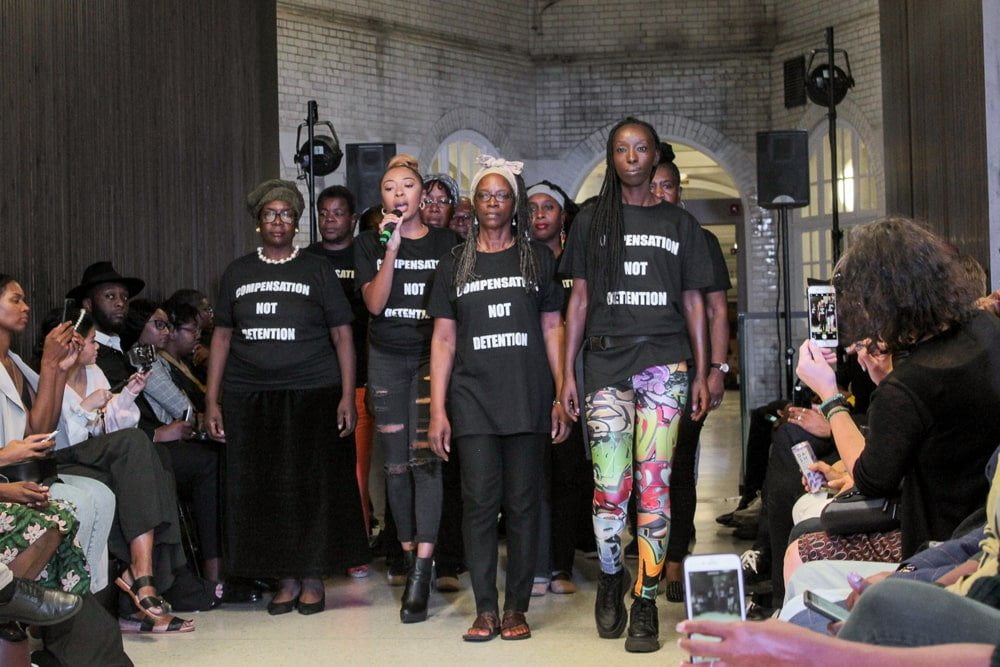 Olumide has lent her talents to the fashion industry for a long time. The top model has walked for groundbreaking designers including Christopher Kane and Alexander McQueen while gracing the pages of most magazines out there. Over the years, she has expanded her work to include radio broadcasting for the BBC and acting. Olumide has used her platform to speak out for greater diversity and inclusion in the fashion industry and bring attention to issues like hair texture and how Black women have long felt the need to change their appearance for not only acceptance, but to move ahead. When it came to creating a space to celebrate the Windrush legacy, she chose fashion as the medium thanks to its history of questioning and breaking down the status quo: "The fashion industry has long been linked to revolution, anarchy and significant change within culture and society. It is an area where marginalised groups have often been able to bring recognition to various serious social, economic and environmental issues within everyday life."
Next Generation Regeneration kicked off with a panel discussion led by Olumide, and included Emma Dabiri, author of Don't Touch My Hair, and writer Afuah Hirsch. It was followed by a fashion and sustainability presentation. Later that evening, Sir Geoff Palmer OBE gave the key note speech and told the moving story of how his mother came to Europe from Jamaica alone, worked as a seamstress, and was soon able to send for him. Because of her work, Geoff would join his mother, excel at school and go on to become one of the leading scholars on brewing whom Heineken and Guinness regularly consult. And because of his mother's contribution to the fashion industry, Geoff shared that he not only understood how the industry opened doors to immigrants but also how people, like his mother, continued to build out the foundation of an industry many of us enjoy today.
"Afro-Caribbean culture and society have had a huge influence on the British fashion scene, both in post war Britain and in the pre-colonial period," echoes Eunice. "This community contribution is rarely articulated and actually stunts African, Afro-Caribbean development in the wider global fashion and art markets." For the closing catwalk show, she invited a group of Windrush generation members to walk down the runway wearing t-shirts with "Compensation Not Detention" written across their chests while a stirring cover of Bob Marley's Rastaman Chant was performed live. They were then followed by a group of younger generation Brits who also wore the shirts while Drillminister performed. The tone was reflective, yet empowering – here stood the parents, grandparents, and their kin who were not only impacted by the Windrush scandal but continue to persevere. At the end of the show, Lambeth councilmember Cllr Sonia Winifred thanked everyone who played a part in the show and encouraged those in attendance to learn more about the current campaign taking place which calls for the Windrush Memorial to be built in Brixton, which has a rich Windrush history. There is still much work to be done in keeping the Windush legacy alive, but Eunice Olumide, her Olumide Gallery and Next Generation Regeneration are paving the way forward.