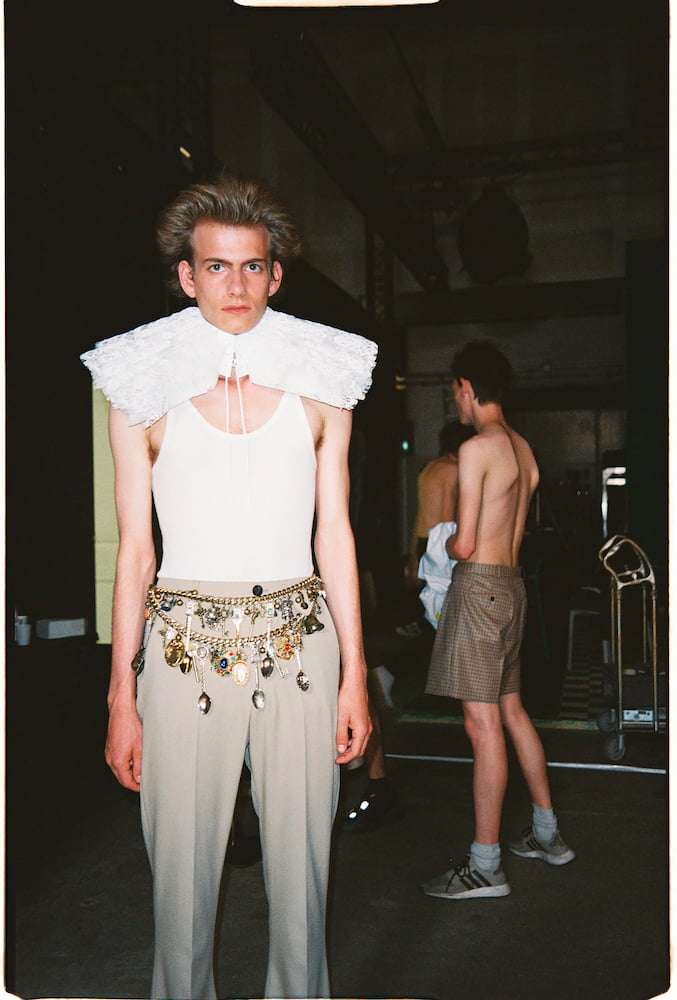 This season, emerging Parisian label Egonlab wanted to craft a collection based on freedom, love, and tolerance. "We wanted to talk about a dynasty where everybody is on the same stage," says Florentin Glémarec, who founded the label alongside his partner, Kevin Nompeix, in 2019. "We have to talk about inclusivity because our society is built around a whole myth where some people are supposed to be superior. We have to destroy this idea."
Egonlab is a young label with serious promise. Inspired by seminal Viennese painter, Egon Schiele, the design duo are passionate about operating with a genderless DNA, merging historical dress with a design vision strictly for the now.
The brand's SS22 offering – Egonlab's fifth-ever collection – is occupied by sculptural suiting, opulent parkas and pleated skirts. A selection of tees, shorts and quilted jackets come emblazoned in graphics made in the same factory Alexander McQueen sources its prints, worn alongside a series of nineties-inspired trackie tops made with Sergio Tacchini.
"We love bridging between generations; the past, the present the future, it's very important to learn from each other," says Nompeix. The design duo debuted the collection with an audience-less catwalk, feeding their appetite for wanting to stage their first fashion show. "Next season we really want to do a real show," adds Glémarec. "We have never done shows so we are really excited for our first one next season. To meet people, to stay connected and we have a big Egonlab family; we want to create a whole Egonlab experience."
Photography courtesy of Egonlab.