Calling upon the cultural and creative innovators studying at Central Saint Martins, Dr. Martens has launched a new initiative which sees five designers from the school's MA Fashion pathways create bespoke designs for the footwear giant.
As part of Dr. Martens'  All Access Summer campaign, each of the talents were tasked to reinterpret the collection's theme in their own distinct styles.
Chosen by the brand, alongside CSM's MA Fashion course director Fabio Piras, each of the talents also received a financial bursary from Dr. Martens, which also gave a donation to the university.
Here, we catch up with the five budding talents to discuss the inspiration behind their creations.
Francesca Lake
"My inspiration behind the designs are rooted in barrel culture. I am from Kingston, Jamaica, and for generations families have sent their loved ones a barrel full of goods back to their home country. Foods, clothing, rare goods. It's with this inspiration I have delved into the concept of value and repurposing materials through my designs. From this, I've created a bespoke design out of zero-waste materials, including deadstock silk."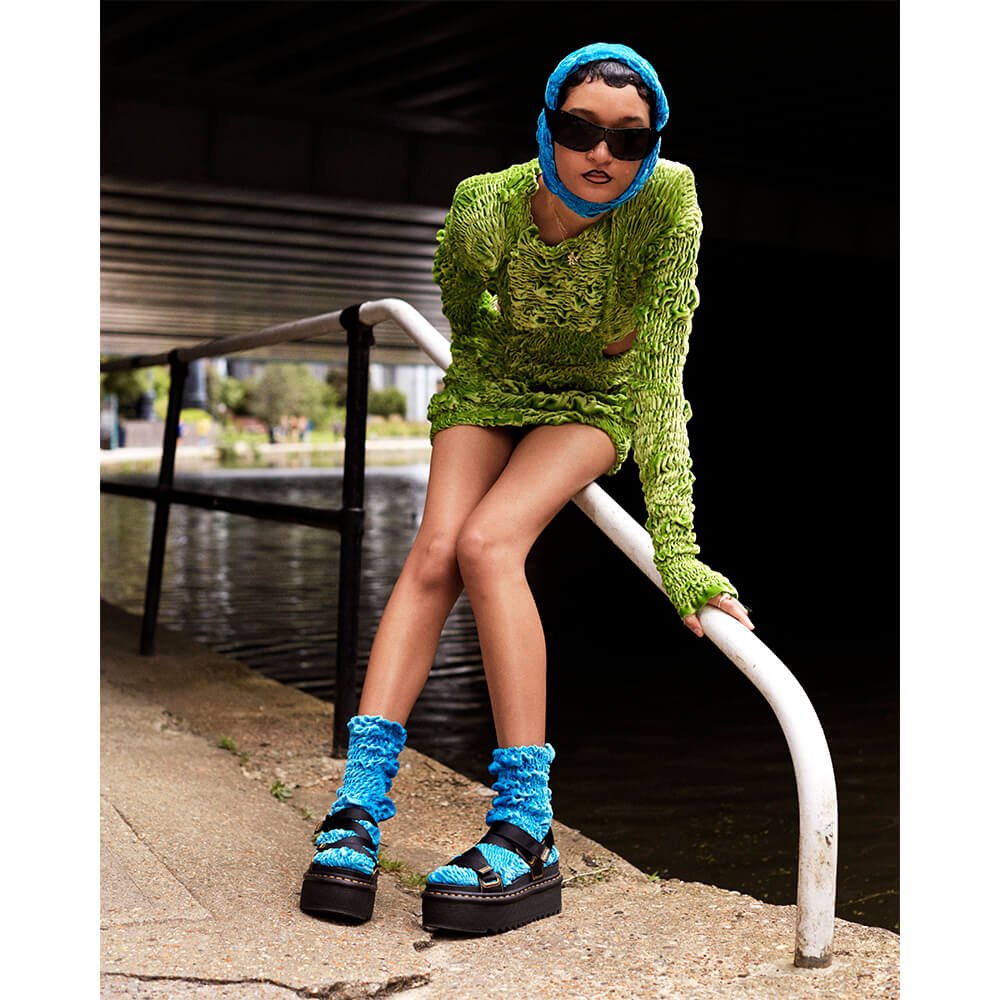 Xuesong Yang
"I am from Oroqen, Inner Mongolia in China, where many nomadic people gather. Drawing on inspirations both from the healing and peaceful nature that you find here, alongside the Mongolian masculinity represented in traditional Mongolian wrestling ceremony, Bökh, my designs are that of flexibility and adaptability. Design inspiration came from a pair of Mongolian detachable boots, the bespoke design is comprised of multiple detachable denim pieces, so you can wear the outfit in a number of ways. The combination is both classic and fun."
Jad Jreissati
"My designs are intended for a wearer that embodies the need for flamboyance and utility at Pride. As this is the first Pride since the pandemic, I wanted to accommodate the excitement had for the return of Pride in my all-access summer look. The Pride event might be easily overlooked as a street party; however, it is important to acknowledge its importance. Pride is a global act of civil rights; it is both a protest and a declaration of liberty. This was very important for me when considering my design choices.  I've created a double denim look that is suitable for roughing and toughing it all day at a protest.  The denim jeans are dip-dyed in a bright turquoise to match the DM 1461 summer shoes. Coming together as a vibrant high contrast look. This utilitarian double denim is complimentary both in look and spirit to Dr. Martens."
Lauren Patchett
"Under the theme of All Access Summer, I wanted to make sure my designs were accessible and as wearable as possible. My research started off as dads in the summertime, and from that came socks and sandals. It's such a fun (and funny) combination and so I wanted to make sure it was as playful as possible. My main focus is in the socks, as I study Knitwear at CSM. The yarns are of particular focus, and if you look closely enough can see the inclusion of the iconic Dr. Martens yellow stitch throughout."
Jude Hinojosa
"My look is all about 1950s and '60s rock and roll. For me, summer is about family vacations in Texas. We'd take the road, listening to music on the radio in the car. We'd search for the rock and roll station from the next city; we'd go between the sizzling static and random music until we'd find it! We'd always get so excited because when we heard the music, we knew summer had officially started! I wanted to capture that memory with pieces that move with the wearer and pop vibrant bursts of colour, reflecting the fun we would have listening to this music."