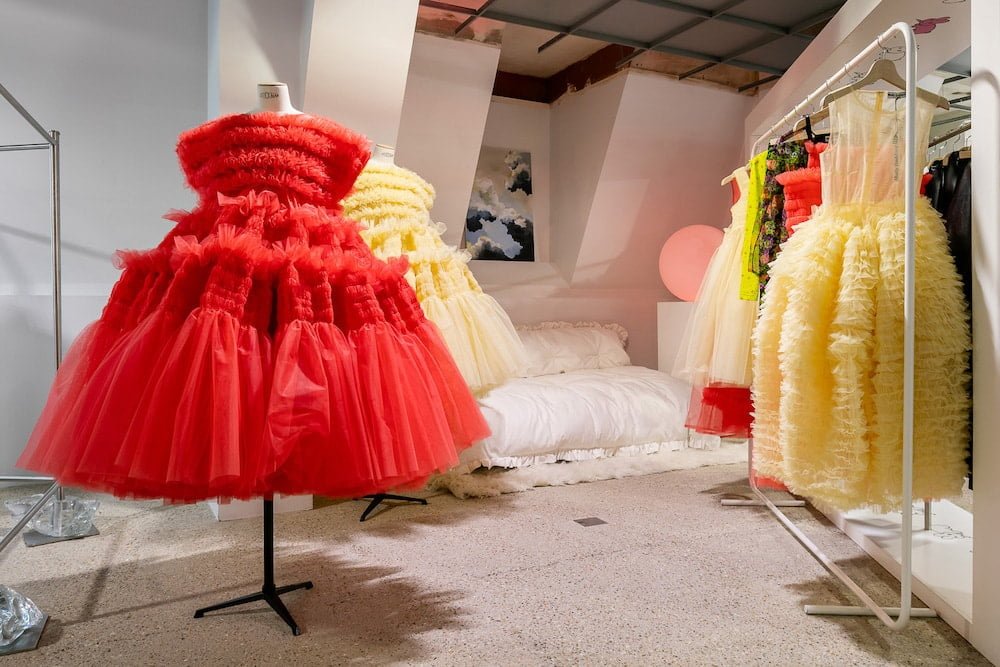 What's a new shopping season without a little change of scenery? Making sure your next session of retail therapy is accompanied with a few extra "oooo"s and "aahhh"s induced by the bright new objects surrounding the frills and thrills of SS20 fashions, Dover Street Market revealed their latest changeover this past Saturday. As they do every season, our friends at DSML have reimagined their halls according to the stunning selection of designers they're introducing to their audiences. Some of the latest names to join the prestigious portfolio include shoe designer Francesco Russo, Greek ethical brand Unsung Weavers and NYC-based Peter Do.
One of the most exciting parts of shopping at 18-22 Haymarket is discovering the installations that make the the standalone corners dedicated to individual designers. On the top floor, Molly Goddard's creates a new space seasonally – this latest one taking you back to your old teenage room, completed with a fluffy bed perfect for daydreaming of twirling in one of her tulle frocks. For her first standalone space in London's branch of DSM, Marine Serre has created a post-apocalyptic environment of metal tubes and wooden logs surrounding the biggest hits from her SS20 collection. Cecilie Bahnsen and Roberts Wood have also debuted their first spaces, each representing their unique aesthetics and place in the Market. And as always, the cherry on top is the ground floor installation that stuns as soon as you walk into the space. This season, it's dedicated to Comme des Garçons and the historical spectacle of Rei Kawakubo's stellar SS20 outing. Enclosed in a tight environment of photographic panels, the volume of these grandiose creations becomes even greater – as if that was even possible.
We can continue lauding about each of the corners in the 1,200 square metres of haute fashions, but why ruin the surprise? Go and head to 18-22 Haymarket and discover it all for yourself.