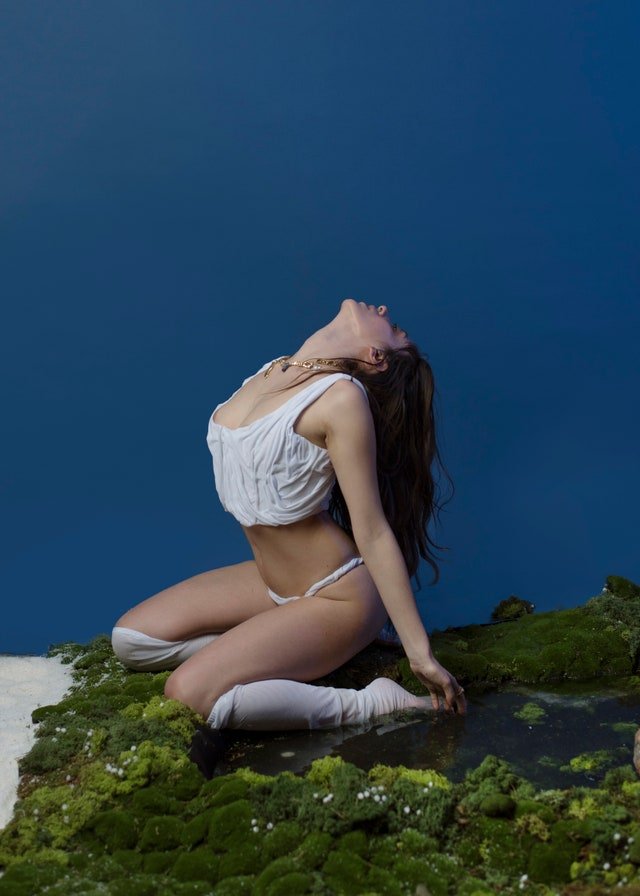 Central Saint Martins alum Dimitra Petsa wants women to love themselves wholeheartedly. By channelling self-love and self-mothering into the sultry designs of her namesake brand, Di Petsa, there is no one better to pay homage to womanhood.
The 26-year-old Grecian designer has already taken the industry by storm with one-of-a-kind designs for the likes of FKA Twigs, Kylie Jenner, Nicki Minaj and more under her belt. Do you remember that angelic pregnancy dress worn by Gigi Hadid back in the summer? Well, that was Di Petsa, holding true to its rara avis hallmark 'wet-look'. The acclaimed 'wet' draping technique took Pesta over six months to perfect and master – so of course, it was placed centre stage for her newest collection.
Di Petsa AW21 was inspired by the monthly full-moon workshops the designer and her team had been running since the beginning of lockdown 1.0 – their aim being to create a discourse that dismantles the taboos of the female body and bodily fluids, in particular. The collection was crafted in collaboration with a girl gang that dates back to 1911, called the Lyceum Club of Greek Women. Their mission is to preserve traditional Greek construction techniques, which became an integral focus for Di Petsa this season.
The collection's lookbook presents an intimate set up reminiscent of the Garden of Eden where hazy pools of water engulf a chorus of ethereal girl's bare feet. An accompanying film proposes an idyllic vision of womanhood – a sort of Shangri-La if you will. Dubbed, I Am My Own Mother, the collection emerges from the essence of love and how we give it to others in comparison to ourselves, moving from a standout, silk-spun, gold-embroidered gown and a silver embroidery prayer dress, to printed raincoats made from cotton discards with accentuated breastfeeding pockets.
As the diverse cast of bewitching women swayed their hips and twirled their wrist, their fluid movements were accentuated by slinky gowns, sexy bodycons, and soul-soothing accessories. One of the final looks was an elaborately draped, concealing and revealing, amorphous gown that clung to the organic form of a pregnant model – making the near last thing you see an ethereal vision of a woman bathed in aqua.
Photography by Louiza Vradi.