"I literally left home fresh out of high school to go study in a brand new country without knowing anyone to do my dream course and all three years leading up to my final project and graduation have been ripped away from me in one email." This was an Instagram DM I received from Andrea Fragnaud, a hair, make-up, and prosthetics for performance student at London College of Fashion. Fragnaud, like thousands of other students at Universities across the country, has returned back to her family home (in Washington, D.C.) as the Covid-19 pandemic continues to spread at a rapid pace. As announced this week, lectures for the final term of the year will now be delivered online, graduations have already been postponed, degree shows have been scrapped whilst universities scramble to find methods to support their students and showcase their work virtually.
For anyone who embarks on a creative degree, the final moment is what counts. For the three or four years of solid hard graft you've put in prior, each trial and tribulation prepares you for it. The sleepless nights, the seven-day weeks; it's all worth it for that final moment. Your personal masterpiece, your pièce de resistance, your big entrance to what tomorrow brings. For thousands of final year university students across the country, this moment will not happen.
"I know it's necessary that they've closed our campuses but my whole degree fully depends upon us having access to machinery and equipment," says Ellie Cook, who studies bespoke tailoring, also at LCF. Most courses at University of the Arts universities are currently working on submission adjustments which will ensure students who don't have access to equipment will not be left at an unfair advantage. Whilst a step in the right direction, many design students such as Cook having already spent hefty amounts of money on materials and supplies gearing up to make their final collection, which they most likely won't be able to produce at all. "And without any work to show, we aren't going to be able to get any jobs," fears Cook.

Ellie Cook, bespoke tailoring student at LCF
A similar disheartenment can be felt across the graphic communication design course at Central Saint Martins. "Since first year, it is constantly said the degree show is the most important show to springboard you into the industry," says Olivia Alexander who studied on the course since 2017. "[Tutors] would always say to us things like 'we get higher footfall than the Tate' so you know the pressure, prestige, and most of all the opportunity is huge." Architecture is another course that relies heavily on a degree show says Rebecca Ashworth, who is currently completing her degree at the University of Liverpool. "Many potential employers come to the [the degree show] to find new architects, a lot of hopeful architects already riddled with stress are now left hopeless and anxious for the future."
Although courses are planning on staging virtual degree shows, many students' concepts simply don't work outside of the physical space. "Almost the entire class are doing print publications for a reason," says one fashion journalism student from CSM, who explains their class deadline has not been extended (yet) and their brief requirements are yet to be altered. "Regardless of the way print is going, we all connect so much more with a physical object, and talking to the person that poured their soul into it." The uncertainties of how the Covid-19 virus will impact their careers after university is also having an impact on students. "If it was uncertain whether we would have jobs to go into before the pandemic, this has only increased tenfold," says Hannah Thompson a fashion journalism student LCF.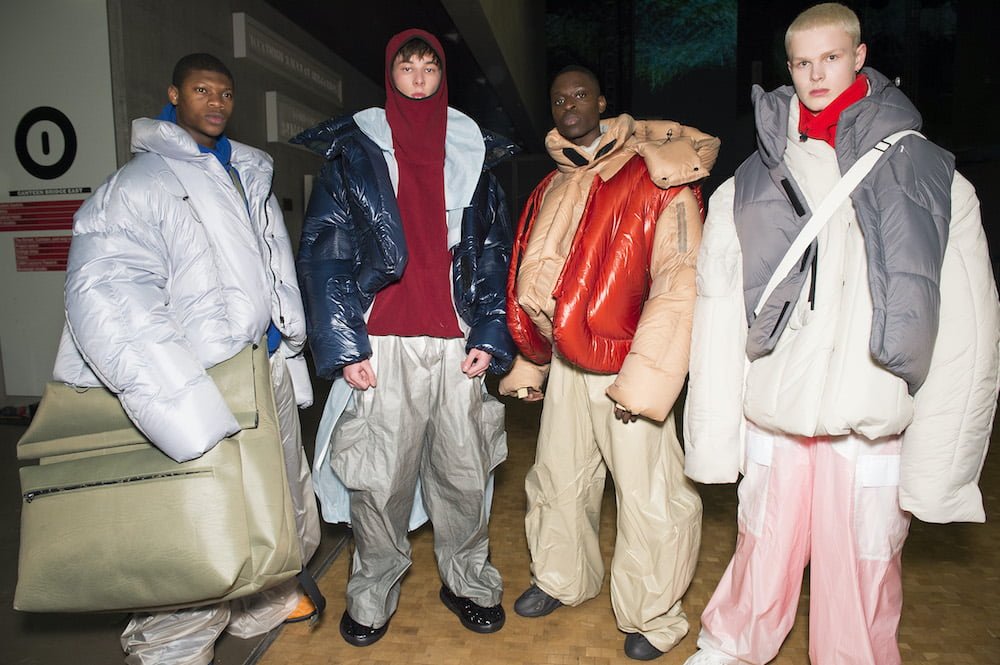 Ding Yun Zhang CSM MA20, photographed by Jason Lloyd-Evans
For fellow classmate Harry Archer, the developments of the virus have made him question his career entirely: "When there are people in hospitals who are doing something of actual use, they're maintaining people's health, they're combatting a virus. What do we do, write? It just makes you question the worth of it all." The University of the Arts has outlined the postponement of graduate ceremonies to allow for possible deadline extensions amongst courses. This comes as a particularly difficult predicament as, despite current circumstances clearly requiring more time on final projects, students will be receiving their final student loan at the beginning of April. This means by the time Summer arrives, most of them will be actively seeking full-time employment to cover rent and living costs, which could severely limit the amount of time they have to dedicate to their studies and could result in students moving away from the city their university is situated in entirely.
Though with every cloud comes a silver lining, and students across the country are determined to get the final bow they deserve. After the Edinburgh College of Art degree show was axed, MA fine art student Jody Mulvey set up @sadgrads2020. "I created this Instagram to try combat the feeling that because we have lost this moment within our academic career, our artistic career must be doomed – it's not – and also to show that, although we are all physically distant from each other, our emotions bring us together," says Mulvey. The account will showcase the work of students across the UK in an effort to maintain creative momentum and to grow a network between students who may have never connected otherwise.
In a similar vein, The Social Distance Art Project, run by four BA fine art students at York St John University, has already gained over 2000 Instagram followers and is working on a website to easily exhibit student's work from across the country: "We're all creative people, and in this time of uncertainty, it's really important to keep that creativeness alive and think of ways we can use that to come up with solutions to get us through. And who knows? Maybe, when this is all over, we can organise some sort of 'real-life' exhibition," said the group over email.
View this post on Instagram
At Central Saint Martins, where over 1000 students have already signed a petition to save their graduate exhibition, @nearlypublish is a virtual publishing house that originally began as a project that aimed to explore the "Social interaction within public spaces." Under the current circumstances, founders Abbie Lilley and Lili Phillips have dedicated the project to spotlight the work of their fellow graphic design students. As well as creating a website that will "house an additional live archive," the pair have long term plans for the project: "In both our practices, we gravitate towards printed matter," say the pair. "We are currently discussing the idea of a book which would become a tangible preservation of our time around the world whilst at CSM."
London menswear designer Rory Parnell Mooney has called for fellow designers and fashion industry insiders to dedicate a fragment of their time over the upcoming weeks to offer virtual tutorials for students completing their studies. "This comes at a point where most final years are coming back after Easter and are just making the collection, so all the patterns are probably done and the fabrics bought," he says. "Maybe some big designers could have a really positive formative effect on a graduate student, like maybe something good can come from all this?"
Although within less than a week, the idea for many students into how their university experience would end has seemingly shattered through no fault of their own, an underlying sense of optimism can't be shaken. "Maybe this is the time where pure talent will come through again. I think people who have a sense of visual communication and storytelling will do very well now " says CSM fashion design and marketing student Laura Tanzer. Getting through art school is tough enough on a regular basis, never mind doing it within a pandemic. Though one thing undergoing a creative degree has taught you is to be resilient. You've jumped over many hurdles before, don't let yourself stumble at the last one.
Stay safe everyone! For all information on what to do if you're feeling any symptoms of COVID-19 please visit the NHS official website.
Top image: Georgia Pizzala, graphic communication design student, courtesy of @nearlypublish