Coachella has long trumped your run-of-the-mill music festival. The annual two-weekender, backdropped by the serene Coachella Valley, is USA's biggest live music event, where it's estimated around 750,000 people attend the festival across its six days. Equally known for its eclectic line-ups and fashionable, A-list punters, this year's edition was headlined by K-Pop juggernauts Black Pink, Puerto Rician hero Bad Bunny and Frank Ocean, who closed out weekend one with his first live performance in six years.
Aligned with the spirit of the festival is Guess, a brand as synonymous with California as the palm trees that span across the region's surroundings. "Guess is all about the American, Southern-Californian lifestyle, and I think Coachella is an amazing cultural moment which represents that," says Guess USA designer Nicolai Marciano. "It's where music meets fashion meets art meets culture. People come from all over the world to play here and we are one of the few big fashion companies based in Los Angeles and Palm Springs is our back yard. There's so much inspiration in this desert so it's important to have a presence here."
We're chatting in one of the seven houses which make up The Guess Compound, the fashion giant's own eco-system situated a stone's throw away from the festival itself. Across the opening weekend, the cluster of elegant homes were populated by the brand's multi-faceted community, from fashion favourites Luka Sabbat and A$AP Nast, through to YouTube personality David Dobrik, actor Evan Mock and model sister act Devon and Sydney Carlson.  "These people are friends of the brand, they're friends with each other. You're curating this chemistry, which we put a lot of thought into," says Marciano, who was set on creating a seamless festival experience for the brand's loyal creative family. "Being able to cross pollinate everyone together is great. A lot of these people know each other but hosting them all together is not typical. It's good to have everyone hanging out from different cliques, circles, worlds and bringing everyone into the same experience."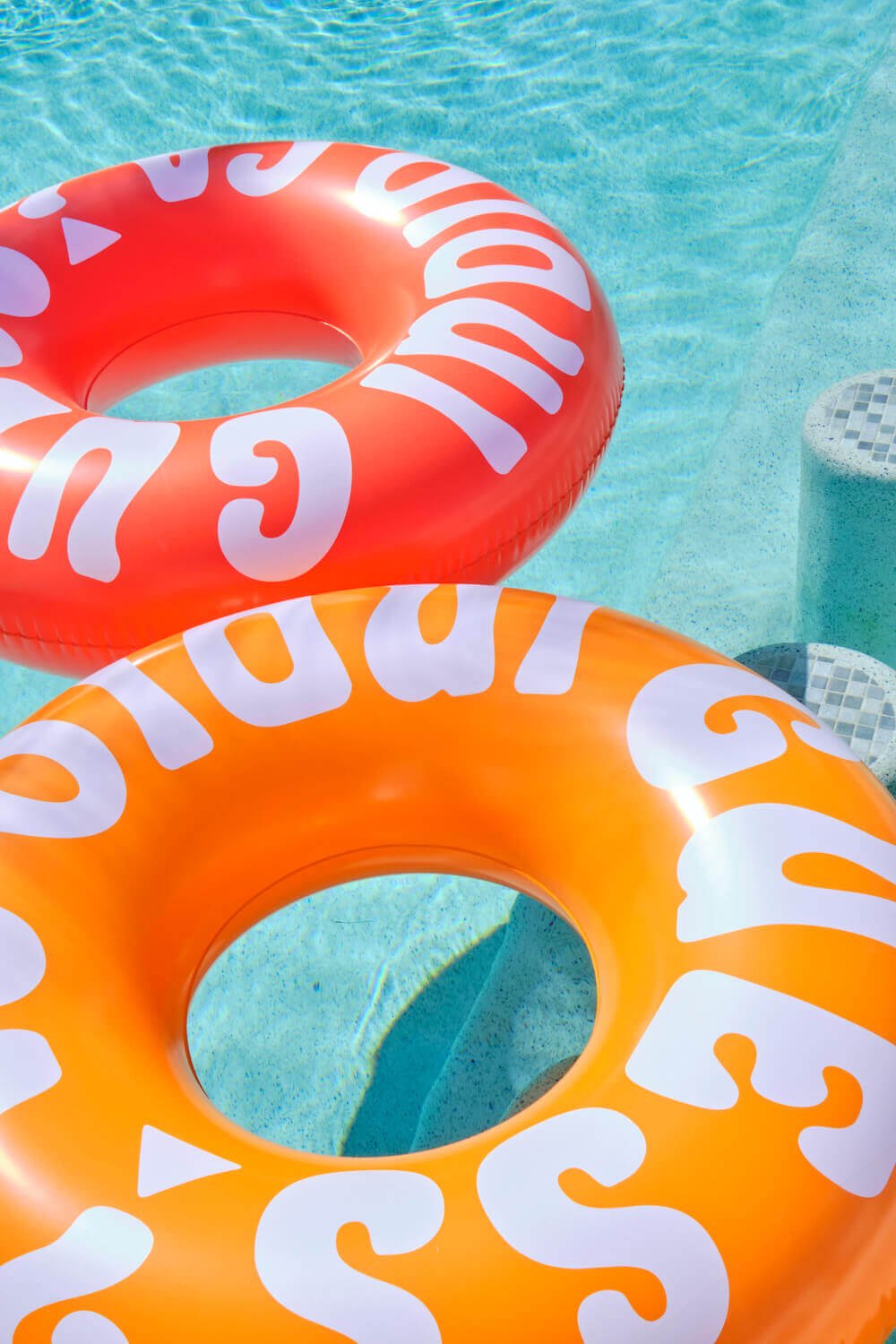 Marciano, 27, made his first expedition to Coachella back in 2012 with his older sister. He recalls being mesmerised by catching Kendrick Lamar, then on the cusp of superstardom. "I had never been to anything like that in my life, it's pretty hard to describe. I still feel strongly about the festival and everything it brings. It's become kind of a tradition for me and my friends."
Ahead of the festival, Marciano united the brand's community with a pre-Coachella dinner, where laughs were shared over bowls of vodka pasta and coffee-flavoured tequila. Throughout the weekend, Guess ensured the experience was threaded with a sense of wellness. Guests were treated to a 24-hour concierge service and a personal chef was assigned to each house. Everyday before guests headed out into Coachella, IV drips were on offer, alongside B12 shots and rejuvenating juices and smoothies from Bloom to kick back the hangover from the night before. And whilst festival goers faced that dreaded pilgrimage back to LA on the Monday, guests at the Compound stayed in Palm Springs, where massages and therapeutic activities were provided by Therabody. Pretty nice, huh?
Kitted-out sprinter vans were prepped and primed to take guests to and from the festival as they wished, where they were graced with a slew of monumental moments. From the elusive Jai Paul, who gave his first ever live performance at Coachella's Mojave stage, to the comeback of Blink-182 and a stellar performance from Björk, whose emotional orchestral set was flanked by 864 drones. The music continued well into Saturday night, when Sabbat and Mock co-hosted The Guess After-party held at Soho Desert House, where the likes of Amelia Grey and Leonardo DiCaprio danced to a musical buffet courtesy of Kaz James.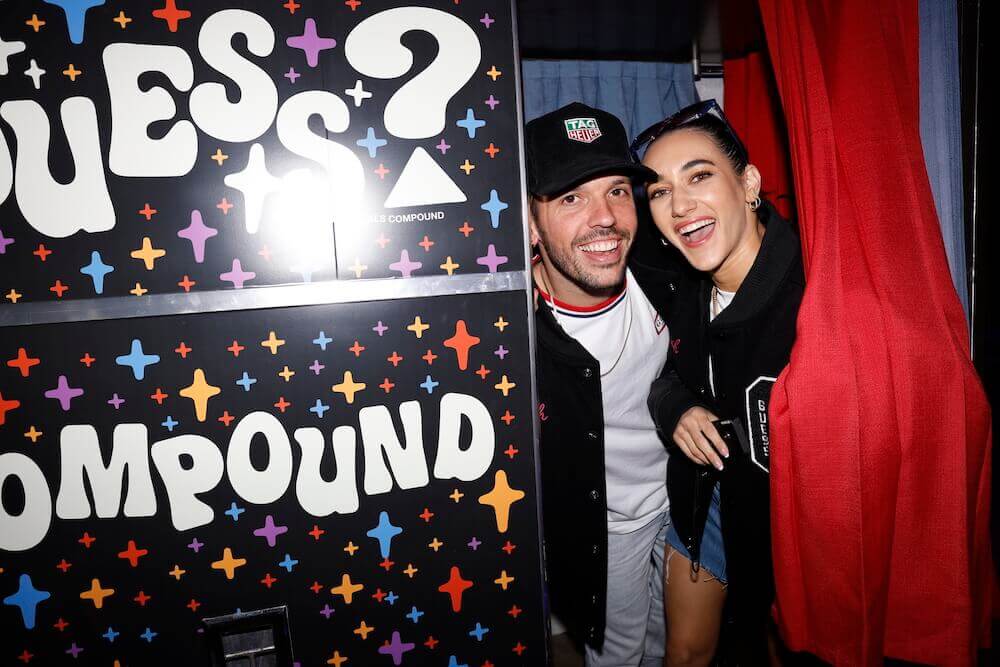 Particularly striking across the weekend were the Guess community members who donned pieces from the Guess USA line. It's Nicolai Marciano's design outlet to express the brand in a forward-thinking, experimental light – all intrinsic to the codes Guess was founded on. "Guess USA is the way for us to re-establish the attitude and image that the company is known for. It's a way to celebrate our heritage," he says. Priced at a higher end, the growing collection features rustic denim twinsets, distressed leather work and sensual silhouettes fitting for a weekend spent dancing under the Californian sun.
Working alongside Marciano, multi-disciplinary creative Eli Russell Linnetz has dug into Guess' expansive campaign library to steer the label's visual language. "It could not be more Guess, from the product to the image, and that's why working with Eli is such a perfect fit for us," says the designer. "He really understands the history of the company from an advertising standpoint. The way Eli and I have discussed it from the beginning is that [the brand] is a multi-chapter story, you'll see it with the images and with the clothes."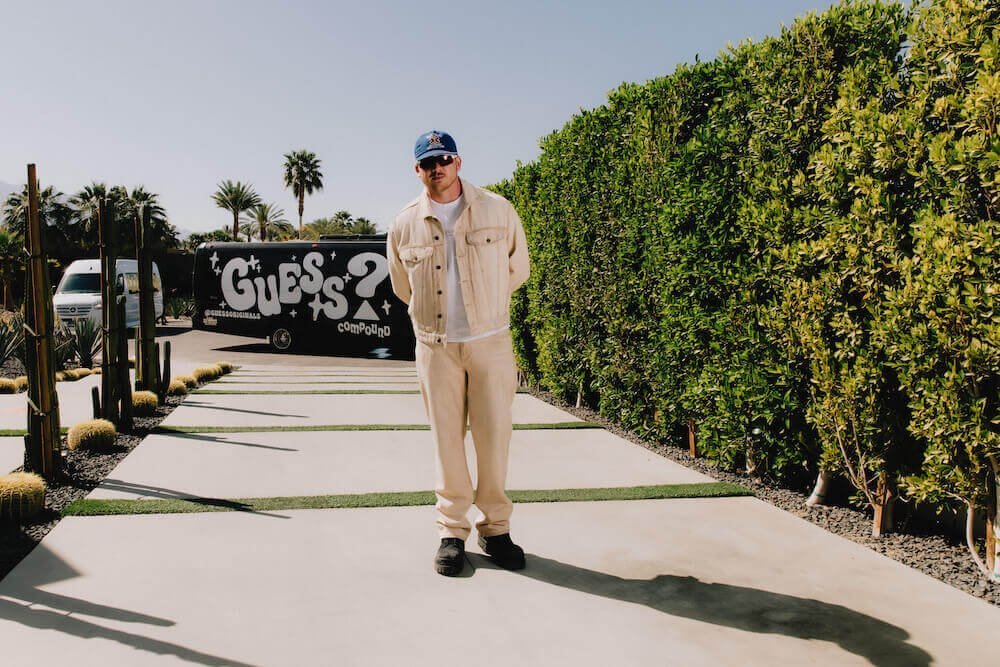 Guess USA has shaped up to become a vehicle to express Guess' founding ideals to a youthful clientele. Sabbat, for instance, wore cracked leather Bermuda shorts and a matching oversized jacket to Coachella. Whilst Sydney Carlson took to the desert in sugary pink Guess USA leather trousers and a hulking jacket. The label is rooted in fabric development and product innovation. "From the beginning, [Guess] started by making denim fashionable, introducing stone wash, acid wash, over-dye, mixed media – it's such a part of history. I like to tap back into that, whether that's bringing back old archive pieces or taking inspiration from one and adding it to another. The connective tissue between it all is we love to push the limits of the products – we like to give ode to the mindset and mentality the company had at the beginning.
"We want to continue to further that with a platform that allows us to do it on a level that no other company can do otherwise," he adds. "That's the thing with Guess USA, there's no limits. We're working with the best mills and factories in the world. It's really become this creative, exploratory hub for the organisation where we can really express the company's capability when it comes to design and expression, on a different level."
Despite being only two seasons in, Guess USA has painted the Guess brand with an elevated eye, one that is set to carry the label from the fields of Coachella to an international stage.
Dinner and party imagery by Mark "The Cobra Snake" Hunter. The Guess Compound imagery by Simon Perry. All imagery courtesy of Guess.