On the penultimate day of London Fashion Week, Charles Jeffrey took a step back in time to the earliest days of his Loverboy label. While it's not every fashion week that you can be inside a nightclub while watching a catwalk show, Jeffrey managed to do both, taking over North London's Electrowerkz in a riotous celebration of everything his namesake brand has achieved in the past six years.
It was Jeffrey's first IRL show in 18 months, and for many of the designer's most loyal followers, felt like a return to the queer club nights Jeffrey would stage at Dalston's Vogue Fabrics to fund his Central Saint Martins MA. Though, whilst the spirit of those hedonistic nights is spun into the Loverboy DNA, a lot has changed since. Jeffrey's older now; gone are the days of pinning and sticking looks together as they spill out onto the runway. His label boasts 50 worldwide stockists, his Loverboy tartan and knitwear have cult appeal and his product is bought, worn and adored on a global scale.
With a Fred Perry collab under his belt – pieces of the second instalment appeared in the designer's SS22 collection – as well as a teaching gig at his old stomping ground, and a major investment from Tomorrow LTD, Jeffrey has firmly eradicated his "emerging designer" status for one that crowns him one of London's most promising fashion businesses. And he's not going it alone.
Jeffrey invited emerging talent Bradley Sharpe to stage his first fashion show as a prelude to his own showcase. Sharpe, who graduated from the CSM BA in 2020, is known for his mammoth tent dresses and has been part of the Loverboy journey since those Dalston years.
"Loverboy has always strived to give a platform to emerging talent, to showcase their work within a 'queered' space," wrote Jeffrey on Instagram. "For SS22's show, Portal we gave Bradley the opportunity to showcase his new collection Beside Yourself in part of our show venue, an underground exploration of couture."
After having just under two weeks to take the event in, the pair join us over a Zoom call to talk through the makings of the show.
Tell us a little bit about how the idea for a collaborative show first came to fruition.
Charles Jeffrey: "We didn't know what was going to happen through fashion week, nothing was clear. We didn't know whether we were going to go back into lockdown. We had the understating that something was going to happen, there were going to be some shows, still some digital things. My initial thought was: "Let's book a space and do a rave, let's see if it can happen". We didn't even know if clubs at the time whether clubs were going to be open, so we said "let's just book a rave and we'll just do it with Wimp, because Wimp was the closest thing to what Loverboy was in terms of crowd and community. Because obviously since starting the brand we lost touch with a lot of club kids because everyone got older compared to six years ago. As things started going on and started to develop, I can't really remember why I thought that maybe we should do a show."
Bradley Sharpe: "Actually, Charles called me on a bike, he just had this random thought and wanted to just help me out. Because before all of this, I am not supported by anything at the moment, so everything that I do is from my back. And Charles has been my mentor for the past however many years, and as a best friend he saw an opportunity to help me, and he just did it."
Bradley, it's only been a year since you've graduated, how had you been feeling up until this point?
BS: "It has been really difficult Trying to navigate everything. When you are in university, the reality is that you don't get taught how fashion works, you are just taught how to work your imagination. And that is great, but for the past year, I have been trying to navigate the business side of things and trying to push my clothes and the conversation forward, by myself. It has been weird but having this opportunity has made everything seem worth it."
How did you guys first meet?
BS: "We met at your club night, didn't we?"
CJ: "Yeah, I remember that you and Pablo [Rousson] came in and I thought that you both looked really fab and I would just go up to people and say 'You guys look amazing, you should be in our next posters, let's take some photos of you" and I was photographing people that came in. You guys were just on foundation and I said that you should come by the studio because we were working above Vogue Fabrics at the same time. You both were young and fun. We had another opportunity to do a collection with Lulu [Kennedy, founder of Fashion East] and you guys came over and we were trying random shit on, coming up with ideas like sequin dresses, laundry bags, drapings. And Bradley has the best sense of humour, he always makes you laugh, and we just started hanging out as mates. We partied a lot more back then, but throughout it all, all the different friendship groups we tapped into, we have always stuck around through it all. I think that is the nature of a good friend."
Did putting on the show at Electrowerkz feel like those early Loverboy days?
CJ: "Post show there was a lot to go through and we were just trying to enjoy the moment and it did feel like the old days. The thing that resounded more social was the after-party moment because I was surrounded by a lot of the queer community, the trans people and a lot of really interesting and magical people. We were just sitting and talking and reflecting on everything, and that was the thing that I missed the most. The after-party sublime that you get when you really level with each other and you are all on a similar page. There are some really amazing ideas that are shared in those moments.
"For me, that is when I felt very connected. It is never going to be back the way it was. I am an older person now, that is just how it is. But I think that just having those stolen moments again every now and then is just really worth it and hopefully will help inform our work as a brand a bit more, authentically as well. We have taken a few steps now to building a business and you always don't want to go too far away from your roots because people read that. I think it is nice to touch back into that again."
Can you talk us through the concepts for both of your collections?
CJ: "We always like to explore folklore and how that relates to queer culture and we googled what was going on around the time of the event and it was the time of the Festival of Mabon which is Equinox, which is a really particular time and also Mercury in Retrograde and The Harvest. There is a lot of shit that is going on right now, which explains a lot of our emotions post-show.
"Essentially, what we were trying to do was to create a world, so that it was not just a clinical showcasing of talent, which I think it has been a very prescribed idea in London for a while. Why can't I have a narrative? Why can't it feel a bit magic? Why can't it have some other layers to it so that people can be challenged and digest and put the effort into being confronted by? We wanted to move forward with this and then we decided to come up with this idea of a Portal because the Equinox is when the layer between this world and the other world is very thin, so that's how the idea of the portal came out.
"I like the idea of something ominous, the idea of a black hole as a metaphor for what is happening in the world. The world is going to shit and it feels that there is an ever-growing black hole of negativity and there is a lot of ideas of spirituality at the moment about the big enlightenment. There's this big TikTok trend that everyone is talking about where people are becoming enlightened and that we are all going to die because it is the right time. It is all very relevant."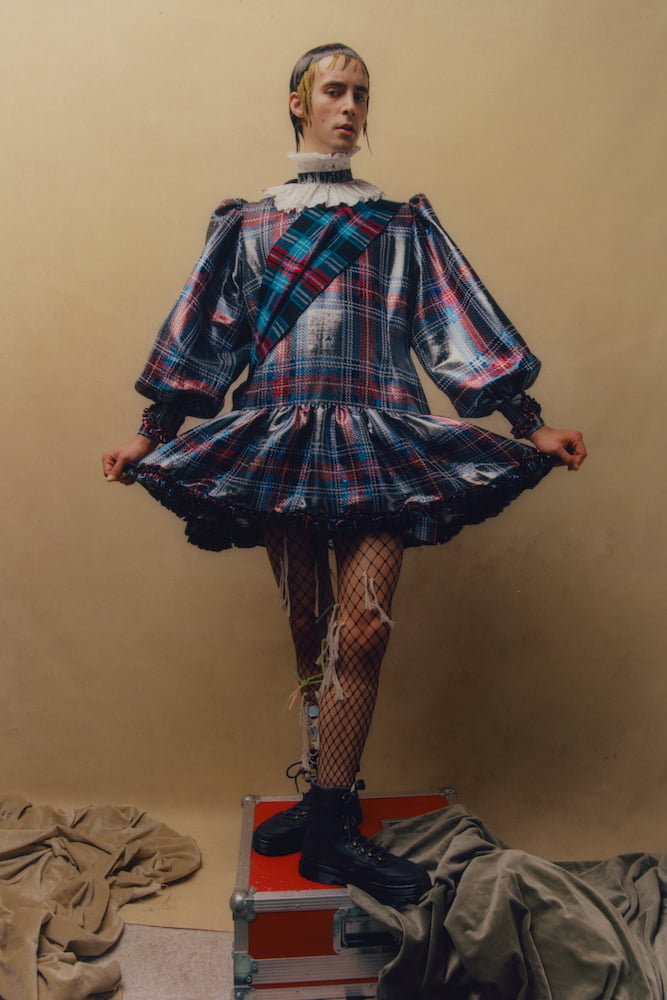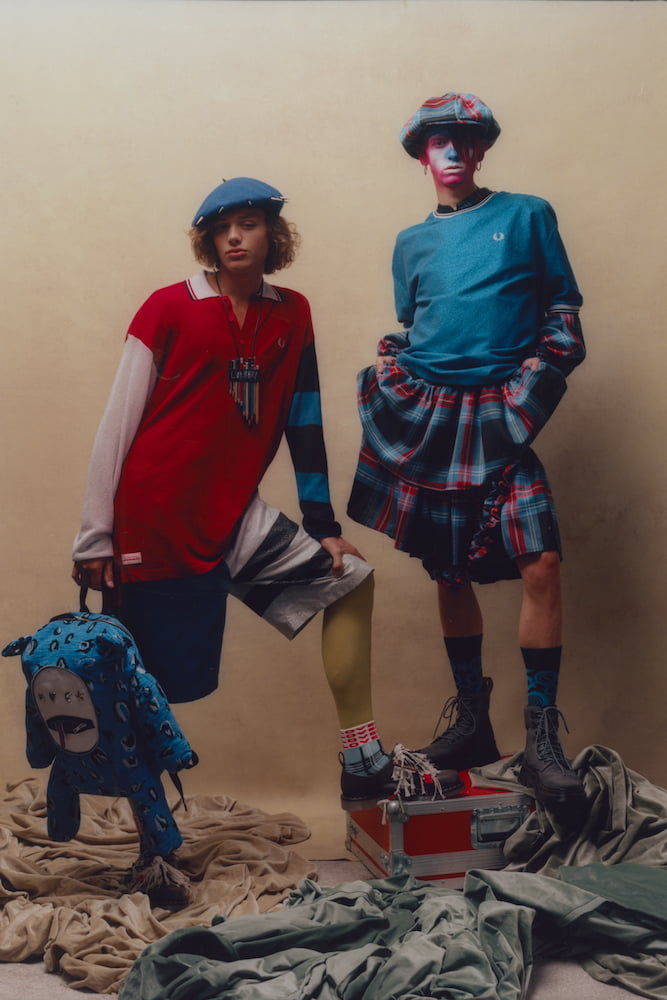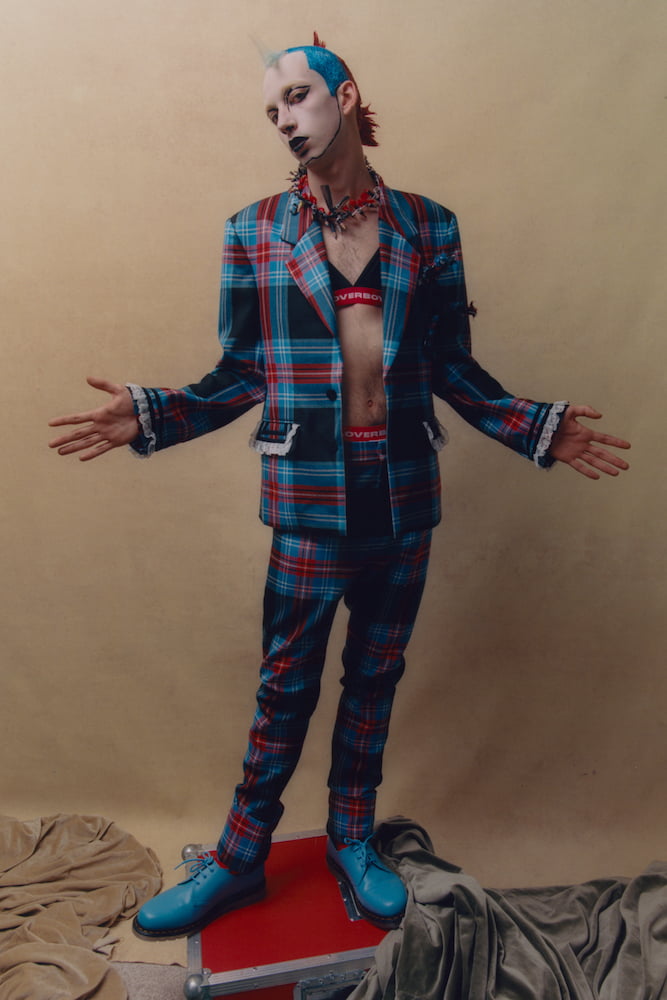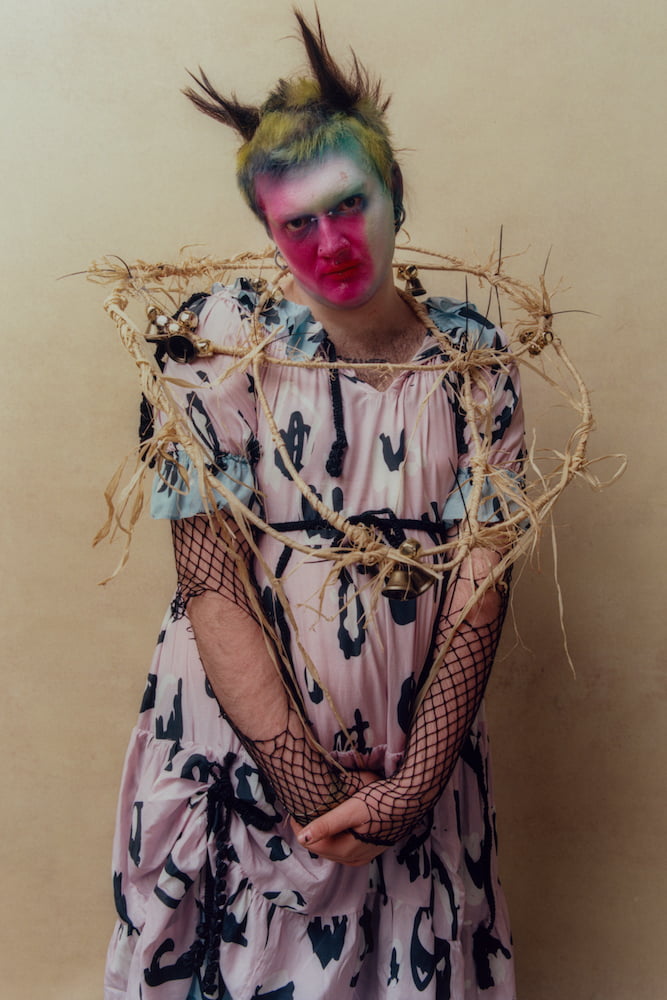 BS: "In terms of the show I worked with Miguel Bento. I wanted to create this passage and the collection is based on how women have been perceived as satire in the 18th century. Historically women would only ever appear in satire if someone paid for them to be humiliated by it and whenever you see women in satire, it is usually negative or picturing them as being inconvenient. I was particularly inspired by this painting by George Townley Stubbs called The Inconvenience of Dress. He painted this picture to say that the way women dress is just inconvenient. They can't eat, they can't sleep, they can't converse with each other.
"So I drew inspiration through that but in a way of women actually being able to wear it and say "Well actually, I look good in the way that you said that I look inconvenient". As the collection developed, it became a lot more serious. For me when I was working on my graduate collection, it was this fun thing of me fighting with fabrics and shoving in tent poles. But this season I was really working with fabrics, listening to them and adapting tailoring techniques and historical cutting techniques. The clothes actually became a lot more serious, opposed to being this sort of gimmick thing that I set out for it to be initially. It was interesting how that developed."
Do you want to keep these collaborative shows going?
CJ: "Yeah, for sure! Loverboy has always been a thing that everybody orbits around. There were moments when things were particularly heavy. There always has to be a captain of the ship, but coming from a working-class background, being Scottish, no one is better than anybody else. When you feel a bit bigger you get slapped down. I could never be that fucking big, bold person. I just genuinely respond a lot better when I work with groups of people. I like the idea of things being democratic and I think that in today's society, especially thinking about sustainability. Sustainability isn't just about organic cotton. How do you choose to use your business and how can you make your business a better place for the world?
"It links back to this idea of a circular business, where if you take from something, you have to always give it back, which is what happens in nature. I think that a good business is one that does give back and find ways to do that is not performative. We are just trying the best way to work through it."
Photography by Louie Banks (Charles Jeffrey Loverboy) and Matt Healy (Bradley Sharpe).
@_charlesjeffrey / @bradleysharpe