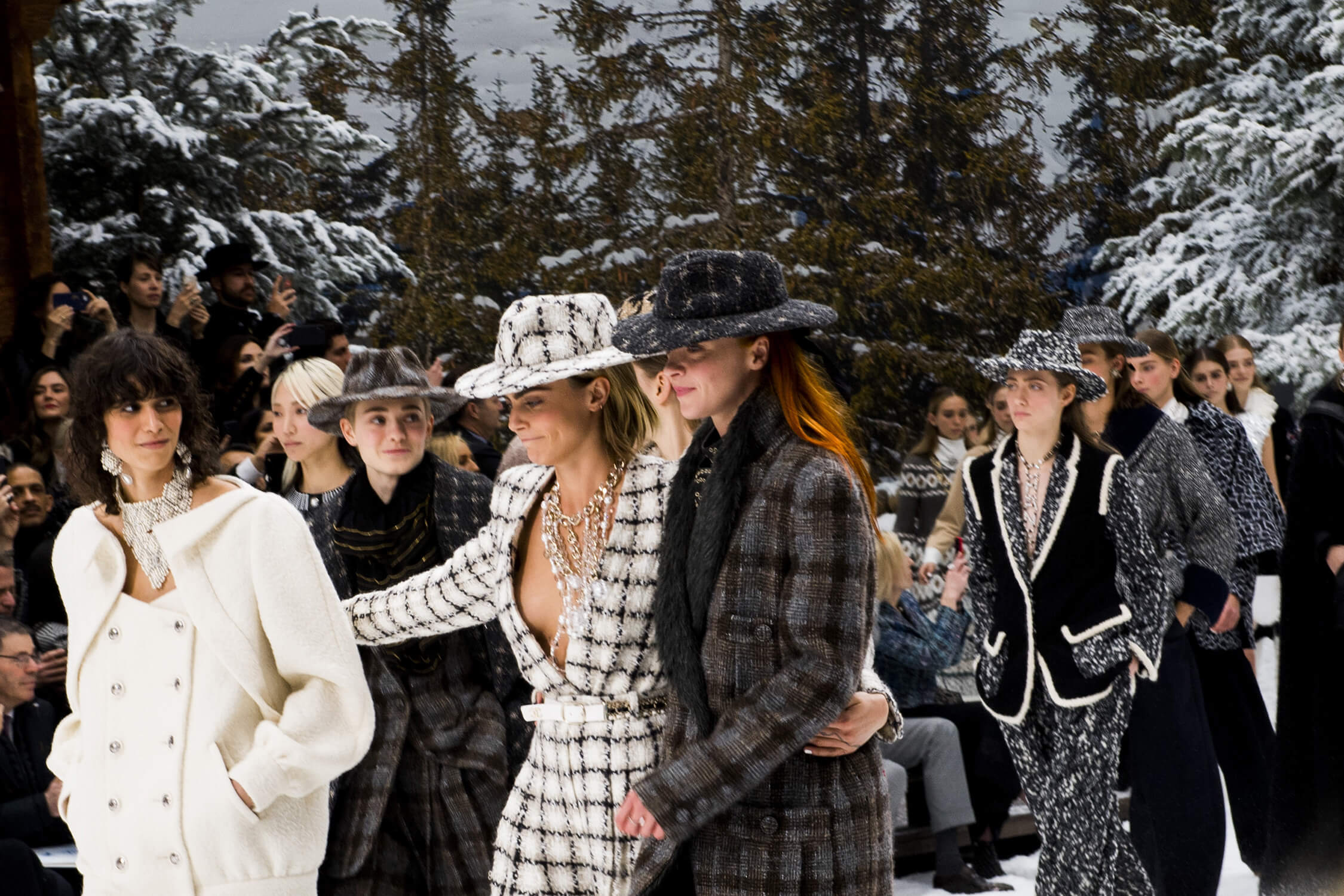 Crowds had gathered outside the Grand Palais to pay their respects to one of the greats of 20th and 21st century fashion. Karl Lagerfeld's final collection for Chanel was about to be unveiled. He'd worked on it up to his death, dashing off sketches, directing the atelier and thinking up stage sets – the ideas for which, he often said, came to him in dreams.
And so we stepped from the pensive crowd scene outside, into an Alpine themed extravaganza, complete with snow covered chalets and a vast photo realistic mountain backdrop. It's hard not to succumb to the Disneyland delight of a Chanel set even if the occasion was sombre. We'd been told the house was staying faithful to Karl's vision for the final show he created with Virginie Viard: his successor and the woman he described as his "right hand and my left". What we didn't know was how the Chanel planned to mark the passing of its designer of 36 years. When he joined in 1983, the house was a dusty relic, known more for its perfumes than fashions. He gave it relevance, found witty ways to revive its icons and reconnected it to the zeitgeist.
An icicle chorus began to play as models filed onto the steps of the Chanel, Gardenia chalet. Once they'd assembled, everyone observed a minute of silence. It was dignified and respectful. It didn't wallow in grief – Karl would have hated that. Then the show began. Cara Delevingne led the first models down the snowy runway, all wearing enveloping tweed coats and wide trousers. The proportions felt modern, as did the shrugged on elegance of the look. The Chanel suit was reimagined as tweed pedal pushers under a matching shift. There was a sporty utility trouser-suit version in vivid turquoise. The ski theme was lightly handled. Alpine knits were worn with Chanel quilted puffas, fluted chiffon dresses had the zip neck fastenings of a retro ski suit. The final dresses were pure fantasy. Crystal and feather snowballs worn by Penelope Cruz, Kaia Gerber and Adut Akech. It was a wonderful, whimsical, fantasy fashion moment. Witty and chic. So very Karl. As tearful models walked the finale, the audience stood in a show of respect.
Photographs by Jason-Lloyd Evans.