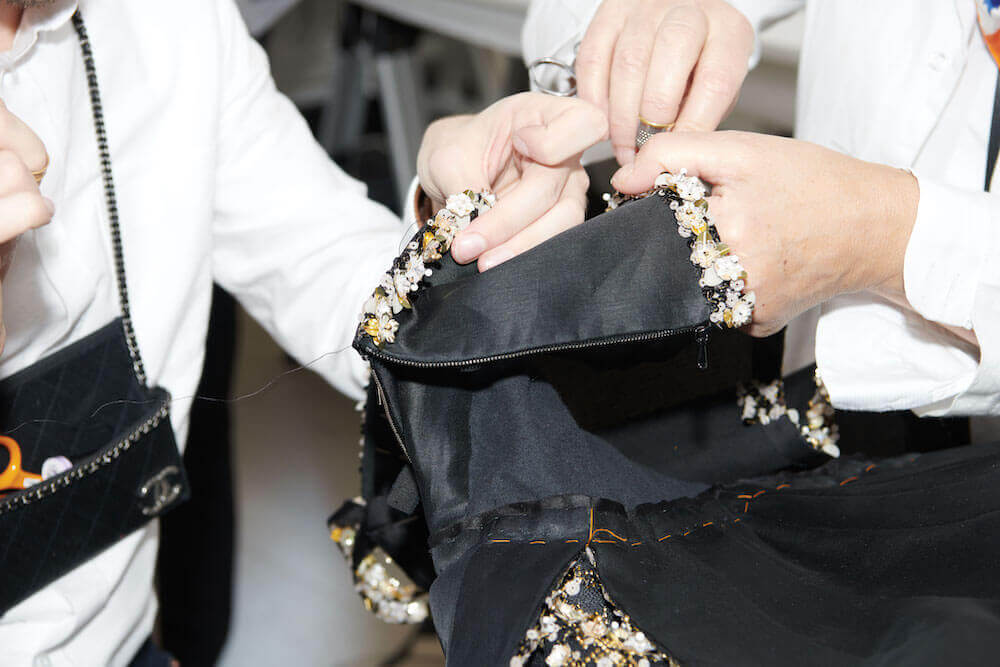 As Karl Lagerfeld worked on his final couture collection for Chanel, 10+ was given exclusive access to the house's normally out-of-bounds Couture ateliers to meet the premières. These four talented women preside over four separate teams of petites mains – two tailoring, two flou – and each interprets and translates the intricate sketches and elaborate visions of the designer of this incredible house.
Karl Lagerfeld's final couture collection in January was a triumph. Exemplifying the highest iteration of Chanel, there were the boat-collar tweed jackets with their balance-defying sleeves, the minutely pleated chiffon dresses interspersed with lace, and the sumptuously embroidered celadon stiff strapless gown that the designer admitted was his favourite.
With a set implying a grand Mediterranean garden, the show took place at the Grand Palais. The models appeared via the equally grand Villa Chanel and walked through the neat pathways à lafrançaise, bringing to mind the 18th century. Notwithstanding the opulent circumstances, Karl was a no-show, a first in his 60-year career. The funereal-like announcement that Monsieur Lagerfeld would not be attending was greeted with shock. After turning to my neighbour to express surprise, I noticed that almost everyone else was doing the equivalent. So the rumours were true.

Madame Olivia, atelier flou première
Throughout the Christmas period and the weeks that followed, Karl had been refusing calls from intimates and was in and out of Paris's American Hospital. Suddenly, I had this sense of doom. The very brilliant Karl, who defined "fashion survivor", was now struggling with his life. Less than a month later, Karl would slip away. Explicit about his instructions for a "very, very private moment", he would be quietly cremated in the companyof his colleagues and close friends, which would be followed by a reception held at the Chanel flagship on Rue Cambon. Regarding his ashes, Karl had previously expressed that they be scattered near those of his mother, Elisabeth, and of his cat Choupette, if she passed away before him.
A dose of poetry laced each decision. However, Karl's intention to end on a couture collection that had strong 18th-century themes,with inspirations including the march and merciers exhibition (loosely described as artisans who disappeared during the French Revolution) at the Musée Cognacq-Jay in Paris, as well as the omnipresent use of strappy, satin couture pumps evoking the 18thcentury, brought his career full circle. I began my professional life in Paris with Karl at the Chanel studio in 1989, when he was Monsieur Dix-Huitième Siècle. Outside the team of noted experts at Sotheby's and Christie's, few had read as much about the era, while certain pieces in his collection were viewed as museum standard. Then he did a Karl – he decided to turn the page – and everything was auctioned off in 2000. That he ended on the 18th century, describing it as his "favourite period", was touching.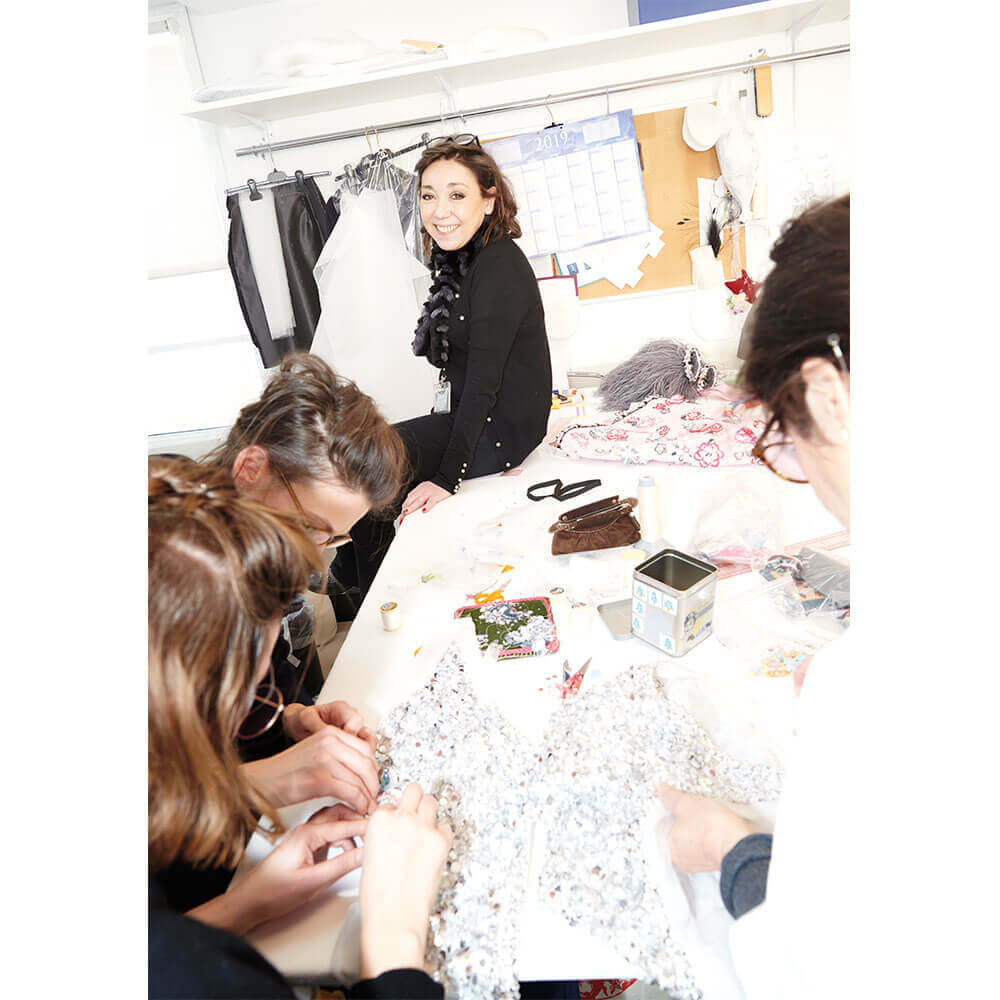 Madame Cécile, atelier flou première
Karl was touching. A romantic beauty continued to move him. At the Chanel studio, when Christy Turlington appeared in a simple black evening gown, he became visibly quite stumped forwards until he handed over a slim black velvet ribbon to make her neck look even longer. Every season, he poured his innovative ideas, savoir-faire and Teutonic discipline into the collection, but his imagination and love of history went into overdrive with Chanel's Métiers d'Art. When taking his bow at the end of the Paris-Edinburgh collection in 2012, I caught his eye and beamed. Stupendous – in a few minutes, Karl had caught the clans, the bloodshed, Mary Queen of Scots, yet had designed infinitely wearable Chanel clothes.
Nevertheless, when visiting Chanel's fabled couture ateliers that are divided between flou (everything soft, not tailored) and tailleur (tailored) on the afternoon before the SS19 couture show, I am reminded of Karl's technical expertise and the depth of respect it has established. Seamstresses (les petites mains) are quietly sewing or fitting pieces while different embroidered looks are being delivered. In principle, I am interviewing the premières about the collection, but each talk with the Mesdames – the correct way of addressing them – quickly turns to Karl. "Like everyone who works at Chanel, I want to please him on a daily level," enthuses Madame Olivia Douchez, in charge of the main flou atelier. "The teeniest line in Karl's sketch means something," says Madame Josette Peltier, from the tailleur atelier. "And when we ask a question, he knows everything – how you enter the dress, close the jacket at the back. He's a phenomenon." Madame Cécile Ouvrard, the première from the other flou atelier freely admits."After every collection, we say to each other, 'What's Karl going to do next? He can't go beyond that.' But then he does." Madame Jacqueline Mercier, in charge of the main tailleur atelier describes him as "extraordinary."
The premières are also fairly extraordinary because, once the sketches have been received, they need to turn the collection around in five to six weeks. "You have to be passionate, always working, thinking and sorting," says Madame Jacqueline. "Your goal is to make the designs look light as well as achieve the most delicately difficult work possible." A youthful-looking 66-year-old, she is standing beside a silver sequined jacket that suddenly catches the sun's rays and looks armour-like. When complimented on the remarkable piece, she smiles and reveals, "this is my 43rd couture collection with Karl." Arriving at Chanel in 1997, she replaced the Spanish-born Monsieur Paquito, who had gone into retirement."He was a personage, very funny and a true professional," she recalls. Prior to Chanel, Madame Jacqueline had been with Angelo Tarlazzi, an exuberant couturier. "He was quite different but gavesuch joy. That's because Angelo was Italian!" she says. However, in 1992, the house of Chloé poached her when Karl returned to his former place of work and designed ready-to-wear for the brand. Virginie Viard even briefly left the Chanel studio in order to accompany him. "At Chloé, I did the suits and a few dresses, but not the major ones," Madame Jacqueline recalls.
Upbeat but matter-of-fact, she reveals that there is always a look that poses a problem. "We frequently don't understand why, but it becomes the look," she says. "Often it's not the one that you think – it can be the problem of fabric – it's impossible to predict." This season, the sleeves have been her atelier's bane. "Chanel sleeves are iconic in themselves," she states. "What's been really difficult is the boat collar – it's very décolleté and so there's less fabric to hold up the sleeve."
When Karl's sketches arrived, Madame Jacqueline distributed them according to the abilities of staff. "Some are better suited to satin, others are best working with a wool fabric," she says. "My secondes [her number twos] and I are aware of everyone's best points and give out outfits according to their competence." Being a première, Madame Jacqueline does not physically work on looks."Instead, with Karl's sketch in hand, I inspect the volume and shape," she says. Concerning her 46-person staff, she has a few men in the mix. "It's good," she says. "Having another approach and energy, they complement the atelier."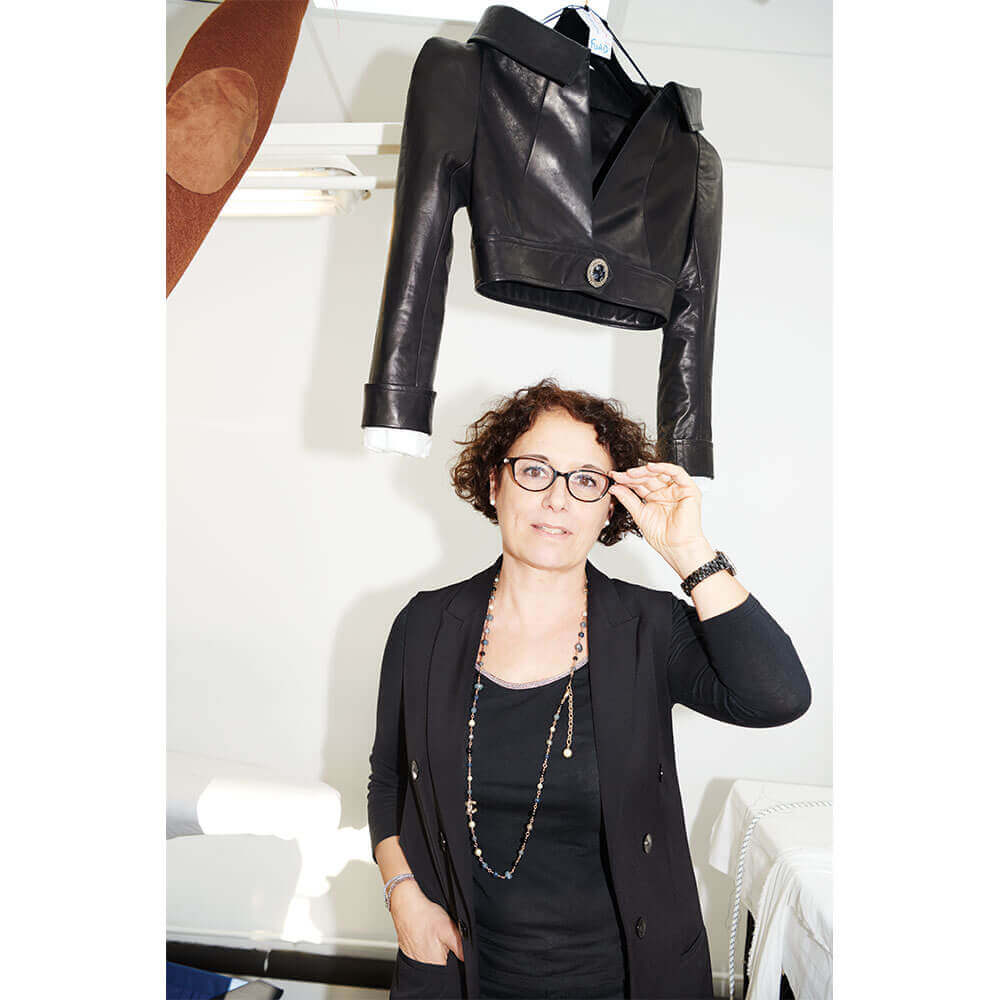 Madame Josette, atelier tailleur première
Madame Olivia arrived at Chanel in May 2015. "I replaced Madame Martine," she says. At 36 years old, she is unusually young to be in charge of an atelier boasting 42 seamstresses. Yet it is hard not to be swept up by the fetching blonde's dynamism as she quickly recounts that she was born in the south of France, attended fashion school in Cannes and, after honing her skills in Nîmes, Rouen and Lyon, did a year at Kenzo before being snapped up by the house of Givenchy. "Riccardo Tisci was the designer, and I spent 10 wonderful years there," she says.
It was always her dream to work at Chanel. "Fifteen years ago, I saw Karl at [the book shop] Galignani," she recalls. "I was next to him, looking at a book, and I didn't dare talk to him. I so wanted to. I even asked Sébastien [Jondeau], his personal assistant, if I could and he said, 'Sure, go right ahead,' but I couldn't. Then I called my parents in floods of tears." As can be imagined, Madame Olivia's first Chanel dress remains carved in her memory. "Coloured grey, it was for the casino collection," she says. Hearing her talk, how even after the show she breaks down and questions every single technique, determined to find the best solution, makes you wonder if Madame Olivia is not the flou world's equivalent to Karl.
Each season, she has her bible, a book crammed with sketches, photos and notes. Karl's original 19 sketches, however, are spread out on a table. The large, voluminous dresses catch the eye, as do the white chiffon, lingerie-type ones that require minuscule 5mmpleating. "Chanel is renowned for its work with silk chiffon," she says. "Pleating is very difficult to do and quite time-consuming, because it's all hand-sewn." Following Karl's sketches, Madame Olivia needed to pose the pleats on the model's body and then adapt and diminish accordingly. "It looks so light but it's very couture couture," she stresses. The stiff celadon taffeta dress returns, having been embellished with porcelain-type flowers inspired by the march and merciers show. "Now the skirt's volume has to be added," she says.
Madame Josette, on the other hand, is concerned by the mermaid style of her suits' skirts that "start quite close to the body and then go out from the knees". She arrived at Chanel in 2008, having been at the mythic house of Yves Saint Laurent for 20 years and Azzedine Alaïa for five, as well as briefly at Jean-Paul Gaultier. "I didn't replace anyone," the 57-year-old says proudly. Due to the high demand of Chanel suits, a new atelier was created.
"Chanel is such a beautiful house," she says. "Nothing is rigid, particularly the suit, which is both soft and supple." MadameJosette's praise for Karl spills over – "He has the soul of a couturier, the eye of a photographer and the hand of a draughtsman." If she nurses a single regret, it is not working with him earlier in her career. "He's that fantastic," she insists.
Madame Cécile has been at Chanel for 18 years. She began her career as an apprentice at Nina Ricci – "I was 17 years old and did seven years," she says – then left to join Christian Lacroix for14 years and had a brief interlude at Gaultier couture. "I loved working with Monsieur Lacroix but his work ethic was nothing like Monsieur Lagerfeld's," the 56-year-old recalls. "He would give a swatch of fabric and three sketches that needed to be fused together for the dress, whereas Karl knows exactly what he doing. If he draws in three buttons, he means three buttons."

Madame Jacqueline, atelier tailleur première
She describes the collection as being refined but playful with the palette: "It's very pastel and almost sugary – varying shades of yellow and pink – but not insipid. Think sugary with character."Like Madame Olivia, she has had her share of pleated chiffon dresses for the collection – "Pleated chiffon has always been Chanel's expertise," she says – but her evening gowns have been less "big skirt and debutante ball-like". Meanwhile, one of her atelier's pièces de résistanceis the smocking of a pink organza outfit with 600 beads. "That type of work belongs to another era and is no longer done," she says.
For several minutes, I witness one of her atelier's young seamstresses threading the pink beads before sliding them in. It becomes fairly mesmerising until I realise that I am in the way. Madame Cécile's atelier is snug. So after verifying the number of outfits with each atelier, I gather my clutter and leave. While descending the various flights of stairs, I spot a seated Sébastienwaiting. It meant that Karl was nearby. For a split second, I wonder if I should say hello. However, the handsome Sébastien looks so forlorn and resigned that an inner instinct prevents me. With hindsight, I don't think Karl would have appreciated my sudden appearance either, actually! Still, a last look and goodbye would have been nice. A last goodbye laced with heartfelt gratitude. Dear Karl, I still cannot believe that you have left us.
Photographs by Maria Ziegelböck.
10+ Issue 2, EVERYONE, VOCAL, TOGETHER is available to order HERE.