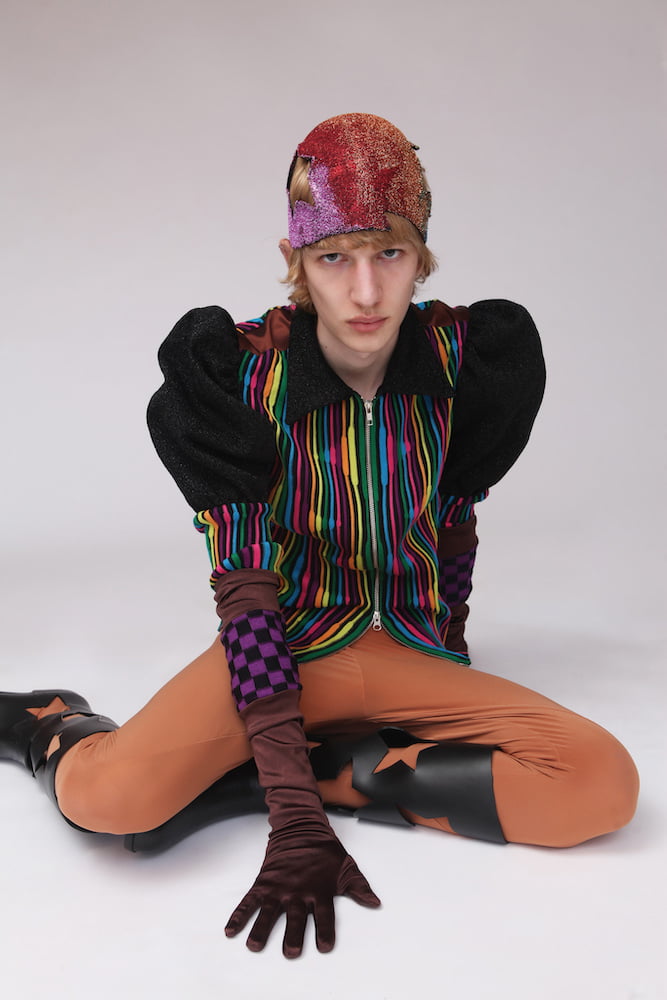 The Central Saint Martins fashion MA course is a crucible of creativity. Its alumni shape the industry and if you want to divine what the kids of 2021 care about, then this creative cohort is the place to look.
They come from all over the world, bring a multitude of perspectives and pour them into their work. With collections embracing themes as diverse as queer culture, feminism, multiculturalism, ethnicity, sexuality, sustainability, identity and gender politics, the first take-away from this MA show, is that fashion is a highly effective medium to talk about the world we live in. What a time to be alive!
Graduating into a Covid pandemic, the class of 2021 created their collections at home with remote teaching using whatever resources they had to hand. Unable to hold their traditional graduate show, instead they made films and visuals, told their stories and showcased their work on a special digital platform, sponsored by L'Oreal. It allows viewers to take a virtual walkthrough of the collections and explore the 'rooms' each designer has created. And what worlds.
Portuguese designer Antonio Castro (@ant.oniocastro) used waste materials to compose fantastical fabrics crafted into beautifully romantic forms. His intense textures won him the coveted L'Oreal prize (chosen this year by American Vogue's Gabriella Karefa-Johnson). She also singled out Icelandic designer Sol Hansdottir (@solhansdottir), who created her poetic collection on her family's farm, using whatever materials she had to hand.
Resourcefulness and an ability to adapt are the superpowers of this cohort. Genevieve Devine (@genevieve_florence_devine) repurposed her own wardrobe for her collection whilst Adam Alaoui Elyassé (@dam29th_) drew from his multi-cultural experience of living across different communities in London's East End and North Africa. His veiled men, wearing tent-like, sculptural sportswear was stand out. Identity was at the heart of David Weksler's (@jahjahdeve) collection, which imagined a new tribe of Jewish desert dwellers.
The perky, polished silhouettes of Vivien Canadas (@viviencanadas) – this boy can cut! – bounced into view. Elissa Trombatore (@dreaming_eli) explored body positivity and female sexuality with her lingerie-inspired pieces and Connor Baxter (@connorjosephbaxter) created full-size wearable sculptures including an upright 'ghost' piano in gauze. He invited his audience to "Check out of the reality that no longer suits the purpose for growth." Escape to the future? The class of 2021 are ready to shape a new reality.
Photography courtesy of Central Saint Martins. CSM has produced a photobook by one of Britain's leading photographer's, Anna Fox, to document the building of the final year collections. The photobook is being sold exclusively through Machine-A's, with all proceeds going to CSM. Purchase your copy here.