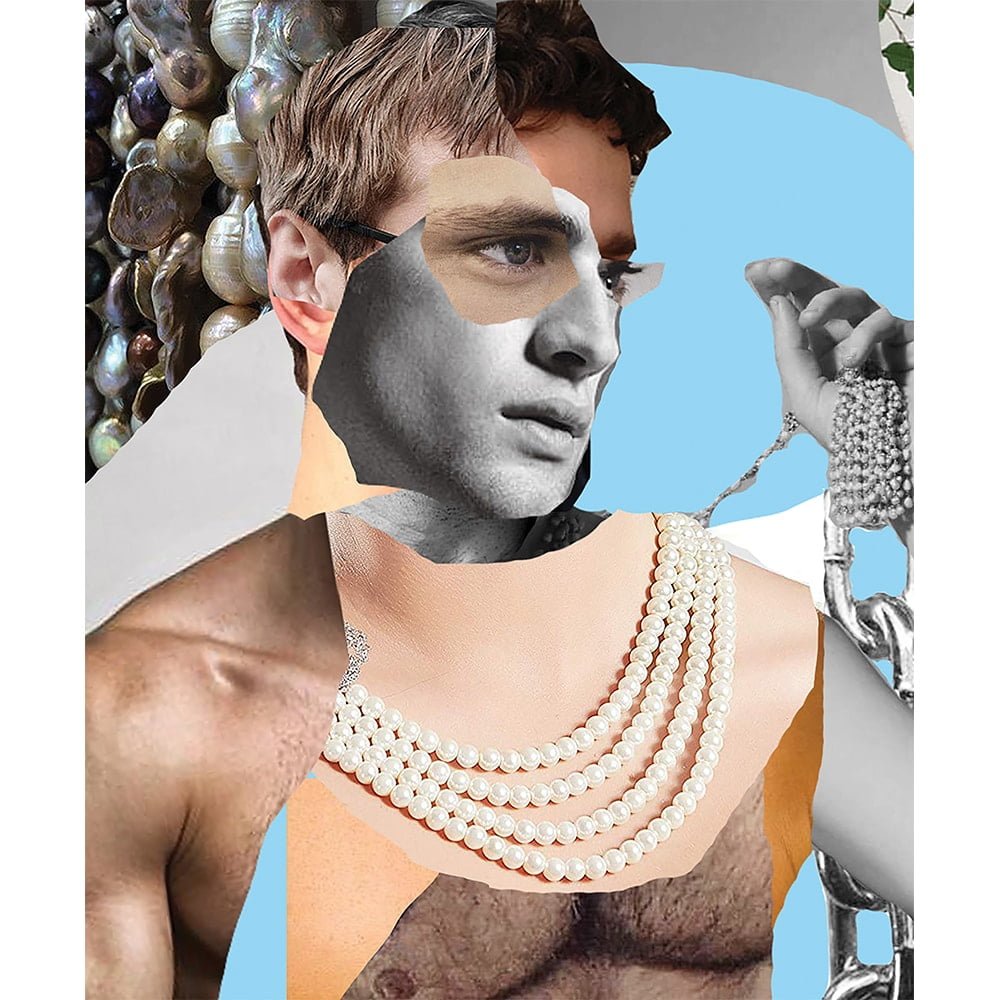 "So you're wearing them seriously?" my mum asks with a confused expression on her face while pointing at my neck. Around it is a single row of irregular freshwater pearls. I've not seen her this befuddled by my styling choices since that time when she picked me up from the airport after a week-long adventure in London, only to see me parading around in a pair of skinny jeans. Shock. Horror.
My mother is not conservative in any way, but she is a style traditionalist. Black and navy is a no-no. Don't even think of coming her way if you're mixing silver and gold hardware. She's particularly harsh with trends that she experienced the first time round. Mom jeans, big shoulder pads and pointed stilettos are all totally out of the question. And, apparently, so are pearls. For her, and many others, they carry a symbolic meaning of older women with tomato-red lipstick smeared all over their teeth, who smell like some local iteration of a white musk scent. They also remind her of Queen Elizabeth II and Grace Kelly, both of whom look absolutely fabulous, if nothing like her 26-year-old son.
Her next question, as usually happens in these style-focused interrogations, is a very loaded "Why?" "Because they just make me feel strong," I reply with a grin of excitement. And they do. Plastic or real, layered in rows of necklaces or just a single pearl dangling off a thin gold chain, wearing these little white bulbs and getting them unintentionally stuck in my untrimmed chest hair somehow makes me feel more empowered than wearing a perfectly cut suit or a statement coat. It's the contrast between their presence in the collective consciousness and the reality of a camp hairy man literally clutching his pearls.
"It can be very common in a way – on a black dress, on a woman – it's something very normal. On a man, on me, always wearing black, it has a totally different sense and a different way to look at things," fashion designer Giambattista Valli, a fellow pearl aficionado, tells me. A single strand of large pearls wrapped tightly around his neck has become his personal signature. I dare you to find an image without him wearing one! Valli's love of pearls comes from his travels when, about 20 years ago, he visited Jaipur in India with a friend and came across a single strand of precious Basra pearls. "I had always been inspired by the images of maharajas – these men wearing jewellery in such a comfortable, manly way."
@giambattistavalli
One of those royal men who demonstrated the power of pearls was Yashwant Rao Holkar II (1908-1961), aka the Maharaja of Indore, aka the Modern Maharaja, a notable figure and style icon who had one of the most remarkable art collections from the first half of 20th century. His colourful life and extensive archives were the subject of Moderne Maharajah: Un mécène des années 1930, a recent exhibition at the Musée des Arts Décoratifs in Paris. Following the show, the Maharaja of Indore was also the starting point for Clare Waight Keller's AW20 collection for Givenchy, thanks to his unique way of merging his Eastern heritage with Western interests. In the exhibition, a stark white painting signed by Bernard Boutet de Monvel portrays a captivating figure all in white, sitting cross-legged on a white pouf; a colourfully wrapped talwar lies in front of him and dangling around his neck are two strands of shiny bulbous beads. Both sword and necklace speak of his royal status.
Before they became a staple in your auntie's jewellery box, pearls were indeed part of aristocratic dress in the East, dating as far back as 2300 BC, when they were presented as gifts to the Chinese royal family. Their popularity in Europe emerged with the Romans after Pompey the Great's return from his military campaigns in Asia Minor in 61 BC. He brought back pearl-decorated crowns and even a shrine, as well as a portrait of him made from these wondrous white beads. Rome's elite were entranced and a whole new industry was born. Of course, this was a time when only the top per cent could enjoy the feeling of wearing natural pearls.

'Maharajah of Indore' by Bernard Boutet de Monvel (1933/ 1934)
It wasn't until the Japanese entrepreneur Kokichi Mikimoto created the first cultured pearls in the late 19th century that they became a thing of mass appeal. Wishing to protect and raise the value of Akoya oysters, which were being overfished, Mikimoto started his own pearl-oyster farm and, in 1893, after plenty of scepticism from the public and numerous failed experiments, arrived at a scientific breakthrough: the first cultured semi-spherical pearl. The Mikimoto technique continues to be used all over the world and can produce pearls in a variety of sizes and colours, depending on the sort of oyster.
Mikimoto also remains a brand synonymous with quality in the field, constantly reinventing and expanding its offering and the world's understanding of what pearl jewellery can look like. A tiara? Sure. A brooch with diamonds and emeralds framing the white dots? Why not? This year, it debuted the first chapter of a two-year collaboration with Comme des Garçons, making it the avant-garde Japanese fashion brand's first fine jewellery partnership. "Comme des Garçons has always enjoyed the synergy and accidents that can come from collaborating, and we love working with authentic traditional companies like Mikimoto and making something new," says Adrian Joffe, president and CEO of Comme des Garçons. "It's pure instinct and coincidence about why now, but the fact that it is a collection designed to appeal to everyone, not gender specific, seems very much the perfect timing." The first capsule collection consists of seven designs, mixing sterling silver statement pendants spelling out the brand's name and Mikimoto's top-quality white South Sea and Akoya pearls. Their prices match the wow factor of the story – be prepared to whip out up to £30,000 for the most expensive in the collection.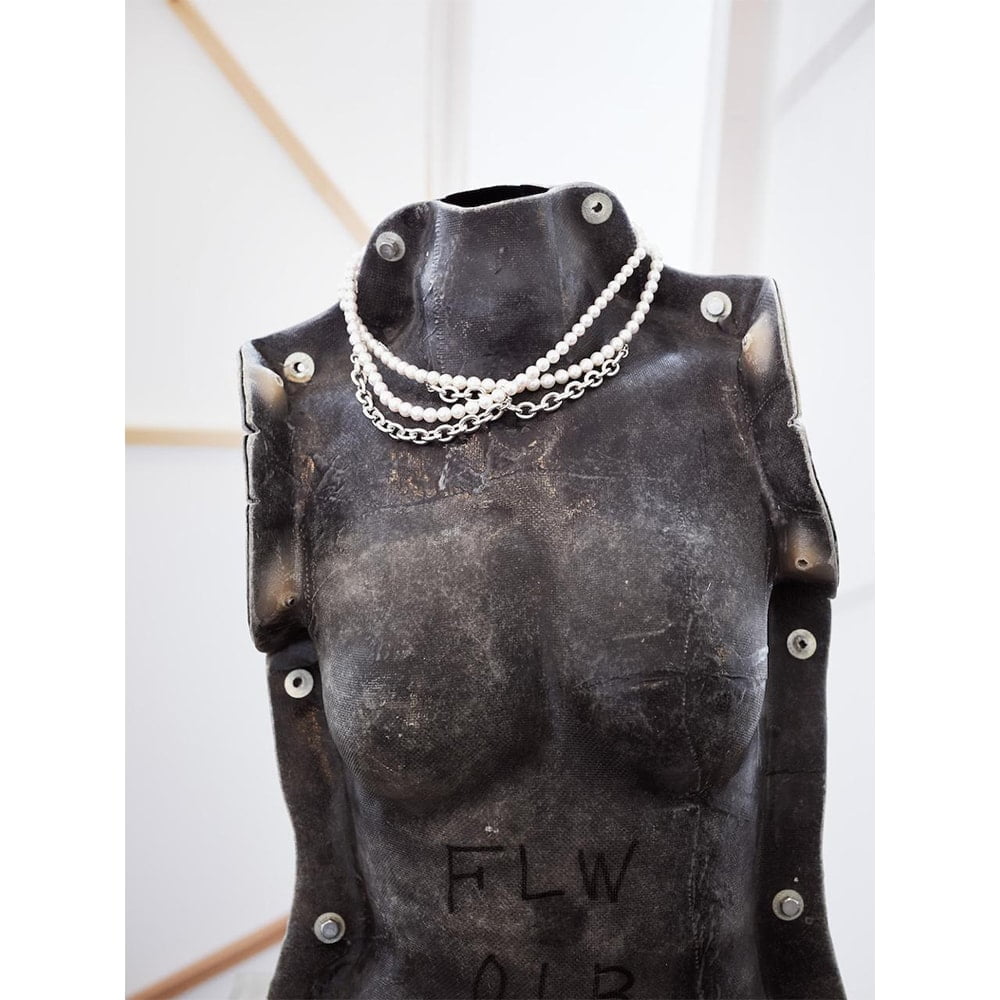 Mikimoto x Comme des Garçons, photograph by David Foessell
Unlike diamonds, the quality of pearls can't be quantified with carats. However, this allows for a much larger range of prices, with some pearls' value even exceeding that of diamonds due to their uniquely large size and consistent surface and colour. Last November, Milena Lazazzera reported in The New York Times that pearls represented 3-4% of the $100 billion spent globally on jewellery in 2018. Contributing to this value aren't just high- and fine-jewellery brands such as Mikimoto. Leaders of this pearlescent movement are popping up lower down the price scale, too, creating a new, democratic vision.
Rosh Mahtani founded her Divine Comedy-inspired jewellery brand Alighieri in 2014. "When I first started it, I was trying to look for materials that weren't too expensive, because I didn't really have any budget. I found a strand of 'peanut' pearls – they're called this in the industry because they're misshapen. I loved those pearls as they weren't crazy expensive, because nobody wanted them as they weren't the right shape," she says. Alighieri has since become a booming business and a trailblazer in the contemporary-jewellery world. In a way, irregularly shaped – or rather, poetically imperfect – pearls spearheaded the birth of a whole new price point in this market sector, contemporary jewellery being more approachable than fine but more precious than costume. Mahtani has since established a visual language with her jewellery that has the feel of vintage family heirlooms. Her list of bestsellers includes the asymmetric Infernal Storm earrings, the cascading La Jetée earrings, and her first pearl necklace, Calliope… All pearled of course.
When she launched her first men's jewellery collection last May, Mahtani included a single pearl earring on an open hoop, paying homage to Johannes Vermeer's legendary painting, now reimagined in masculine form. Inspired by real-life men wearing her mainline pearl pieces, the designer, who has just been named this year's winner of the Queen Elizabeth II Award for British Design, embraced the interchangeable nature of her pieces and shot her mainline AW20 collection on both a girl and a guy together. "The idea was that the jewellery was interchangeable and, when she's gone, he picks up hers as a reminder of her, embodying that sense of longing."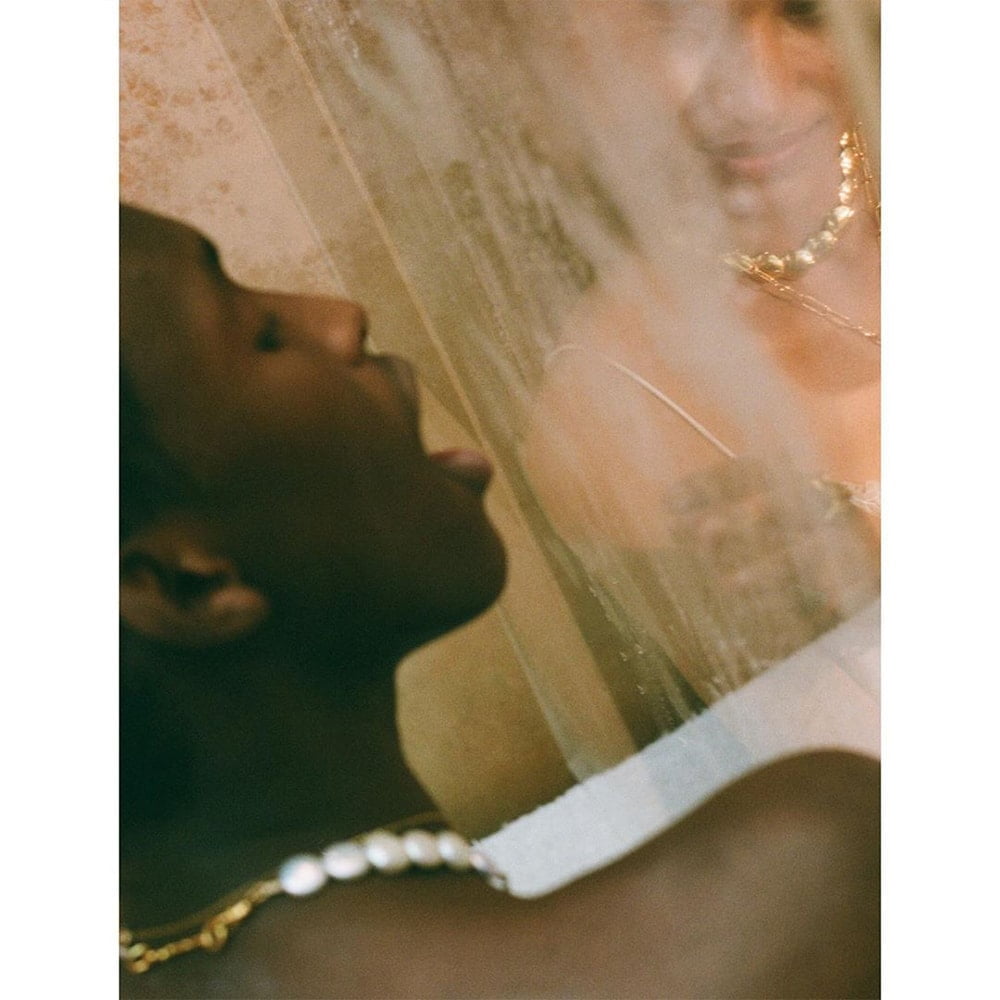 @alighieri_jewellery
Slightly less nostalgic about his approach, but only a few doors away from Alighieri's Hatton Garden atelier, is Jack Cannon. He established his own brand, Hatton Labs, in 2017, after 10 years working in London's prestigious jewellery quarter and growing up with a watch-trader father. "Being here [in Hatton Garden], obviously we sell jewellery to the 1% of people – massive chains, big expensive watches," says Cannon. Designing pieces for his friends, he found a gap in the market for approachable urban jewellery as a more affordable alternative to the diamond-encrusted chains worn by famous rappers.
One of Cannon's breakout moments came courtesy of a pearl and chain necklace he custom-designed for British rapper Octavian and his music video for the song Bet, a collaboration with Skepta and Michael Phantom. The piece, which can also double as a jean chain ornament, was an instant success, which led to Hatton Labs working with pearls more extensively. Cannon is currently working on special capsule collections of men's jewellery starring freshwater pearls for Browns, Ssense and End.
@hattonlabs
But where does this sudden universal interest in pearls come from? Part of the credit can definitely go to celebrity culture. The Met Gala, possibly the most outrageous fashion event of the year, has had some pretty standout pearl moments. When she co-chaired the event in 2018, Rihanna wore a custom pope-like get-up by John Galliano for Maison Margiela, which apparently took 750 hours to make, every inch of it glistening with pearlescent shades and stones. Last year, it was Harry Styles who chaired the event and, while decidedly more subdued, he brought a subversive tone of conversing about the year's theme, camp. In all black (and styled by our senior fashion editor-at-large Harry Lambert), with a see-through pussy-bow blouse and super-high-waisted trousers, it was his pearl earring that made everyone go wild.
From maharajas and Sloane Rangers to the Boy Better Know crew, pearls have had quite an adventurous life that has never really seen them escape the limelight completely. "For me, they are something timeless, something that never went out of style. They run parallel to fashion, but never really went in or out of fashion," says Valli. Now, if only I could get him on the phone to my mum so that he could explain that to her…
Top illustration by David Lock. Taken from Issue 51 of 10 Men – GENTLE, SENSUAL, FANTASY – on newsstands now.