If you've been looking for some jewellery that will instantly lift your mood in hopes of brighter days to come, then meet Boochier. Born in 2019 and crafted from the hands of Hong Kong-based designer Melinda Zeman, the luxury fine jewellery brand has quickly gained recognition for its untraditionally colourful rings, bracelets, necklaces and earrings enchanted by dozens of diamonds and precious stones.
Boochier celebrates '90s nostalgia and the unapologetic maximalism of the MTV era. Balancing playfulness and luxury, Boochier creates pieces that can be worn from day to night, complementing any look and perfect for any occasion.
"Boochier is about finding unexpected joy in small packages. People don't realise how important colour is in our lives; it is the ultimate mood lifter and we hope to spark an explosion of joy when people look at themselves and see our jewellery," says the founder. Embodying joy, tolerance and positivity, the brand honours inclusivity in all of its factors, reflecting Zeman's Chinese and Ghanian heritage at its core, and hopes that each individual consumer sees themselves reflected in the brand. "We want to push boundaries in a world with so many and bring happiness and joy at a time where it is needed," she says.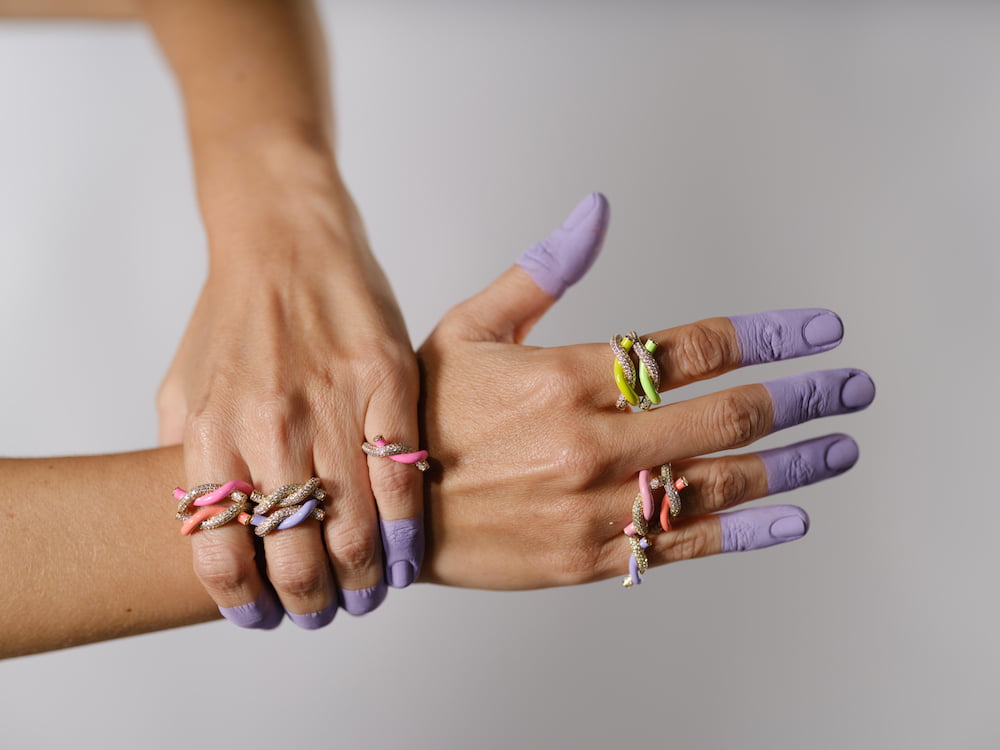 The brand's joyous jewellery is meant to compliment your mood, and although it's fine jewellery, Zeman says these pieces are perfect for the everyday. "Boochier is about living in the moment and enjoying what you have when you have it," she says. "We love the unexpectedness of mixing diamonds with bright colours. We believe that everyone has a playful side in them and we strive to awaken it."
With its slew of exclusive clients growing by the day and new collections already in the pipeline, what we can expect from Boochier is always bright, colourful and exciting. "Boochier is very much about nostalgia along with the innocence and hopefulness that comes with it, which will be reflected in the coming collections," she adds.