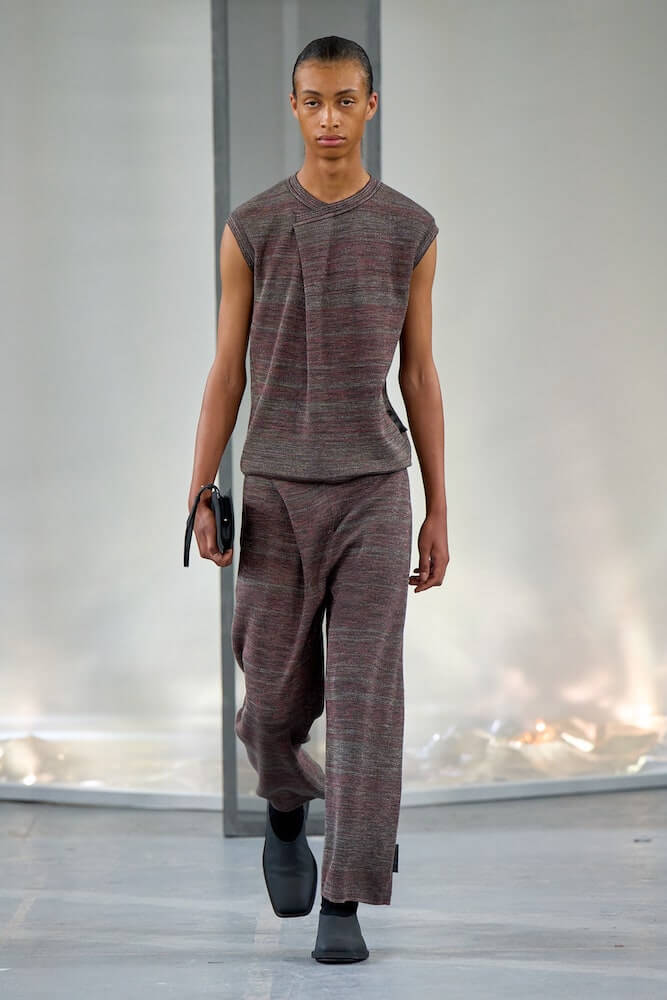 For SS23, Bianca Saunders riffs on the duality of external appearances and internal realities. Derived from the paradox of traditional Jamaican cuisine, the London-based menswear maven plays with this antithesis in which starchy sides called Hard Food are tough prior to preparation yet soft when consumed – think boiled yams, plantains and dumplings. Taking a more literal approach as the collection develops, hand-assembled collages of Hard Food recipes are even printed onto the boyish apparel on offer.
Presenting in Paris for a second season, the ANDAM Award-winner took summer suiting to new heights. Subtly skewed and mischievously intertwined, eccentric tailoring and slouchy trousers appeared in subdued hues while twinsets with reversible subtleties boasted barely-there contrasting tones. Reframing Saunders' technical signatures, louche suits came in boxy silhouettes and temperamental textures – through swirling seams and twisted drapery manipulated with intent, nothing is as it seems. 
Streamlined Bianca Saunders staples, such as the Lexus jacket and convex hemmed bomber, make a triumphant return in coin green trompe l'oeil corduroy leather this season, while grainy lurex knit pullovers glint like television static and recall VHS films of 1980s dancehall parties. 
At the forefront, a series of long-sleeved t-shirts, trousers, trench coats, button-ups, trackies and shorts host a warped-grid print you might recall from Saunders' AW22 offering. On crepe, the linear and bifurcated lines create the illusion of a surface brought to life and moulding to the natural contours of the body. 
To top it all off, this season also sees the debut of a fresh partnership with Eco – part of the new AT-Kolektive which also includes Natacha Ramsay-Levi. Here, lambskin ballet flats, turquoise leather and natural canvas handbags recall the crumpled art folders that the RCA graduate would tote when she was still a student. 
Photography courtesy of Bianca Saunders.