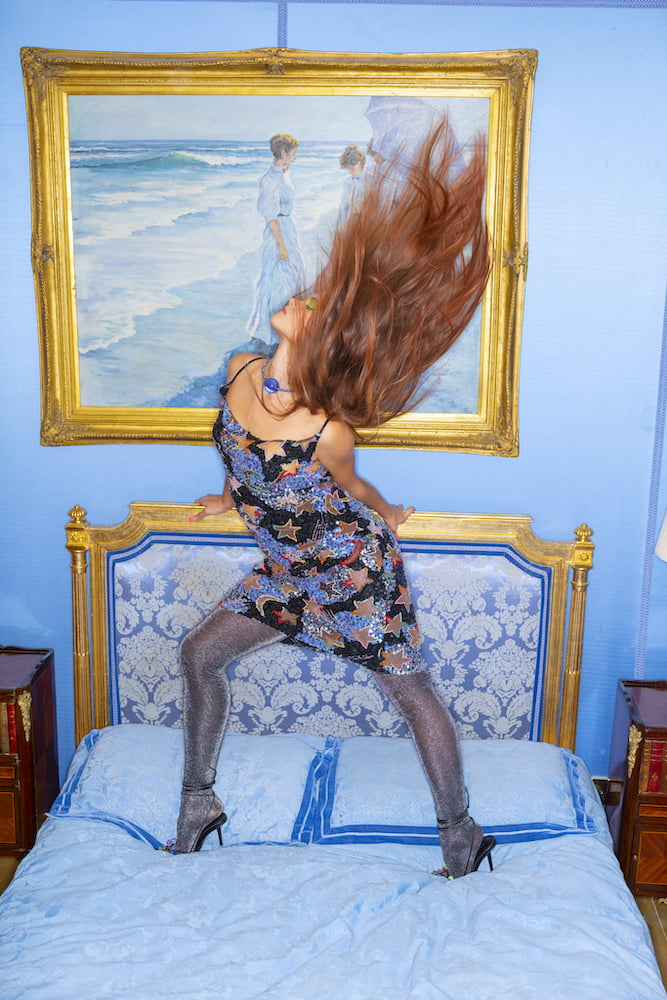 Through the pandemic, Ashish Gupta has found comfort within imperfections. Still unable to return to his factory in New Dehli where he usually produces his collections – there have been over 34m cases of Coronavirus in India since the pandemic began – the designer has been forced to work remotely, armed with only a skeletal team of staff halfway across the globe.
Having what he describes as a moment of "writer's block", the designer began doodling florals, moons, stars and zig-zags. The joyous illustrations would become the centrepieces of the designer's SS22 collection, which pairs playful denim with shimmering party minis and a beaded fringe dress that demands to be worn on the dancefloor.
"Weirdly, I wasn't thinking about anyone specific," says Gupta of his design process. "It was more the idea of lightness, summer, sunshine and flowers. And I know flowers for spring, groundbreaking." The sketches were then digitally transferred onto Ashish signatures, like fully sequined frocks, and new additions to the designer's repertoire, like feather-light, sheer smock dresses.
"I'm still working long distance in a digital format, which is especially ironic when you're doing things like scribbling some flowers that have to be transferred digitally, which is a bit of a mind fuck," says the designer. "The appreciation of [the collection] initially has to be via a picture, because you can't see it and feel it until you actually have a sample in your hands. But I have to say, when I saw everything, it gave me quite a lot of joy."
Making his last three collections under such circumstances has pushed the designer to experiment in ways he never thought he would, and with the strong possibility of being able to return to India to create his next collection, the optimism around Ashish's namesake label is as palpable as ever.
Photography by Will Sanders.