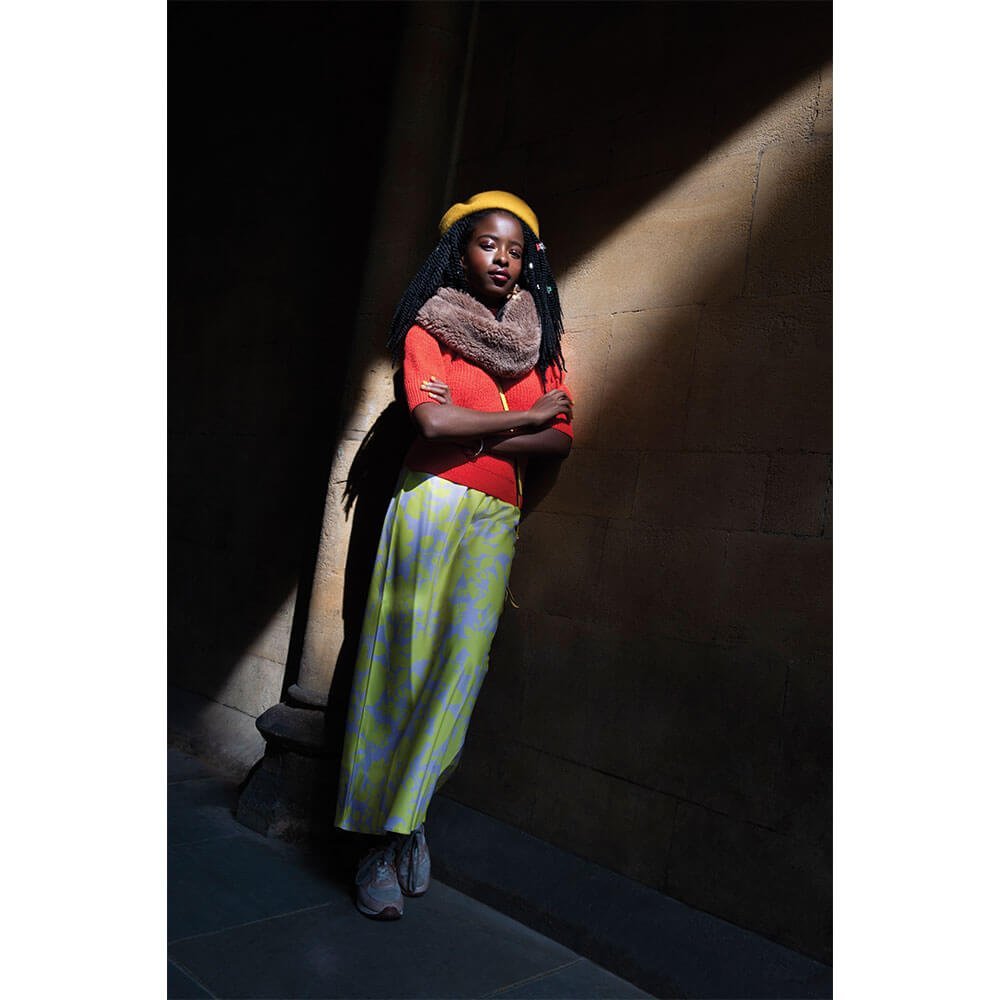 To the Daughters
Power stirs within a daughter
authentic as the cold
so much potential beneath her winter.
Her name: buds in spring
– all the fight and spark –
power untamed, unfurling
Amanda Gorman
"I have this thing that I do where I close my eyes and I am with this army of young women standing in a line and I imagine us walking forward together. That's what excites me – not the idea that I am in front of them with the mic or a voice for everybody, but rather that I have the great honour of linking arms with other women of this time."
Amanda Gorman – the 21-year-old inaugural National Youth Poet Laureate of the United States – may be hailed as the voice of her generation, but she prefers the idea of a chorus. "I don't see my work existing in a vacuum," she says of her poetry, which she describes as being heavily compelled by issues of sexism, race and climate change. "Yes, I am the first national youth poet laureate, but at the same time I am also the first black youth poet laureate, I am the first female youth poet laureate. It's [about] a lot of these intersecting identities that I hold."
It's apt that Gorman is something of a phenomenon, because meeting her in person feels a little awesome. It's clear, within minutes of meeting her, that this petite wordsmith, who regularly belts out her words to mesmerised audiences around the world, is a force to be reckoned with. Without question, she is an old soul possessing a maturity beyond her years, but she still has a minxy spirit more often associated with youth. In the deepest voice she can muster she jokingly breathes "testing, testing" into my Dictaphone when I put it beside her, breaks into a razor-sharp rendition of Aaron Burr, Sir from the musical Hamilton, and admits to having a crush on its creator, Lin- Manuel Miranda, with pride (she's met him, and, "Oh my God, he's great.")
Her conversation straddles the same chasm, flitting between rhetorical questions such as, "Why is prose considered the proper language for politics?" to endearing admissions such as, "I mostly eat things because of the colour." She habitually wears yellow and red, as she does on the day we meet and – true to her word – she orders pasta pomodoro.
Accepting of compliments, yet reluctant to take total credit for her trajectory, she attributes her position to her African- American heritage, which is a central theme in her work. "I'm standing on so many other people's shoulders," she says. "I feel consistently like I'm wearing the history of my people and my heritage and being a descendant of slaves. Not in a shadowy way, but like a second skin."
Such a connection with her American past will stand her in good stead for her future ambitions. It is well documented that Gorman plans to run for president of the United States in 2036, when she will meet the minimum age requirement of 35. "People think I'm joking, but I'm so serious," she says without hesitation. "For me, words are everything, but it's not just about writing poetry but, like, what's the action behind that?"
Like the majority of her generation, she calls herself a Democrat (nearly 60% of voters aged 18 to 25 in America identify as or lean Democratic), albeit one who is welcoming of the party's reform. Her campaign has been underway for some time. She shared her intentions with her mum aged 11, who advised against putting up any party pictures on social media if she was serious. "I was the most reclusive teen anyway, but it was to protect my privacy." Even now, her friends act as unofficial campaign staff, instinctively blocking Gorman's face when a smartphone comes out. A decade down the line, her aspirations haven't wavered. "People say it's a broken system, but I think of it more as an unfinished system. You don't stop because the invention isn't working, you realise that the project isn't complete yet and you need to change something about your approach."
Gorman's approach is attracting would-be voters. She was named Youth Poet Laureate in LA in 2014 (prior to the entire USA in 2017) and published her first tome, The One for Whom Food Is Not Enough, the following year. Luis J Rodriguez, the poet laureate of LA 2014-2016, said: "Many poets have come before, but no one with the twists, turns and surprises that Amanda brings to the page and in performance. Don't doubt she's going to be a major literary figure in this country, if not the world."
She has appeared alongside Al Gore and Hillary Clinton to campaign for environmental awareness and women's rights, and remains one of the world's most prominent mouthpieces for myriad issues affecting young people. Rather than feel overwhelmed at the notion, Gorman relished the task from day one. "The content of what I was saying didn't increase, but the responsibility to say it did," she says.
Being a young person in America right now provides plenty of material. The country's withdrawal from the Paris Agreement, its stance on gun control, maternal mortality rates and women's rights in general have become major areas of concern. According to a Harvard poll taken last year, 59% of Gorman's age demographic say they "will never" vote for President Trump.
"A lot of people are disillusioned and upset and angry – as they should be. The moment that we start saying, 'Suck it up,' you're normalising the situation. I should be angry that the planet is being destroyed. I should be angry that people with my colour of skin can be shot – we should all be furious," she continues. "But what I try to remind people – especially young people – is that anger is a reason to activate but not for apathy."
Gorman is an ardent advocate of young people using their vote to break the cycle. "When I hear someone saying that voting doesn't matter, I feel like saying, 'People got their skulls beat in in Selma Bridge because they wanted to vote and you're telling me the vote doesn't matter?' [Voting] is one of the most powerful things you can do. If you believe the justice system is broken, you don't fix it by not participating."
At the moment, Gorman is currently in her third year studying sociology and Spanish at Harvard (although right now, she's spending a semester abroad in Madrid). The "historically white male university", as she puts it, is a place where "admittance [still] doesn't equal acceptance", but one that she felt compelled to attend. It's one of the only places where she has experienced any kind of backlash to her work, under what she says is the cloak of creative subjectivity. She likens it to Troy: having gotten in via the Trojan horse, it's time to liberate the city.
"I was in a poetry workshop and a guy [in my class] told me my poem was too confident. I asked him if he meant the character in the poem or me as a writer and he said, 'You as a writer.'" Gorman tackled him with a tried-and-tested tactic. "I asked, 'Why do you think that? How did you arrive at that?' You walk them through their own process of illogic and then they realise… You see it on the tip of their tongue. It's educating – you have to help them evolve."
Standing up to inequality is something she encourages others to do, too. "I hear from a lot of white Americans that they feel it's not their place to talk about race. I'm like, it is your responsibility with your privilege to bring those issues to the forefront. By forcing that labour onto me, you are perpetuating the cycle of people of colour being the labour slaves of America." She later adds: "Silence aids violence."
Gorman's favourite poem from her own repertoire is Earthrise, which she says "communicates the urgency but also the privilege of getting to fight for the planet". She is also "really in love with writing love poems, as clichéd as it sounds coming from a female writer. I think trying to make a love poem as dangerous as possible as a female is very empowering."
One of her most famous recitals to date was at the Library of Congress's celebration for the current poet laureate of the US, Tracy K Smith, in 2017. She read In This Place (An American Lyric), her roof-raising verse on the power of words. "Tyrants fear the poet," she affirmed, winning her a standing ovation. Smith, along with Toni Morrison, Terrance Hayes and Maya Angelou (also her style icon), are Gorman's main literary heroes, but it is a photograph taken with Michelle Obama that serves as her screensaver.
Despite her platform, Gorman is un-precious. "I've never had any reason to get a big head in my family," she says. "I'm still the nerd whose passport photos people laugh at, and if my room's not clean I daren't leave it. I do not get a get-out-of-jail- free card!"
Home, when not at Harvard, is Los Angeles, where she, her twin sister Gabrielle, and older brother Spencer, 23, were raised by her school-teacher mother Joan Wicks. They are, she says, a close-knit bunch and she credits her mother, "who gave her all to influencing the minds and hearts of a rising generation", for making her want to be "an excellent humanitarian."
Reflecting on her childhood, Gorman describes herself as "a strange kid". She says that she felt like "a grandmother in a seven-year-old's body" on account of preferring to read and write while other kids were playing in the playground. "I often feel like I exist with a dichotomy inside me," she smiles. "There is the social Amanda, who is excited and talks to people and engages, and then there is the poetic Amanda, who by necessity exists off the subsistence of a reclusive life."
She's still like that, she admits. "I do not go out in general," she says when I ask what her favourite Spanish hotspots are. She relaxes by visiting museums ("a huge source of inspiration"), watching reruns of The Office and Frasier, and getting stuck into "big, thick biographies" (currently a Leonardo da Vinci one). "I told you, I'm like a grandma – by the time everyone wants to go out, I'm in my pjs! I'm one of those people who looks at my bed the way I would look at a lover."
Lovers can also wait for now. "I'm in a very committed relationship with myself. I call it building my 'fem-pire'. Men are intimidated anyway. We had to write an essay about who we are most like in the epic of Gilgamesh and I said I relate to the Humbaba because I eat and terrify men – and I breathe fire." By her own admission, when onstage she sometimes "feels so drunk on power that she could spit fire", even if she still feels terrified beforehand. Her mother calls her The Messenger. "It makes me sound like an app, but she says it whenever she's trying to remind me about who I am and what I can do."
That Gorman now sets stages alight is poignant, given that she had a childhood speech impediment that prevented her from pronouncing the letter r. Unchecked, it would have stopped her from ever performing in public – particularly, "because I write about changing 'the world', 'girls' and 'planet Earth'!" she laughs, emphasising the difficulty of the letter in her Californian accent. Regular speech therapy – with professionals when finances would allow, but otherwise conducted at home by her mother – helped.
It was when her mother watched back a video of one of her recitals aged 14 and wasn't able to comprehend the words coming out of her daughter's mouth that Gorman took decisive action. "I was so proud of this poem I wrote and performed, but it was like it didn't exist because it couldn't be understood." From that moment she promised herself that "if I'm in an English-speaking crowd my poem will exist because it will be understood orally. Metaphorically, maybe not!"
Orally and metaphorically, Gorman has gone on to make her voice heard louder than many others. To use her own words delivered at a mock State of the Union address on MTV in 2017: "History doesn't wait. It doesn't reach out. Change only comes to those who speak out." Now, doesn't that sound like a great campaign slogan?
Photograph by Anna Stokland. Interview is taken from 10+ ISSUE TWO – EVERYONE, VOCAL, TOGETHER, available to order HERE.