When coronavirus crashed down upon us one year ago, people everywhere were bombarded by adversities. But for Romanian designer and Central Saint Martins graduate, Alexandra Sipa, the advent of lockdown marked the birth of her eponymous label: making wearable works of art for an electrifying, futuristic fantasy.
At that time, she, like all displaced final-year students, had to complete her graduate collection at home – and for the London-based designer, working in her own space without the added stress of preparing for a show proved to be somewhat serendipitous. Faced with this seemingly unshiftable sense of uncertainty and scant job opportunities, she felt that her only option was to go against the grain and establish her own brand.
"It was a now or never sort of situation; I was just lucky with the elements that came into play for me to be able to do it," she explains. When it comes to Alexandra Sipa, it's no surprise that she's defeating the odds. She was a standout talent during her time as a design student at Central Saint Martins, receiving both the British Fashion Council and Swarovski scholarships previous to her graduation, where she received the 2020 Ontimeshow prize award.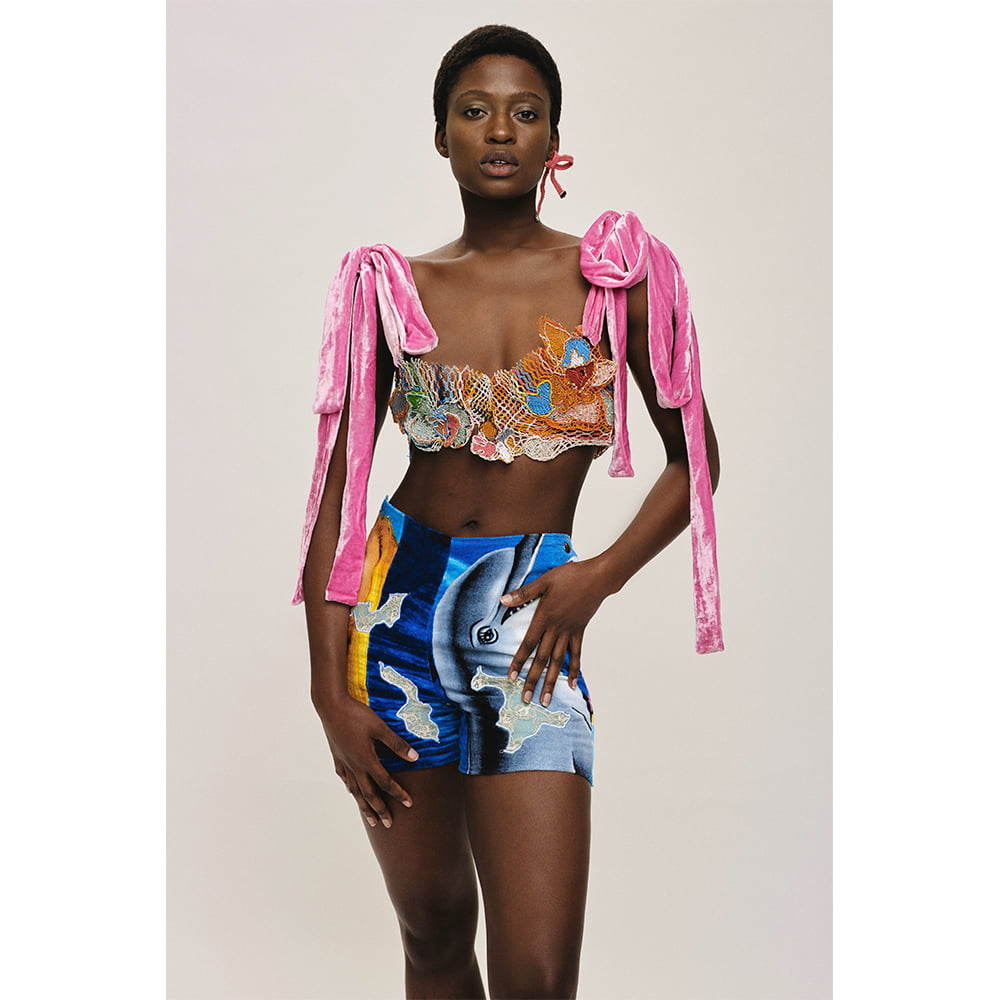 As we chat over the phone, she prepares to unveil her debut collection. Entitled Sour Floral, it's an imaginative exploration of the contrast between heightened austerity and hyper-femininity in Romania. Looking at 18th-century Turkish & 20th-century French influences and the brutalist, communist buildings and modern glass buildings in Romania, the collection seeks to find peace in these polarities.
Sipa's elaborate designs are often more avant-garde than something you can wear to the supermarket, but for her big start, she opted for shoppable pieces juxtaposed with her prevalent fantastical elements. She explains: "I wanted to create the basics of what my brand would be and to show that I can design things that are wearable and buyable – not just outlandish CSM stuff." Each look has an air of playfulness, as models wear patchy upcycled denim, intricate intimates, and multi-textural outerwear. A new "Romanian camouflage" also appears as an original recycled-Lycra print infused with lace imagery.
Looks come adorned with multi-coloured lace patch embroidery in cadmium yellow, turquoise blue, and amaranth. Rich velvet and shaggy faux-fur additions along with eccentric bow jewellery finish each look with a flourish. Objects of nostalgia, the highly-saturated luxury garments pull from the eccentricity of Sipa's grandmother's eclectic home. Located outside of Bacău, Romania, "her little palace" is a quirky place ablaze with brilliant colours and peculiar knick-knacks. Picture this: plastic plant pots painted gold, doilies on the grass, a fresh coat of paint on the fence, and a TV in every room (she even keeps one accessible from the garden).
Grandma Sipa takes useless or cheap objects and reimagines them decorated and adorned in an ostentatious feat. "I really love how she didn't have much, but she was always trying to create this fantasy for her to live in; she was living in a communist country and didn't actually have things, so she always just created them instead," Sipa says. At the peak of the feminine euphoria, the collection is dusted in technicolour, camo laden, electrifying patterns, bubbling with colour, and presenting a modern quality of structured casualness through tailoring. Coming to the fore is a yellow camouflage bodysuit cut from jersey and layered over white lace tights, which Sipa says is the pinnacle of the collection.
The designer is best known for her uniquely developed lace-making technique that dominates for AW21. By repurposing electrical wires and using an adapted bobbin lace technique, new organic shapes and elaborate silhouettes come to life. From a distressed denim jacket featuring authentic brass denim buttons, to skin-tight separates, garments are fashioned from discarded wire. Sipa works with the sustainable material in an effort to spread awareness around electronic waste, which reached a staggering 50 million tonnes in 2020.
It's this core ethos of designing sustainably echoing in each garment – and inspired by the writings of Naomi Klein – that makes Sipa's work so distinctly visionary. In some respects, Sipa's wire-lace is actually a family affair. Back in Romania, her mother has established a network of resources for sourcing discarded materials, and her uncle who works at a construction site here in London allows the designer her choice of supplies. However, she also scours Facebook Marketplace for surplus wires. The designer says: "Sustainability is simply about having compassion for oneself [and] others, both within and outside of one's community, and for future generations." Alexandra Sipa is charging into a greener tomorrow, one discarded wire at a time.
Photographey by Annemarie Sterian.