Alex Foxton is talking me through the various responses he gets to his art. Some people have had tattoos inspired by his pictures, he says with a smile – one man has had two of Foxton's drawings inked on his legs. Others send him long essays, which he loves, but they tend to be quite gloomy, which he finds funny because a lot of other people seem to find his sensual images of male figures in sexy, clashing colour combinations quite joyful. But the pièce de résistance came just the other day.
"A woman had tagged me in an Instagram post, and she'd done nails inspired by the paintings!" beams the 41-year-old fashion-designer-turned-artist. How fun, I say – I assume he means just the palette, the Foxton special of hot pinks and midnight blues and odd shocking dabs of yellow? No, not just that, he replies. It's the figures as well: the silhouettes which recur on most canvases, inspired by historical figures like Lord Nelson or Napoleon, Saint George and Macbeth. He gets his phone out and shows me. Sure enough, a fan in LA has done ten little homages to Foxton's oeuvre in near-alarming detail.
"Isn't it amazing?" he says. "I mean… Instagram," sighs Foxton, a neat, perceptive presence in a black rollneck and jacket, as we have breakfast just a stone's throw from King's Cross. He's travelling, as he often does, from London where his boyfriend is, back to Paris where he lives and works – it's where his studio is, but where he also still works part-time for Kim Jones's Dior. "We all have problems with Instagram. But in the end, I can't really hate it, because I don't think I'd be an artist, or have given myself to it so much, if Instagram didn't exist."
Remarkably for an artist who has only been painting for the past four years, Foxton has already attained many of the classic markers of success: the prestigious gallery in Paris; the solo shows and the group shows alongside David Hockney, Alex Katz and Jean Arp; the steadily rising prices of the work. But these nails, tattoos and essays are arguably a much more modern, relevant response – and a direct consequence of the moment that Foxton, then working solely as a fashion designer (before Dior, he'd done Vuitton, Bottega and Margiela), decided to post a picture of four Post-It notes he'd drawn, just to see the reaction. The segue from fashion to art is a journey that plenty have tried and few have ever managed, but, in fact, Foxton still does both – he is having his cake and eating it. Or rather, this morning, he's eating a very solid-looking porridge before his train journey, trying to explain it all, even if there's only so much you could (or should) explain.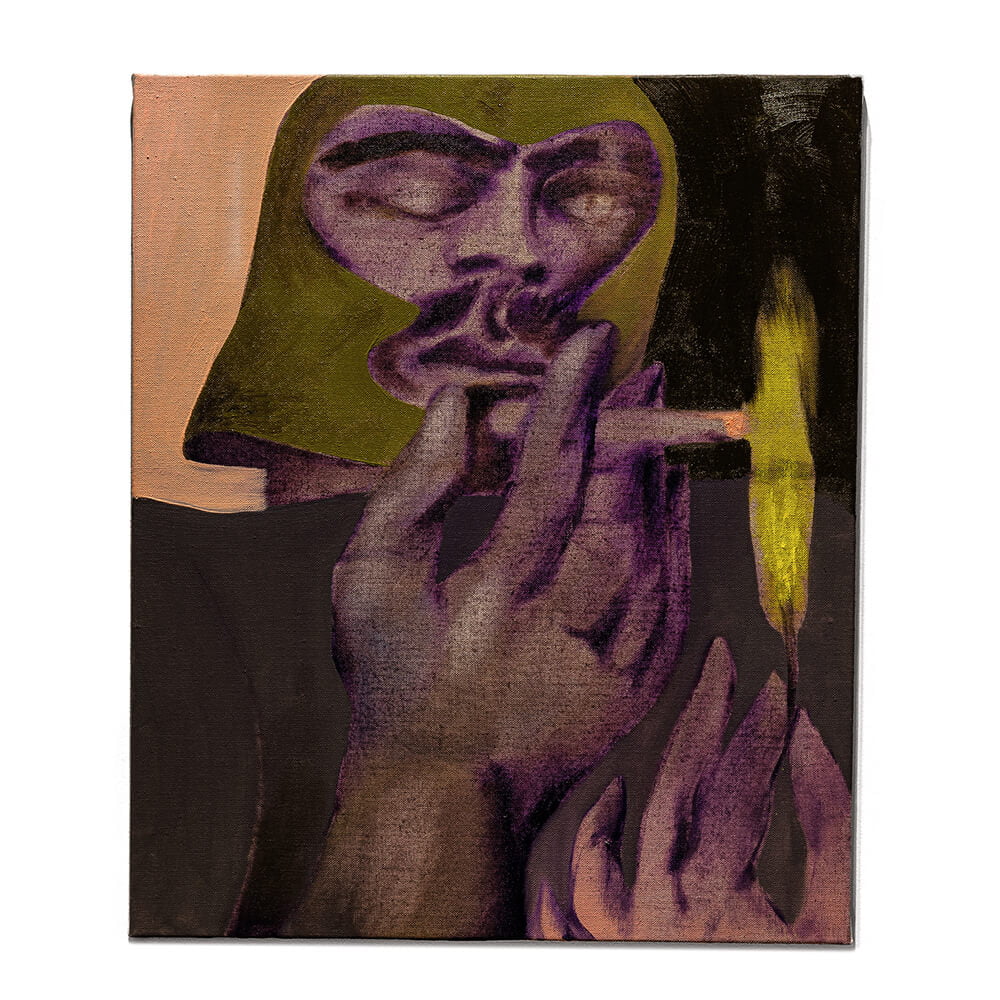 'Saint George (Cigarette)', 2020, oil on canvas
"I hope that when people look at my work, they're not really sure what it's saying," he says. "I mean, usually I don't really know what it's saying!" When drawn on the topic of what makes his work his own, he settles on a certain line, an approach to colour, that male subject matter – what he calls "a sensibility", and what the internet would call "a whole mood". And it's often a naughty one, making Napoleon pretty in pink or putting Saint George in the nud. "For sure, there is a rebellious side to me that doesn't come out in the way I am – I'm very polite and well-mannered and respectable. But I think, in my work, that's where I let it out."
Foxton grew up as the middle child of three boys in the Norfolk countryside; his father was a pig farmer who ended up working for Anglia Television, while his mother, a homemaker, later worked in a school. If he is new to painting, he has always, always drawn – "since I was a kid, since I can remember," he shrugs – and even now, in meetings, he's the one doodling on the edge of a piece of paper. But for a long time, his sketches were just for him, in private (unless he was doing it for work, obviously). He would give friends drawings as presents, and they were receptive, but Foxton just thought they were being polite. It was the same when an ex told him he should be an artist, too. "I wouldn't ever have gone around to a gallery with a bunch of drawings, or shown an artist friend a bunch of drawings. I wouldn't have had the confidence to do that – or even thought it was possible."
Fate intervened, though, when he decided to post those four Post-It notes on Instagram. He was "petrified", he says, but "straight away it was my most-liked post". So he decided to leave Milan and focus on his art full-time – "I was like, 'I'm gonna move back to Paris, and I'm gonna be an artist, and I'm gonna be poor!'" – which he did kind of do, except when he got there, he heard there was a job going at Margiela working with John Galliano, one of his teen heroes, so he did that too. But every night in a tiny studio he rented in the Marais, he worked at his art. "It was very romantic, sitting in the studio at night, looking over the roofs of Paris. I guess I sort of had to carry on. It wasn't really a choice anymore. It wasn't really a hobby."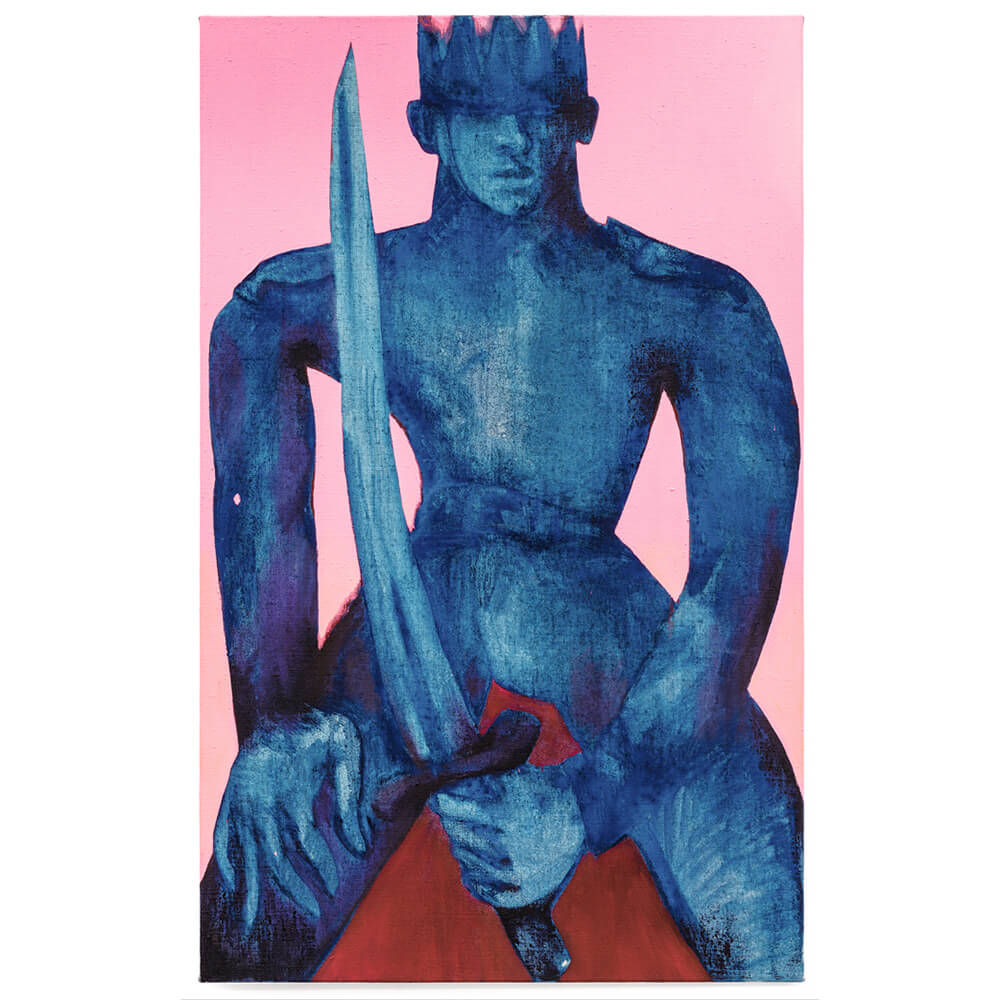 'The Sword', 2020, oil and indigo on canvas
If Foxton's pictures thrive on a certain ambiguity, one thing is crystal-clear: his love of colour. The very first painting he did, of a figure of a man in large black trousers, looked "flat, 2D", until he drew in the line of his leg in bright yellow. "And it was like –" he clicks his fingers happily. "Shocking. Joy. Joy!" But Foxton's absolute favourite colour is pink. "Pink is, for sure, my colour. I love pink beyond anything – beyond reason." It's not as though he's always felt this way – in fact, it only came recently, through painting. But he realised something not long ago, too. "When I was growing up, our house was all very muted colours, greens and pale blues, except for the bathroom, which was fuchsia pink. It was really a thing of my mother's, she wanted it to be like that. So that's what I grew up with… and it was the most private room in the house, because visitors wouldn't see it."
Pink, then, can be very intimate; it can be political; and, as one shade always reminds us, it can be shocking. "Or kitsch!" Foxton adds – and kitsch is vital to his approach, too. "I love harmony until I don't, and there's always an element of kitsch." It's this friction which makes his work so appealing – the sense of things being rubbed up the wrong way. And it feels especially potent when dealing with masculine archetypes. "The idea of painting Nelson in pink, or St George naked – it is kind of kitsch, and still a bit subversive. Or at least I hope it is."
Naturally, the thing we're also dancing around here is what I believe is called, in technical circles, "big old gayness". "Very much so," says Foxton. "The subject has always been a masculine figure – nearly always. Even when I'm drawing flowers, it seems to end up looking like a man!" We cackle. "It's true! At least it does if I'm interested in it. I am a man, but I also desire men – so I have this kind of distance, as well as being inside. It's a weird tension. And I think that comes from my sexuality. I don't think it would be as tense if I were drawing a woman. I mean, I have tried!"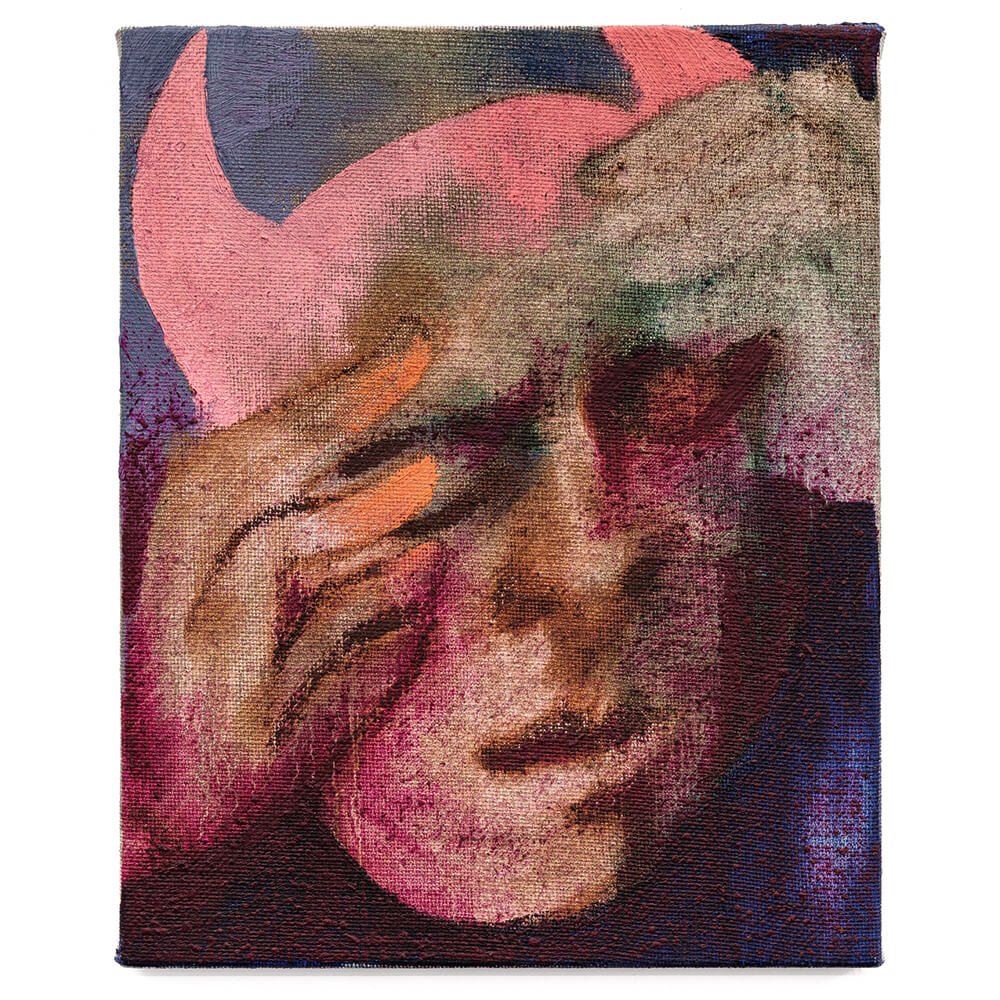 'Enemy (Mask)', 2020 oil, indigo and oil stick on canvas
In fact, the flowers came about when Kim Jones, a supporter since the beginning of his fashion career, asked Foxton to design some motifs for a Dior collection. It put the artist in some pretty illustrious company, since Jones has also commissioned Dior collabs with Raymond Pettibon, Shawn Stussy and, most recently, Peter Doig, whom Foxton admires hugely; he lists visiting the Matisse exhibition at Paris's Pompidou Centre with the eminent Scottish painter as a personal highlight. But, argh, the flowers! "It was a struggle," says Foxton, but eventually he solved it by treating the flowers as figures. He was pleased with the results. "I saw a guy on the street just the other day wearing one of the T-shirts, and I felt immensely proud."
Asked if he feels slightly apart from the art world, Foxton nods quickly. "Oh yeah, definitely!" he says. In a good way? "Well, in just a way." The fashion CV and being a "late bloomer" ("such a horrible phrase!") means that he is "given a bit of a sideways place, but I really don't mind that". At the beginning, he tried to fight it more. "I really wanted to separate the two sides of my life. I didn't want to be considered a fashion designer who does painting – I wanted to be two separate people. And then I eventually just realised, well, that's who I am… I do lead two very different lives, in a way. It's a bit like two sides of me that talk to each other."
As to what comes next for Foxton, it has to remain a bit vague – on the canvas, at least. "I can't plan anything," he sighs. "I really wish I could. I wish somebody would say, 'Oh, your next series you can do Anne of Green Gables,' and then I'd start to paint Anne of Green Gables, but it's not like that. I can't do something if I'm not really into it. And usually, I don't know why I'm into it." Each series of pictures is, he says, "a form of self-discovery". And if people often tell him they can recognise his work straight away, it's something he himself tries to pedal away from.
"Everything I've done has been trying to go against a style," he promises. "Because, in moving against it, that is where you see the part of you that you cannot get rid of. And that's your style. That's really kind of the point: like, who are you?" Right. And has it been pleasant discovering who you are? "Not always, no," he shoots back – but then again, he's grinning widely as he says it.
Top artwork: 'Devil with cigar', 2020, oil on canvas. Taken from Issue 54 of 10 Men – BOLD & BEAUTIFUL – is out NOW. Order your copy here.