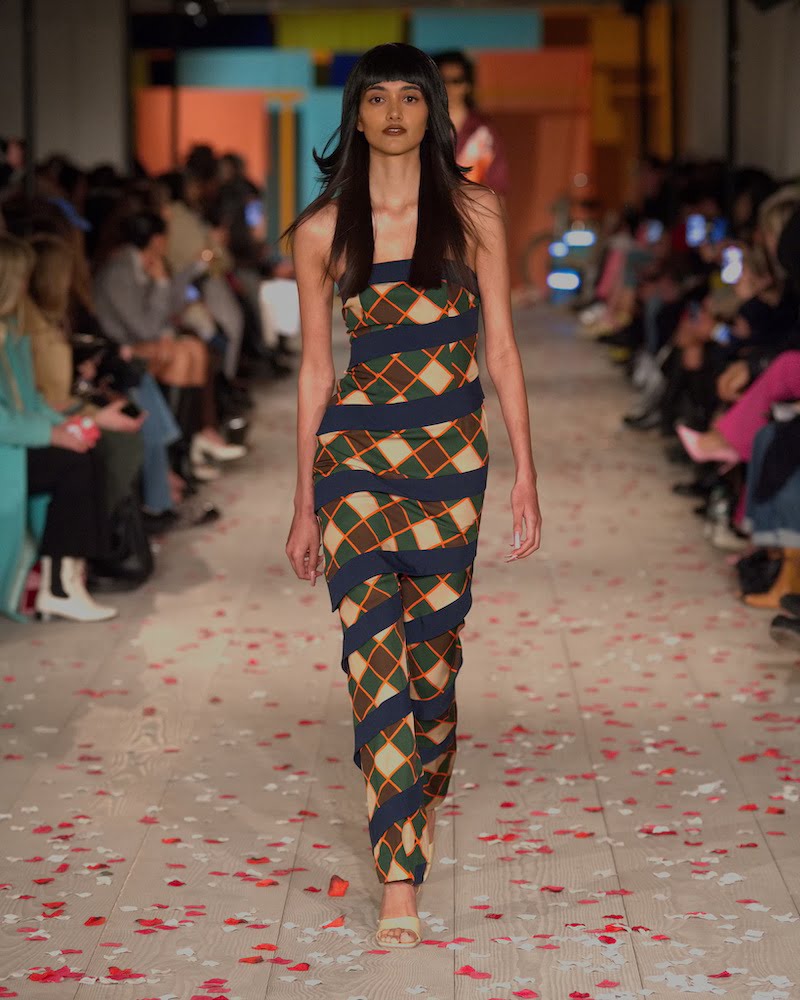 Through the pandemic, Priya Ahluwalia has established herself as a maestro of fashion film. She's made five in total, each as warm, inclusive and community-driven as her pre-pandemic physical presentations. Stepping back into the thick of it, the highly decorated designer made her highly-anticipated catwalk debut yesterday afternoon, looking to her Nigerian and Indian heritage through Nollywood and Bollywood cinema.
"Both genres have brilliant representations of what it is to be like Black and Brown through their own lenses," said the designer in a pre-show preview, translating the hand-painted, textural elements of film posters found in local DVD shops in London to loosely-cut shirting and denim twinsets. Ahluwalia was particularly drawn to the romanticism that surrounds the characters in Bollywood flicks, and the sensuality that bleeds from Nollywood, pairing barley-there halternecks and pleated miniskirts in a cocktail of summery hues with draped and twisted fashions derived from traditional saris. 
"With both areas of cinema, men are often quite dressed up, so we wanted to step out and show up," says Ahluwalia, resulting in laser-cut, monogrammed denim met with navy check corduroy coats with broad shoulders, perforated with the brand's signature waved formations. 
Striking, daring and confident in their design, Ahluwalia makes the sort of clothes that demand to be worn beneath the glow of a dancefloor. She's carved herself as one of London's most exciting talents, and the energy that surrounds her label is palpable. With Omicron easing, and clubs springing back to life again, there's no one better to dress the night than this immense talent.
Photography courtesy of Ahluwalia.