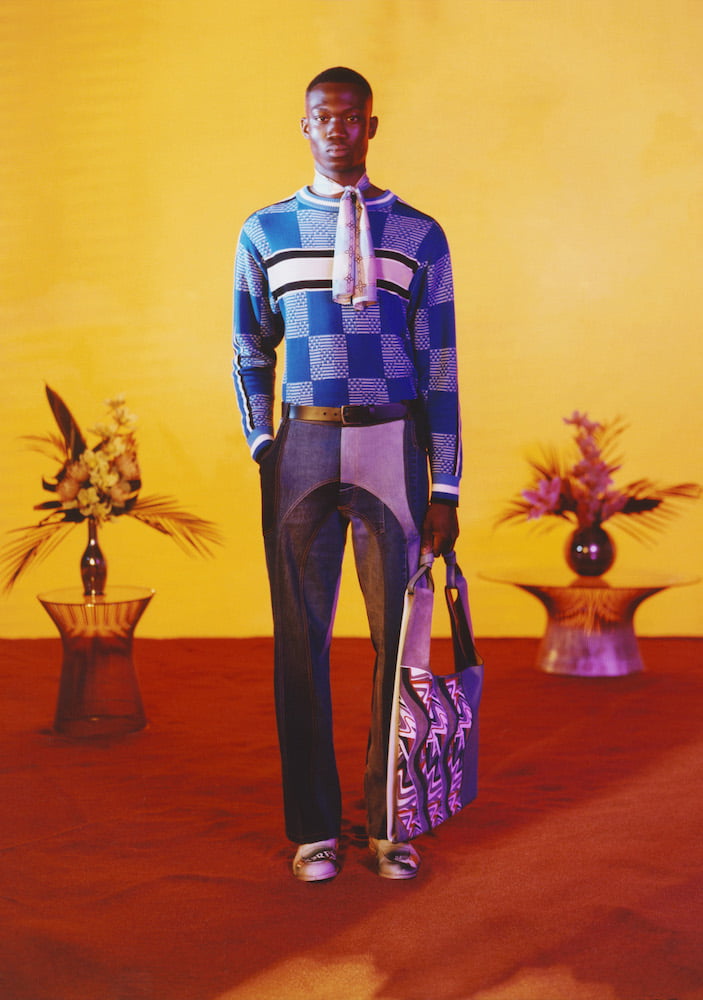 A Mulberry collection inspired by Black hair? This surprising starting point for the British bag brand's latest collection is courtesy of an elegant collaboration with rising fashion star Priya Ahluwalia. The LVMH prize winner, who was yesterday awarded the BFC/GQ Menswear Fund, said: "I've been researching hair for the last couple of years and I knew this was something that I wanted to reference for this collection. I wanted to put a spotlight on the beauty of Black hair and have this be celebrated."
She is particularly interested in the expressive styles that came out of the Black Liberation movements of the 1970s. "The style of the time was incredible and people often customised their outfits with badges, I wanted to honour this sacred time in history and recreate some badges that respect this time and also highlight some beautiful patterns in braiding."
The Mulberry collaboration allowed the designer to draw from her sketchbooks and five years of intense research into the craftsmanship, artistry and symbolism around Black hair that she's built up.  The patchwork lines and criss-crossing patterns which emulate braids, as well as the embroidery and colour combinations for this co-ed collection – came from that research. This is the first time the designer has shown womenswear as part of her namesake label, prompted after a successful collaboration with Ganni. For these pieces, the designer thought about what she likes to wear to go out dancing and socialising.
The mini version of the Portobello, patchworked from leftover Mulberry leather is her favourite and she's excited to wear the trouser suit, with its striking white wave down the front. "I think it's quite sexy and almost quite powerful. And also I love all the women's knitwear." Her highly worked, seventies-inflected denim, with its waves of contrasting patched pieces, is stand out. "I'm trying to produce work that is inclusive, positive and provokes conversation."
Presented at a largely digital London Fashion Week, with a film directed by Akinola Davies Jnr and look book shot by Laurence Ellis, the designer described working with Mulberry as "a pleasure".
"They have been really supportive and given me the time and resources to explore ideas that are really important to me," says Ahluwalia. "I value everything I have learnt during the process so much."
Photography by Laurence Ellis.