Tomorrow, Thursday December 7, Chanel will present its 2023/24 Métiers d'art collection in the heart of one of England's greatest music cities, Manchester. To mark the momentous moment, creative director…
Ushering in a brand new era of Bleu De Chanel, Timothée Chalamet stars in Martin Scorsese's latest campaign for the house and its iconic men's fragrance.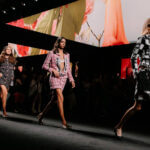 Take me to the Cote d'Azure and let me live out my best, feel-good, Chanel-girl fantasy. That was the thinking behind Virginie Viard's hit collection, which delivered covetable clothes and…
In celebration of the new CHANCE EAU FRAÎCHE Eau de Parfum, Chanel invites guests on a scent discovery inside an insta-worthy retro pastel pink and green dream American diner.
Tweed. The multi-toned Scottish fabric is stitched into the design language of Chanel, but how to represent its ever-changing colours with gems? "My dream was to create a tweed set…
Gracing the fourth cover of 10 Magazine Issue 71 is Belgian beauty Elise Crombez. The iconic model, and muse to countless designers across the globe, wears Chanel – shot by…
UK (2-3 days) – £3 Europe (3-5 days) – £8 US (5-7 days) – £25 Rest of world (7-9 days) […]
We might be missing out on that good ol' summer-stimulated vitamin D here in mostly rainy London, but Chanel is bringing a well-wanted sun-kissed look to us with the latte…
It was a picture-perfect postcard from Paris: a Chanel show staged on the bank of the Seine with all the bourgeois chic, flower baskets and impeccable groomed dogs a Parisienne could dream…
After some bling to match your pristine, Chanel two-piece tweed suit? The house's Fine Jewellery Creation Studio, led by director Patrice Leguéreau, presents a 63-piece collection informed by Gabrielle Chanel's…
For Chanel Cruise 2024, Virginie Viard homed in on LA's 'let's get physical,' era, embodied by workout queens Jane Fonda and Cindy Crawford and the 1980s parade of beautiful bodies,…
Nothing stuns quite like a pair of Chanel glasses. They're the one thing everybody needs when that big ball of fire in the sky starts beating down so hot hot…
From an orderly queue. Tickets went on sale early today for the blockbuster Gabrielle Chanel. Fashion Manifesto exhibition which opens at the V&A on September 16.