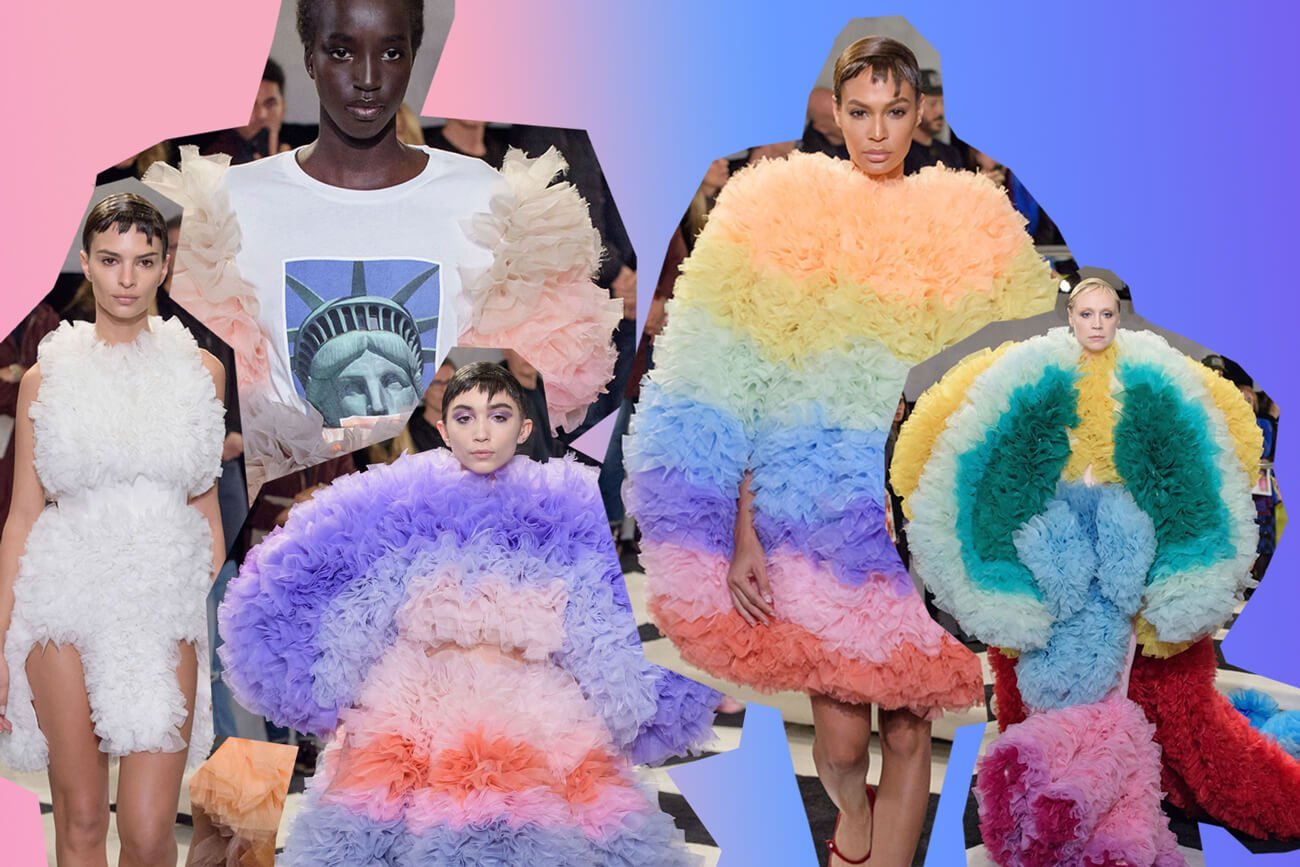 If you've been scrolling through Instagram over this past weekend, you might have noticed an explosion on rainbow-hued ruffles, as modelled by the likes of Gwendoline Christie, Bella Hadid, Joan Smalls, Rowan Blanchard and many more.  This spectacle of serious milage of what looks like tulle (but actually isn't) came courtesy of Japanese costume designer Tomo Koizumi who got his New York Fashion Week debut courtesy of the fairy godmother of the industry – the legend that is Katie Grand, who discovered the talent via her Instagram feed. And with a supermodel-infused bang, Koizumi presented his unique vision to the world. That vision made waves (again) via social media and is now taking over the world as what will probably remain *the* image of NYFW AW19. But how did it all happen? Continue reading as we reveal ten facts behind Tomo Koizumi's AW19 show.
1. The show took place at Marc Jacobs' NYC flagship at 655 Madison Avenue, as 28 models catwalked down the big staircase in the middle of the store.
2. The cast of models included top models like Taylor Hill, Bella Hadid, Kiki Willems & Joan Smalls, as well as superstars like Gwendoline Christie, Karen Elson, Emily Ratajakowski and Rowan Blanchard and hottest catwalk names including Shanelle Nyasiase, Sara Grace Wallerstedt and Remington Williams.
3. When it comes to the team credits, it was a true spectacle too. Katie Grand styled the show, Anita Bitton cast the models, Pat McGrath was on makeup duty, Guido Palau was in charge of the hair, and Jin Soon came up with the neutral manicure.
4. The pointy Mary Jane slippers which oh, so perfectly accompanied the dreamy, candy floss-like creations came courtesy of Tabitha Simmons.
5. The tulle-like fabric Koizumi uses is actually a Japanese polyester organza. On average, he uses between 50 and 80 metres per design, while the biggest one in the show (as worn by Gwendoline Christie) took 200 metres.
6. The #TomoKoizumi hashtag now has over 2600 posts on Instagram (and counting), while the designer himself went from 2000 to over 24k followers in just two days.
7. Tomo Koizumi never actually trained as a fashion designer – his background is in costume design, including designing performancewear for Japanaese popstars, drag queens and commercials.
8. Way before the madness of NYFW, it was Lady Gaga who debuted Koizumi's designs back in 2016 when she wore an oversized combo of ruffles at – nowhere else but – an airport.
9. The inspirations for his AW19 collection came from all over the world and time – Leigh Bowery, Balenciaga, Sailor Moon and traditional Japanese floral artwork all made the moodboard.
10. The t-shirts in the show were actually updated versions of Marc Jacobs tees created in collaboration with one of our fave Insta-accounts @hey_reilly back in 2016.