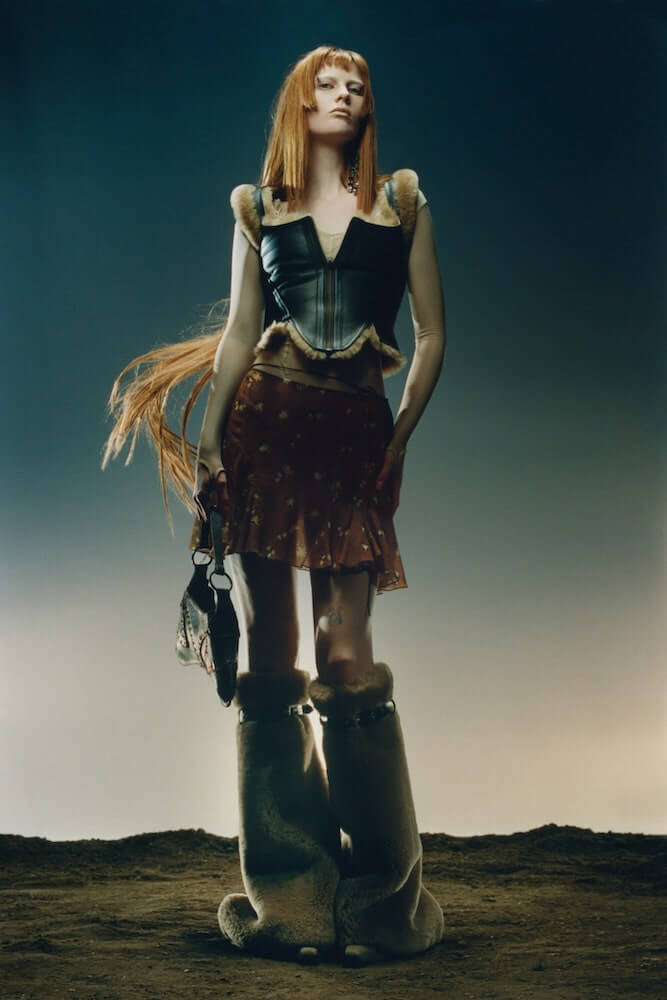 KNWLS is intangible. There's no sense in denying it. From the minds of Charlotte Knowles and her partner Alexandre Arsenault, the not-so-average It-girl favourite label took on autumn/winter 2022 with an extroverted offering fit for a vixen. Designing strappy, studded clothes that emphasise familiar erogenous zones, with each tough thread they took a trip to future – tickets reserved for only the slickest of provocateurs, of course. 
Dubbed Precious, the collection riffs on the hardened exoskeleton of cybergoth gals and scene-girl kitsch paired with the perfect moodiness of the duo's signature clubwear aesthetic. Think slinky sequin mini dresses and slouchy leather or denim slacks mingling with slashed mesh frocks, catsuits and cut out tops. While studded, v-line abbreviated mini skirts took on grungy glitz, kawaii cat-ear beanies felt very of the now. Elsewhere, sea anemone knits and intimate floral crepe draping suggested memories of animé heroines, while fluffy earth-tone leg warmers, belted just below the knee, turned this utilitarian edit into the epitome of zingy eclecticism. 
Playing with the paradox of contradicting textures, transparencies, and proportion play, Knowles and Arsenault distorted sharp, architectural silhouettes to build a cohort of armour-like waxed leather corsets and hulkling, mottled shearling-lined jackets fit for a nuclear winter. All in heat-map hues of purple, yellow, burnt umber, cobalt blue and flashes of neon in contrast to daunting shades of black, taupe, turquoise, it's a look not for the faint hearted. 
To accompany the collection, the South London label christened a return to high-octane sexiness through a nightmarish, cinematic tale told through the lens of Jordan Hemingway, that's equal parts Suspiria and Ghost in the Shell. The real story though, is about endurance. Blowing in the brisk wind of a dusty tundra, models trudged across the rotting spikes of a long forgotten railroad, to a severe record reminiscent of Nine Inch Nails. The allure of glamour at its most ferocious form is the LVMH Prize finalists' maniacal sweet spot.
Photography by Jordan Hemingway.