The last few years haven't exactly been kind to artists. From the cost of living crisis to spiralling studio rental rates and cuts in funding toward arts-education, young creators are burning out or cracking under the pressure, making the work of the Sarabande Foundation all the more imperative. 
Its latest project has arrived – while the Hertford Road Stable Block conversion studios in Haggerston continue to operate as the foundation's headquarters – as part of the borough's new creative quarter, Paxton17. Enter: Sarabande High Road, London N17. Located in the bustling heart of North London's Tottenham (just a stone's throw from the Hotspur stadium – nearest stations: White Hart Lane or Seven Sisters), a pair of striking, newly restored Grade II-listed Georgian townhouses have been transformed into a secondary landing spot for the foundation. Originally built in 1715 for Sir Hugh Smithson, a city merchant and MP for Tottenham, it contains 15 brand new subsidised studios – each let at around £1 per square foot per month and some of which are sponsored by luxury labels like McQueen (of course), Hermès and Burberry, and have plaques on the studio doors to signify their contribution – an exhibition space and a new, permanent, House of Bandits store. 
House of Bandits is an on and offline gallery of work providing a free platform for Sarabande's artists to sell from, both past and present. Pick up some boundary-pushing designer clothes. Take home an art print or photograph. Covet after the decadent jewellery on offer or the best-selling decorative dining plates with illustrations by Tim Burton, Sarah Burton, Francesca Amfitheatrof, Ridley Scott, Jake Chapman and Daniel Roseberry of Schiaparelli. In keeping with the foundation's positioning as a creative business accelerator, all House of Bandits purchases directly support the foundation and its artists.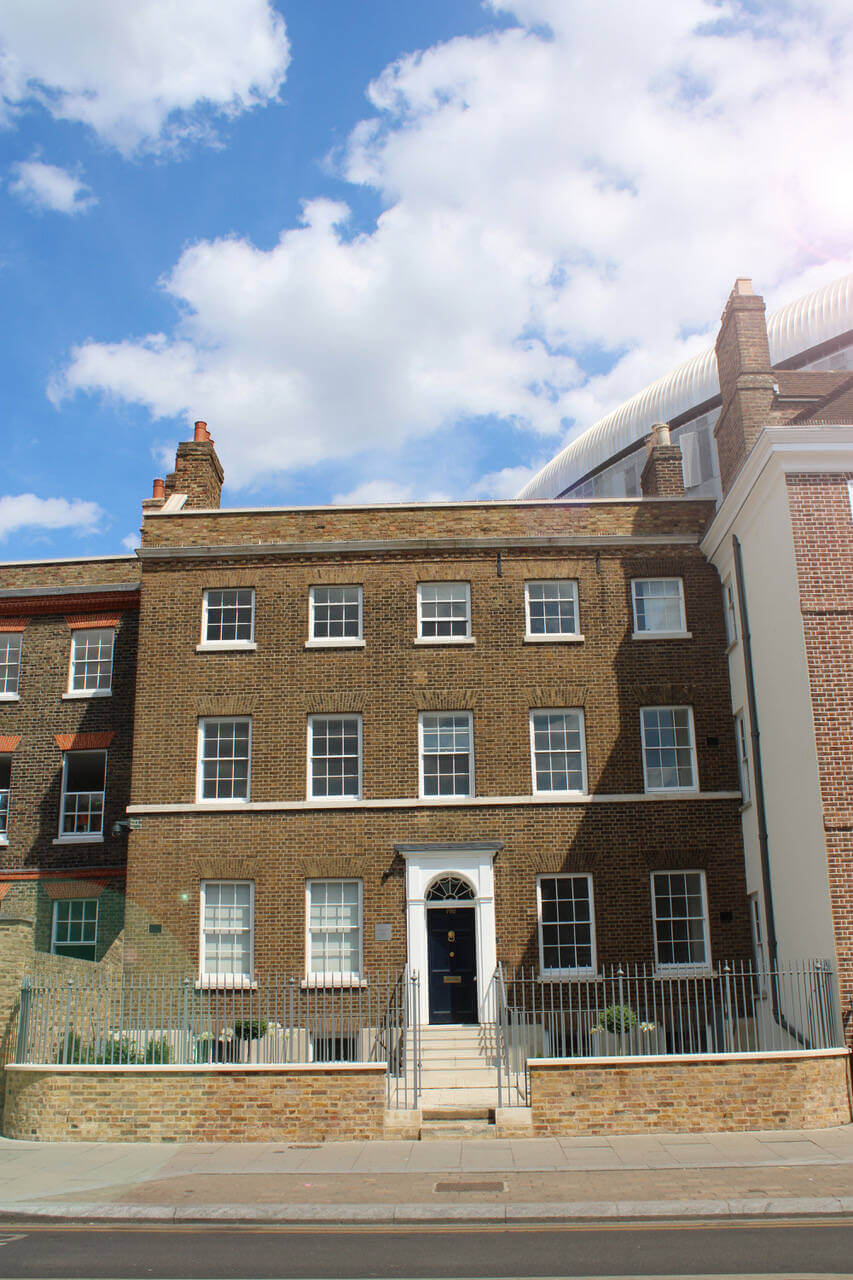 More than that, the four-story building is poised to operate as a creative hub, a destination hosting not just its residents, but workshops, events, and talks hosted by some of the world's greatest creators as well. 
Surprisingly though, the two townhouses are only a temporary home for the foundation. For three years, it will operate while, just down the road at 808 High Road, a permanent home is being restored and converted into the kind of studios and exhibition space the foundation prides itself on. 
Established by Lee Alexander McQueen CBE in 2006 (named after his gothic SS07 show) the Sarabande Foundation has supported over 130 artists, designers and photographers from around the world by providing access to monetary scholarships, bespoke mentoring and, principally, studios (for up to two years). At Sarabande, experimentation is the order of the day and nourishment is the main course. To date, the charitable foundation has nurtured over 130 of the most fearless creative minds of the future, and has supported tens of thousands more through a pioneering programme of on-site public events for the wider creative industries.
Across the two historic spaces, a total of 35 emerging creatives have been selected from more than 450 applicants, following in the footsteps of award-winning alumni, designers Craig Green, Molly Goddard, Stefan Cooke and Bianca Saunders, jewellers Castro Smith and Emily Francis Barrett, fine artist Michaela Yearwood-Dan (now at the Marianne Boesky Gallery), sculptor and textile artist Daisy May Collingridge (at TJ Boulting Gallery), and contorted couture designer Michaela Stark. From sculptors, fashion designers, jewellers, textile designers, painters, performance artists, silversmiths, costume designers, ceramicists, and dancers to filmmakers, animators, photographers, digital designers and visual artists amongst others, the artists-in-residence often become the whole who's-who of London's emerging artists and designers. 
In Tottenham, 18 new artists and designers have taken up residence amid the townhouses' hallowed halls, alongside five current residents who're moving to the new space from Haggerston. British painter and sculptor George Richardson works with familiar objects like playing cards and snooker cues to critically capture the lived experience of English Culture by examining nostalgia, identity politics and human mortality in these strange and volatile times. John Hui reflects on "the way artefacts and content are created and consumed in today's world" through kitschy, cross-generational, collage-based artworks and plays with this "Frankenstein-esque feature of late-capitalistic productions and consumptions in composition, references and text." London-based, New York-born composer, sound artist, performer, and a classically-trained violinist Noah Berrie explores the "perceptual and spatial subtleties of sound spanning multichannel audio, audiovisual work, sound installations, instrument building, and score-based composition." Emerging from the London fetish scene, Electric Adam combines sculpture, wearable art and installation for live performance in his practice which is influenced by "religious imagery, ancient sculpture and a pop culture sci-fi aesthetic". What they create are uncanny, wearable, airtight latex pieces sealed to the body using their breathing to pump the air out, slowly vacuum packing themself like a living artefact. 
Other artists include papier maché artist and lamp designer Emmely Elgersma, documentary portrait photographer Hannah Norton, experimental and sustainable Welsh fashion designer Paolo Carzana, botanical tattoo artist and textile artist Daniel the Gardener, French/North African artist Leyman Lahcine (whose poignant, melancholic paintings and sculptures "combine religious and mythological reference with the idea of transgenerational trauma and [the] emotional weights we carry), Malgorzata Lisiecka who erects massive art installations within public spaces, Japanese multidisciplinary artist and sustainably-oriented paper-craft specialist Kuniko Maeda, French portrait photographer Michelle Marshall, Indian folk-tapestry artist Sayan Chanda, Italian illustrator and graphic artist Anna Nicolo and Brazilian womenswear designer Renata Brenha. 
Previously in-residence at Sarabande's Haggerston HQ, designer Paolo Carzana, wet-plate-collodion photographer Kasia Wozniak (who explores notions of time), French Chinese designer Camille Liu (renowned for remixing jewellery with knitwear), Lucy Jagger (who creates social commentary paintings) and Zongbo Jiang (who makes strange digital characters and universes) have moved their practice over to the Tottenham expansion. 
As soon as you step foot inside the historic space, you get the feeling of being welcomed in by a close community; everyone knows everyone; everyone vibes of the creative energies of everyone. In Norton's studio, an Emmely Elgersma lamp, in black and white of course, sits pretty on top of a printer, while other artists share studios and ideas.
On Monday, Sarabande hosted its annual foundation dinner at The Standard, London, as part of their ongoing partnership, to celebrate "the immeasurable power in building creative communities and supporting fearless artistic talent" and the opening of the Tottenham space. Labelling the evening of culture, food and festivities raising funds for the Foundation as Woven, notable guests included Marina Abramović, Sarah Burton, Tim Walker, Letitia Wright, Yinka Ilori, Alex Eagle and her husband Mark Wadhwa, Bianca Saunders, Jack Guinness, Harry Lambert, Bettina Korek, Sandy Powell, Aiysha Hart, Camilla Lowther, Charles Aboah, Francesca Amfitheatrof, Jonathan Akeroyd and Daniel Roseberry. "Woven is a moment to celebrate our rich creative landscape," says Trino Verkade, director of Sarabande. "At Sarabande we encourage our artists to build peer-to-peer communities so that together they are more resilient and open to more opportunities. Our artists are strong individually, but when they support each other or collaborate, their energy is unrivalled. We are so pleased to have expanded our studios to Tottenham recently, and the funds raised this evening will help Sarabande to continue to provide space and support for fearless creativity." Watch this space. 
Photography courtesy of Sarabande Foundation.