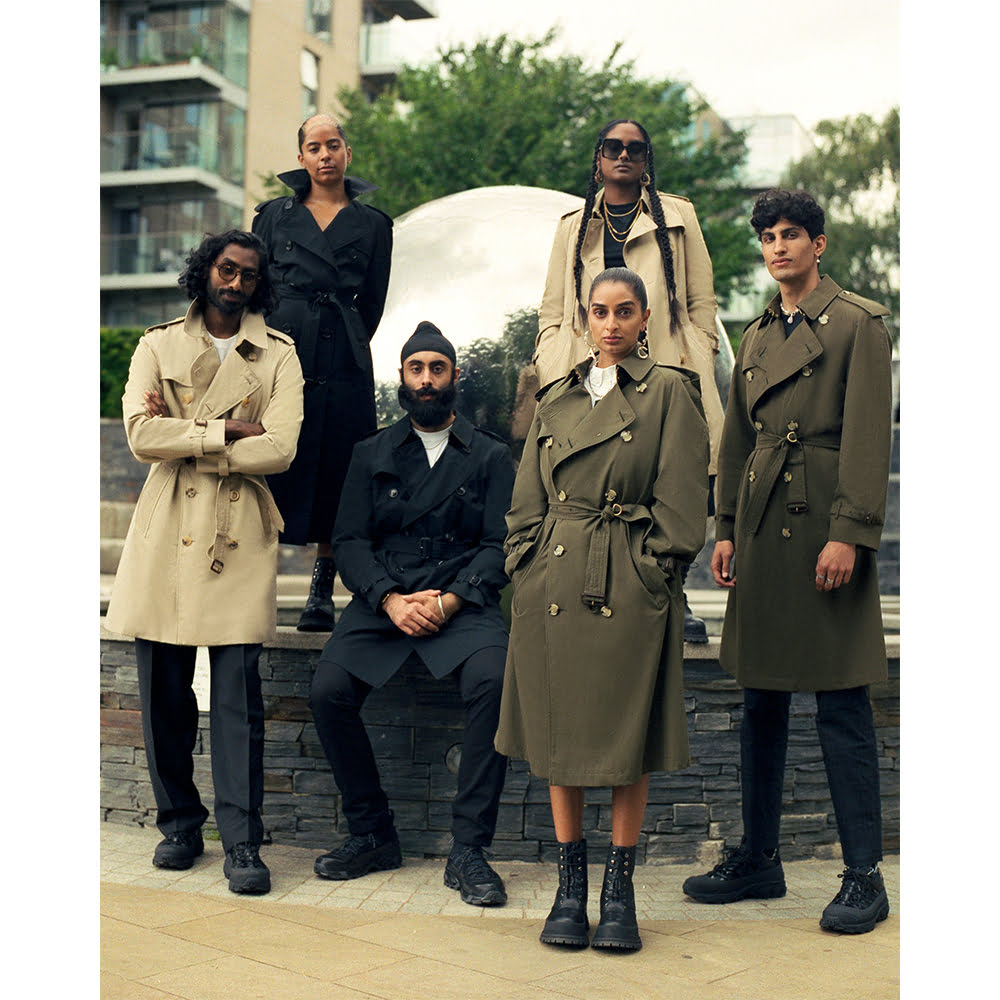 Ever heard of Diet Prada? I'm sure you fashion junkies have. But what about Diet Paratha? Let us shine a light on the platform that champions rather than cancels.
Created by London-based New Zealender Anita Chhiba, Diet Paratha is an Instagram community platform spotlighting South Asian talent across all creative industries. Founding the platform in 2017, Chhiba, whose background is in advertising, laid the foundations to create a celebratory online network for underrepresented South Asian creatives. "[The account] looked really different when I started," says Chhiba. "It was more illustrative and then I started to unearth a whole world that had similar interests to me."
Over the past year and a half, Chhiba has thrown everything into Diet Paratha, building her following exponentially, "I didn't really give it much love and care until the pandemic," she says. Taking advantage of our time inside was a must for the platform, growing her following from 1,000 to 19k. Chhiba says that although the pandemic helped, her authentic and unfiltered posting manner is what really attracted her following.
Amplifying South Asian musicians, artists, activists and fashion creatives is Diet Paratha's objective. Chhiba says that she "needed this shit" when she was growing up, but never saw people like herself in the spotlight – so she took matters into her own hands. Moving to London just over three years ago helped Anita come out of her shell and connect to her culture in ways that her New Zealand home never did. "I was born in a really small town, but there was no one really creative. There were no examples of integrating without tying your heritage to it," she says.
She came to London in search of larger opportunities. Chhiba began meeting people online and relished in the qualities that London possesses – "I really felt like I connected to my culture more in London because the community is so strong and supportive."
Oftentimes, Middle Eastern, North African, and South Asian people born in countries that don't have connections to their cultural heritage feel like misfits. Anita Chhiba's Indian-Gujarati roots left her questioning her identity throughout her adolescence. It wasn't until she founded Diet Paratha that she found home in her culture. "I don't fit in New Zealand, I don't fit in India, I'm not from London, where am I from? This community has really done wonders for my identity," she says.
The community that Chhiba has built with Diet Paratha keeps her going. "South Asians in this country, who have done incredible things, are like my driving force and I'm lucky enough to have all those people in the Diet Paratha community," she says. "Diet Paratha is nothing without the people, so when we all get opportunities we want to bring each other up."
Diet Paratha shares the best of South Asian talent and hopes to champion the success of its global community. Yet Chhiba isn't one to hide her high standards when it comes to what she features on the platform. "My standard to post is mad high! I want us as a people to aim to a very high standard and that, unfortunately, means not posting everything," she affirms. "Just because there is a small level of representation doesn't mean that we can't strive for the best."
Although culture and heritage are her driving force, Anita was left pensive when asked what heritage means to her. "I can't really define it in a sentence, it's my identity," she says. "I spent over half of my life resenting who I was because I was assimilating to the white default and structural racism that we had to unlearn, and that I'm still unlearning. I'm on an unfolding journey and I'm still working on being proud of who I am. I certainly feel very proud, especially with the community, but it really is just a beautiful journey."
Expanding her platform beyond social media is something that Anita is looking forward to but wants to make sure to do it when it's safe. "I really want to do panels, I really want to do events, and supper clubs," she says. For now, Chhiba wants to continue developing Diet Paratha and her community as a whole. "I really want to get everyone in one room and just see the magic we can make. With the amount that I've achieved with the online community, imagine what we can do when other people come in. I'm ready for pretty much anything."
Below, Anita Chhiba introduces us to key members of her Diet Paratha community.
View this post on Instagram
"Introducing newcomer, London-based DJ, Yung Singh, who belongs to the Daytimers collective – a group of incredible artists and DJs from across the South Asian diaspora. Last month, he presented the @daytimers_uk crew for the first-ever, full South-Asian, now-viral and iconic @boilerroomtv lineup. It's only been a year since the @daytimers_uk inception, a broadcast that has and will touch so many of us around the world. Watch out for more from Yung Singh. Believe me when I say that he's only just getting started."
"Sheerah is a force to be reckoned with. A vocal and respected model, creative, intersectional activist and advocate for the South Asian Tamil community. They fearlessly use their privilege, talent and voice to talk against systems of oppression. A notable appearance for Sheerah was a part in Beyoncé's "Brown Skin Girl" video from her visual album Black Is King. Sheerah shares their experiences and view of the world as a dark-skinned, unapologetic, non-binary Tamil WMN to inspire the masses."
"Filmmaker and podcaster Aaron only looks up. Through his previous role as a film director at Net-a-Porter, Aaron has produced and directed content over an array of global luxury brands. He now heads up his own operation, AC studios. Aaron also co-hosts the podcast What is This Behavior alongside his brother Rueben Christian and friend Almass Badat. The podcast spotlights South Asian people who are carving out remarkable careers and leading empowering lives and aims to shatter tired stereotypes attached to SA identity."
"Amsterdam-born, London-based presenter and DJ, Jyoty Singh is the life of the party and the queen of nightlife. Jyoty has introduced and interviewed the greats in the music industry on radio and IRL, and during the second lockdown, Jyoty's Boiler Room set from 2019 shot to viral fame on TikTok, amplifying her presence and talent to a larger global audience. Since then, Jyoty has been taking over, and very deservingly so. From her hilarious IG stories and YouTube channel to using her platform in a positive way to educate and disseminate information and opinion, she is not slowing down."
"Newcomer model, 25-year-old Hasan Ali is definitely one to watch. Hailing from Sheffield, he studied law at York University and then moved on to a masters in Human Rights Law in Bristol. One of the most millennial stories you'll hear, Hasan was scouted at an Extinction Rebellion protest in London. He later signed to the men's division of Milk Models. Hasan already has an impressive client roster under his belt which includes the likes of Giorgio Armani, Roberto Cavalli, L'uomo, Vogue, GQ Middle East, Ellesse, Harvey Nichols Dubai and Farfetch. Remember his face, because you'll be seeing more of him around.
10 Magazine x Burberry x Diet Paratha