Imagine a Dolly Parton meets Marie Antoinette slumber party, directed by John Waters and styled by Jeremy Scott. That's the atmosphere at the House of Avalon HQ. The drag collective live together in a shared East Hollywood apartment that's decorated like a gay teen's fantasy bedroom.
There are full-size cut-outs of Dolly and Madonna, RuPaul posters pinned to the walls alongside Spice Girls dolls, Grace Jones memorabilia and a plush Miss Piggy. Throw in some sky-high wigs and Moschino's pink pannier leather biker dress and you get the picture as this gaggle of fabulous queens glam themselves up. Jeremy Scott has joined in the fun. Hunter, one of the founding Avalons, is applying polka dots to the designer's face to match his spotty Moschino suit, and when it's done, they FaceTime Scott's mum. The Avalons made friends with Scott's family after sitting together on the front row at his shows. The queens show off their pet dachshund to Mama Scott, who coos appreciatively. Scott is also smiling. It makes him happy that his family – both his biological one and the chosen one he's nurtured in LA – all get along so well.
He tells the tale of how the House of Avalon came into his life. Scott was at a book signing in Dallas for his 2014 Rizzoli fashion tome, when original Avalon members Hunter, Grant and Mark (Marko) turned up. Despite the five-hour drive from Little Rock, Arkansas, they looked spectacular in Scott's designs. The designer recognised them from social media: "They really captured my attention. They were so passionate about my work. They were these cute kids in strong looks, from Arkansas. It was an anomaly."
They stayed in touch and, when the Avalons moved to LA, to set up as a party collective, Scott made sure to invite them to his shows and events. They're now a fixture on the LA fashion and creative scene. They have their own fashion brand, Marko became Lizzo's stylist and the collective has grown to include gorgeous drag sensation Gigi Goode and other superstars of the scene. "It's like watching your little babies grow up," says Scott of the success the Avalons now enjoy. "I am so proud of them!"
The House of Avalon, whose Instagram mission statement reads "By day we worship in the church of pop culture – by night we create playgrounds from our imagination", epitomises so much of what Scott holds dear. "They're having fun with it and being irreverent," he says. Those qualities count even more in a post-pandemic world.
Scott spent lockdown in a bubble between his home – a John Lautner-designed architectural gem in the Hollywood Hills – and his LA studio. The turbulence of the past months, he says, "strengthens the philosophy and reasoning behind what I do. I always want to make things special and bring joy. That just becomes more crucial when you have this kind of context. How are you going to motivate someone to want to purchase something if it's not special? Fashion doesn't feel necessary unless it is so unusual and unique and speaks to the heart and soul."
Scott's career has been defined by just such things. From his winged boots for Adidas to his wild McDonald's riff for his Moschino debut, wit, fantasy and fabulosity have been his hallmarks. His AW20 Moschino collection, seen on these pages, is no exception. It's a high- amp ode to Marie Antoinette's OTT aesthetic (sky-high wigs and pannier miniskirts), which Scott deftly cross-pollinated with Moschino's rebel totems (leather biker jackets, decorated denim). And who better to show it off than the House of Avalon?
Reflecting on the Avalons' tight community and his own upbringing, Scott says, "Family means love. It means support. Family means understanding. It's a safe place where you feel nurtured and loved and supported and, really, you can be yourself without question." He grew up on a farm in Missouri. His family wasn't rich. He didn't have the latest games console, or even the latest Gap hoodie. Instead he was nurtured with a combination of imagination and resourcefulness, two things that would prove far more valuable in later life than any shop-bought delight. "Sometimes you had to make do. You would take something and turn it into something else. Instead of having a normal toy, here's a dilapidated car and it's going to become a rocket ship in your imagination," says the designer.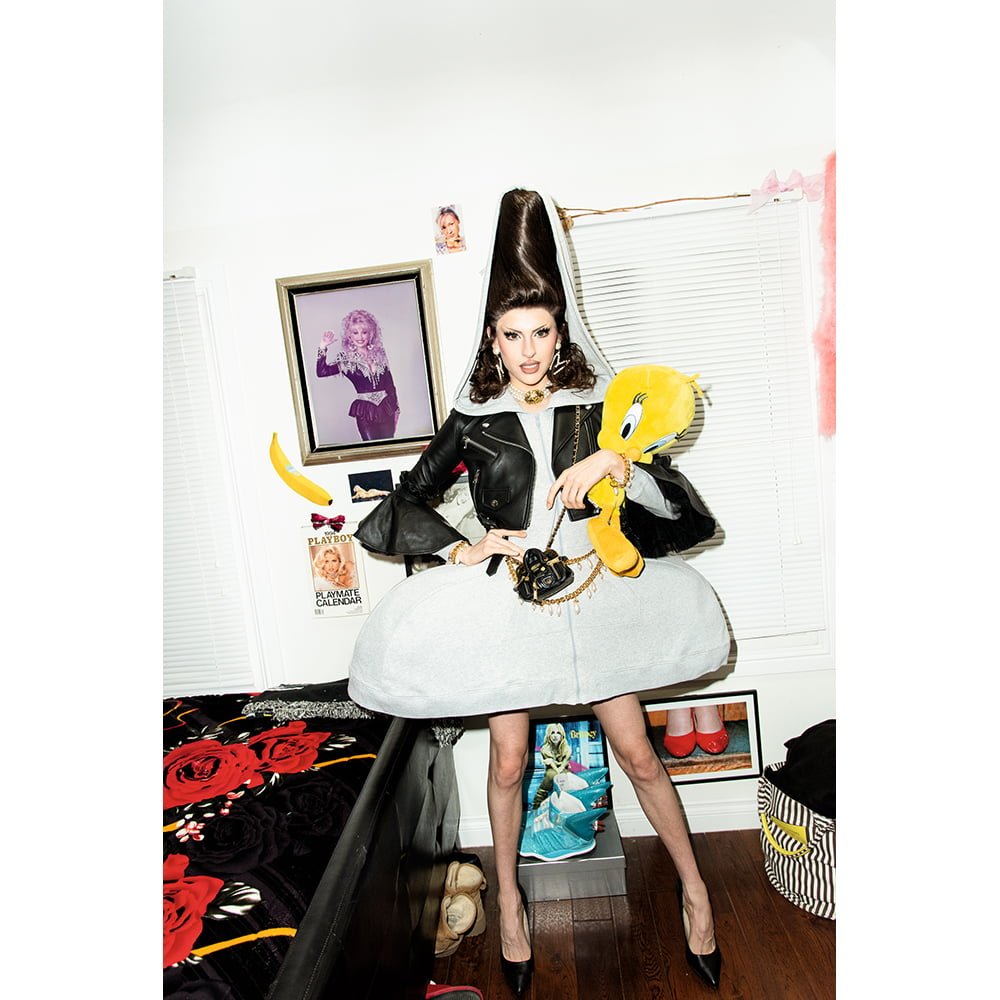 He grew up watching his relatives on the farm crafting and repurposing the things around them. "My grandmother would take the plastic bags that bread would come in and crochet them into a rug or a jump rope. I would constantly see things transform." It wired his brain differently. "I feel strongly that my imagination was fuelled by this idea that you can see something, but it doesn't necessarily mean that's what it is. It could become something else or have another life or be imagined another way, and that part is fundamental to the way my brain processes what my eyes see. I think in those terms."
As far back as he can remember, Scott used fashion as a form of self-expression. "From my earliest memories of picking my own clothes, I had an opinion about what I wanted to wear and how I wanted to wear it." By his early teens, the fledgling designer was seeking out vintage clothes and altering them to suit his own ideas. "I'd crop jackets, change elements, add parts and make things custom," he says. This made him a target for bullies, but, says Scott, when his mother sought support for her son from his school, she was told, "'Well, if he would just dress like everybody else, this wouldn't happen.' They insinuated that it was my fault for not fitting into their mould," says Scott. "That part was difficult, but it was just so fundamentally important for me to express myself through fashion that it overrode what anyone did or said. I never thought they would break me or that I would finally give in and do what they wanted. It wasn't about being obstinate either. This is how I feel happy, this is how I feel good, and it shouldn't be a controversy. It's just innate to me to express myself through clothes."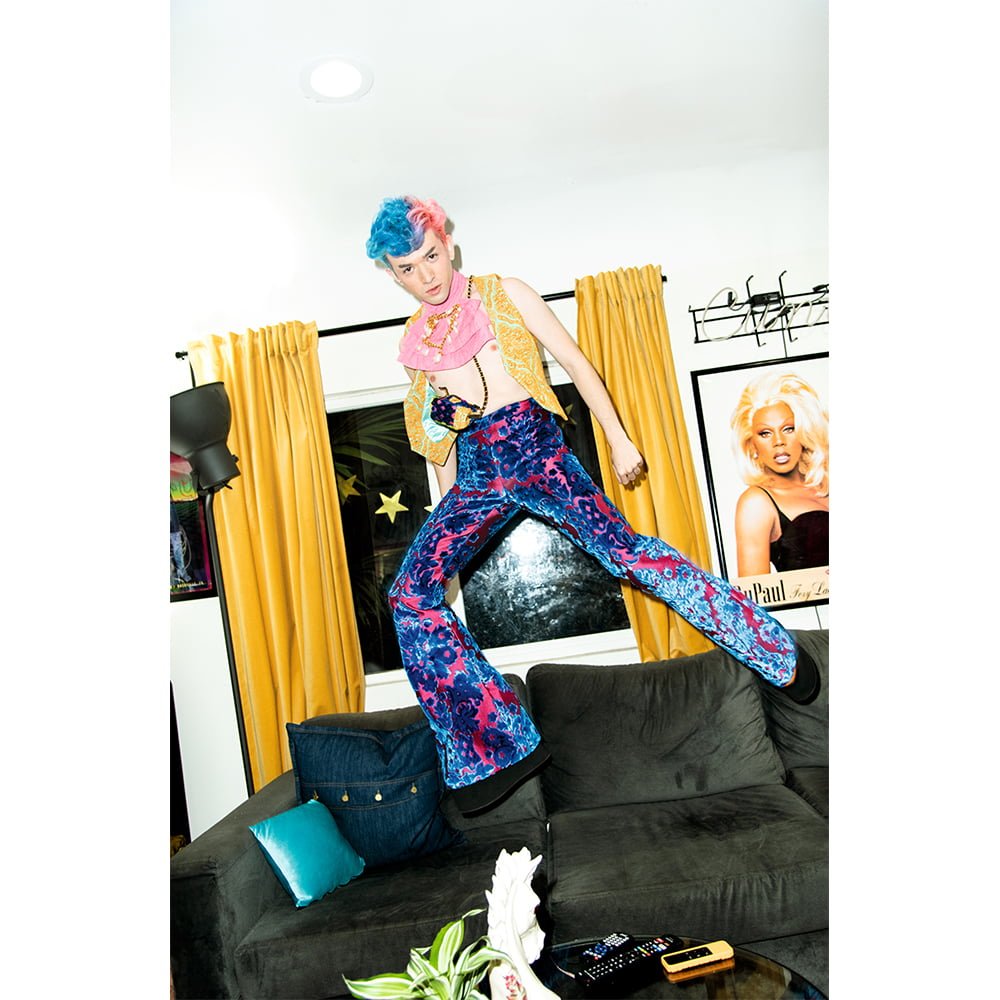 Scott's vintage-fashion obsession went hand in hand with an ability to dream big and the strategic smarts to turn those dreams into realities. His focus is impressive. In high school, he learnt French because it was his ambition to be a fashion designer in Paris. "I was methodical as a kid. I was way different to other people. I get glimpses of it in retrospect. I'd think, 'This is what I'm going to do and this is how I'm going to do it.' The other kids were just trying to plan where to go out on the weekend, but I was thinking, I'm going to get myself to Paris, and this is how I'm going to start my career and these people are important to show my work to." There were times, he admits, when even his parents didn't see his ambitions as clearly as he did. "My mom reminded me that it wasn't always easy. She didn't have my vision but she loved me and wanted to protect her child."
The farm boy from Missouri got himself to the Pratt Institute in New York and, from there, he took himself to Paris in 1996. He had no job, money or connections and spent more than one night sleeping on the Metro. "I look back and think, 'I have leapt without looking so many times, and if I hadn't done that, I wouldn't have gotten to where I am today.'"
By 1997, he had made influential friends on the fashion and club scenes and launched his own label. Scott quickly became one of the most-talked-about names in Paris and counted Isabella Blow and Karl Lagerfeld as fans. His mum and sister came to his third show in Paris (the critically acclaimed White collection, famously worn by Björk). "They thought this is kinda getting serious," he remembers. They've been to pretty much everything he's done since. "When you try to make sense of it, my whole life journey is so illogical and so far-fetched, it shouldn't add up. That's the power of taking a chance, in believing in it and not giving up and being determined and tenacious, coupled with having talent – all those things together," he says. "If I'd waited for someone to discover me, it may never have happened. I thought, 'I have to discover myself, I have to be my own biggest champion and my own saviour in that respect. I discovered me and no one else should have to carry that burden or do that favour for me."
Self-made, self-determined, fuelled by self-belief and a deep sense of joy… With a mindset like that, is it really any wonder that Scott's playful creations equate to wearable confidence?
Photography by Magnus Unnar. Taken from Issue 65 of 10 Magazine – FAMILY, FOREVER, LOVE – available to purchase here.