"I wanted to be part of the women's liberation movement of the past century."
Leaders of the luxury sphere, Assouline have put out another mighty magnum opus within their publishing house. Yves Saint Laurent: The Impossible Collection, celebrates the great visionary through the pieces that marked him out as a creative genius, written by his official biographer Laurence Benaim and edited by Martine Assouline. With 208 pages at 40cm wide and 47cm long, Yves Saint Laurent: The Impossible Collection joins the ranks of the publishing house's massive coffee table releases that deep dive into Yves' life and creations that entwined together and interchanged their influence on one another.
For Martine, the decision to choose Yves as the next subject for the Impossible series was a natural one: "Yves Saint Laurent made a significant mark in the 20th century. He was not only the first, but the best in closely understanding his time; he was bold enough to think that Haute Couture could be worn by young women. Because of this effort, he invented a new vocabulary of clothes and opened the doors of provocation and freedom."
Yves Saint Laurent carries a myriad of meaning across continents and generations. Some saw his work as perfecting the art of ambiguity; the power of clothes to transport. For others, it was the embodiment of elegance in motion. For Laurence, freedom, imagination and Mediterranean are the keywords that surmise Yves' legacy. While for Martine, its allure, modernity and passion. Yves Saint Laurent will remain a vibrant dazzle on the history books of true fashion, with Assouline endeavouring to do justice to this mighty reputation (with an even mightier book). After sinking our way through this luxurious timepiece, here are ten things we gleaned from its glossy pages:

Alex Wek, photographed by Christoph Sillem
1. Yves Saint Laurent's manifesto was dedicated to the celebration of women
Yves looked to redefine the "beautiful and becoming" vocabulary established by his former employer and spiritual father, Christian Dior, by building on the empire he had created in homage to women, and bringing it into a new era. Laurent stated his lifelong mission was "to serve women's bodies, their gestures, their attitude, their lives. I wanted to be part of the women's liberation movement of the past century."
2. He designed for his time
"My weapon is my perspective on my era," Yves declared at the opening of his Couture house in 1961 – aligning himself as more than a couturier but a social observer. "I designed for my time, and I tried to anticipate what tomorrow would be." 
3. He saw clothing as a weapon 
"Chanel offered women freedom, Yves Saint Laurent gave them power," his partner Pierre Berge claimed, on the impact Yves brought to womenswear. Yves changed women's lives by simplifying their wardrobe with designs borrowed from menswear, such as the peacoat, the trench coat and the safari jacket, as well as the tuxedo and the trouser suits presented in his debut Haute Couture collection in January 1962. As such, "his visionary creations shattered the stereotypical feminine coquettishness of bust darts, daring necklines and mini skirts," says Laurence Benaim.
4. Morocco shaped his exploration of colour
Fascinated by the city's "benevolent pink magic", to Yves, "the light of Marrakech is the light of happiness."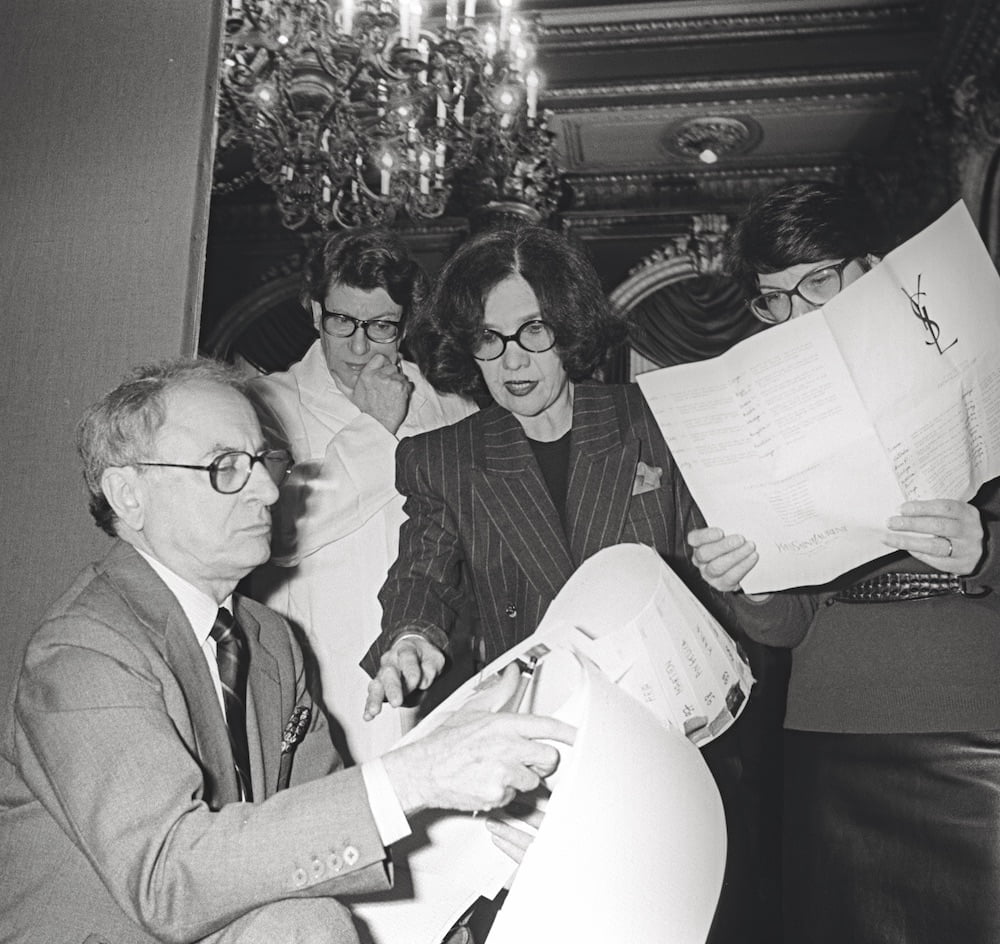 Pierre Bergé, Yves Saint Laurent and  Anne-Marie Munoz backstage, 1988
5. Accessories were key
Acting like lucky charms, talismans and trophies, accessories frosted his designs and added new levels of meaning to his designs. Yves' signature heart pendant designed in 1962, encrusted in faux diamonds and rubies, would be worn each season by his favourite model as a 'token of love.'  
6. He highlighted the movement of the feminine body
With his focus on motion and exceptional cut, Yves mastered the art of design, and embodied what Romain Gary stated in his book The Kites: "What characterizes grace? Motion."
7. According to the Maison's Artistic Director Anthony Vaccarello, the brand is the most extraordinary of all the fashion houses for its "dangerous elegance"
As YSL said: " I want to give Haute Couture a kind of wink, a sense of humour – to inject the sense of freedom one sees in the street into high fashion: to give couture the same provocative and arrogant look as punk but, of course, with luxury and dignity and style." This viewpoint was carried through all his collections since the commencement of his brand, with Yves telling his mother in 1957: "Christian Dior dressed the angels, so it's up to me to dress the devils." 

Image courtesy of Assouline, Jean Lagarrigue 
8. YSL saw clothes as transcending physical garments; they were catalysts for happiness
"When you feel good in a garment, anything can happen. Good clothing is a passport to happiness."
9. He introduced gender ambiguity into womenswear 
Taking inspiration from tailoring and menswear, Yves injected a new feeling into womenswear and how women chose to present themselves. "Of all the things I've done, I prefer the ones I've borrowed from the masculine wardrobe… this ambiguity intrigues me. Besides, it's how we live now." Proportion and pattern cut were defining principles for YSL's designing process, and menswear reflected this intense focus on these aspects. For Yves: "The simpler the garment, the more important the cut. I loathe superfluous details."
10. Le Smoking came to be the embodiment of this gender ambiguity, changing the way women wished to present themselves
Le Smoking was a manifestation of all the beauty of ambiguity and confidence his clothes instilled within the wearer. Commenting on this revolutionary look, Yves commented: "The Smoking is indispensable because it represents style and not fashion. Fashions come and go, but style is eternal." 
Top image by Fairchild Archive/Penske Media/Shutterstock, Yves Saint Laurent, Loulou de la Falaise, Pierre Berge and Marina Schiano Fabrice, Ready-to-Wear Paris Fashion Week, Le Palace, France, 10 Apr 1979
'Yves Saint Laurent: The Impossible Collection' is available to purchase now.