Since 2005, the biennial Max Mara Art Prize for Women has supported female artists based in the UK. Previous recipients include Laure Prouvost, Margaret Salmon, Emma Hart and most recently Helen Cammock. Following in their footsteps, Emma Talbot was announced as the winner of the eighth edition of the Prize at an event held at the Whitechapel Gallery in east London last night.
Open to women based in Britain who have never had a major solo exhibition, the Prize is the only visual arts laureate of its kind in the UK. "It's amazing! The prize supports women artists at a crucial point in their career, and for me personally, comes at an ideal time," Talbot said following her win. The prize itself takes the form of a bespoke six-month residency in Italy organised by Collezione Maramotti, which the artist will embark on later this year, before working on a body of work that will be exhibited in 2021 at both institutions. "After years of balancing my studio time with working to support my family, as a widowed single parent, I had reached a point where I needed to concentrate fully on my own work," she says.
Living and working from London, Talbot's work traverses socio-political themes including gender, age and personal emotive narratives working often with textiles through drawing, painting, sculpture and installations. Up against a shortlist that included Hanna Tuulikki, Katie Schwab, Tai Shani and Allison Katz, Talbot was selected by a jury of art-industry experts. Chaired by The Whitechapel Gallery's director Iwona Blazwick, the panel comprised of art critic Hettie Judah, collector Fatima Maleki, gallerist Florence Ingleby and artist Chantal Joffe. "Emma Talbot makes radiant drawings and polychromatic sculptures on an epic scale, and combines word and image to express the lyricism and the pain of subjectivity," explains Blazwick. "Emma Talbot crafted a very original project will hopefully leverage on the incredible potentials that Italy offers when it comes to deep-diving into art history, textile techniques and the diversity of territories: all elements crucial to her future endeavour," adds Luigi Maramotti.

Emma Talbot, 'When Screens Break' detail (2020), acrylic on silk, courtesy the artist.
It was Gustav Klimt's 1905 painting Three Ages of Woman that provided the starting point for Talbot's Prize-winning proposal. "I've been interested in the painting for a long time, because of its depiction of an elderly woman with long grey hair who stands, totally naked, head in hands in a state of shame. I wanted to take this inert, marginalised elderly character and make her the protagonist in a narrative where she has a lot of power and agency, to re-orientate attitudes to ageing women," says Talbot. "When I found out that the painting was originally acquired by the Galleria Nazionale D'Arte Moderne in Rome to celebrate 50 years of the unification of Italy, I realised it also demonstrates wider attitudes to past and future, through the lens of a nation – and that maps on to current political dynamics in really interesting ways," she explains of her proposal.
"It's important in my work that the personal is cast into wider contexts, and the painting offered ways to extend a discourse around both positions," she continues. "I decided to put the character into two concurrent narratives – one set in the past, where she redefines the power myths by taking on the trials of Hercules and one in the future where she's imagined as a lone future survivor in a volatile volcanic world." Talbot will begin her residency at The British School at Rome before travelling to Reggio Emilia to work with local craftspeople to learn Intarsia knitting techniques as well as also taking shorter trips across the country to Como, Florence, Prato and Milan to visit archives before finally spending time in Catania, Sicily. "The residency is an opportunity to do a lot of first-hand research – looking at Herculean imagery in Etruscan Pottery, archives of 20th Century Italian silk fabric designs, researching permaculture sites, visiting ancient sites and the volcanic terrain of Sicily," says Talbot. "All these will feed into the visual language of the work I make. I'll also learn to machine-knit with experts in Reggio Emilia – to extend the material language of my work. I'm hoping to learn Italian too."
As the winner of the eighth edition of the Max Mara Art Prize for Women, Emma Talbot's work will be exhibited at the Whitechapel Gallery, London and Collezione Maramotti, Reggio Emilia in 2021.
Top image: Emma Talbot, Portrait in the artist's studio, pictured with 'When Screens Break' (2020), photograph by Thierry Bal.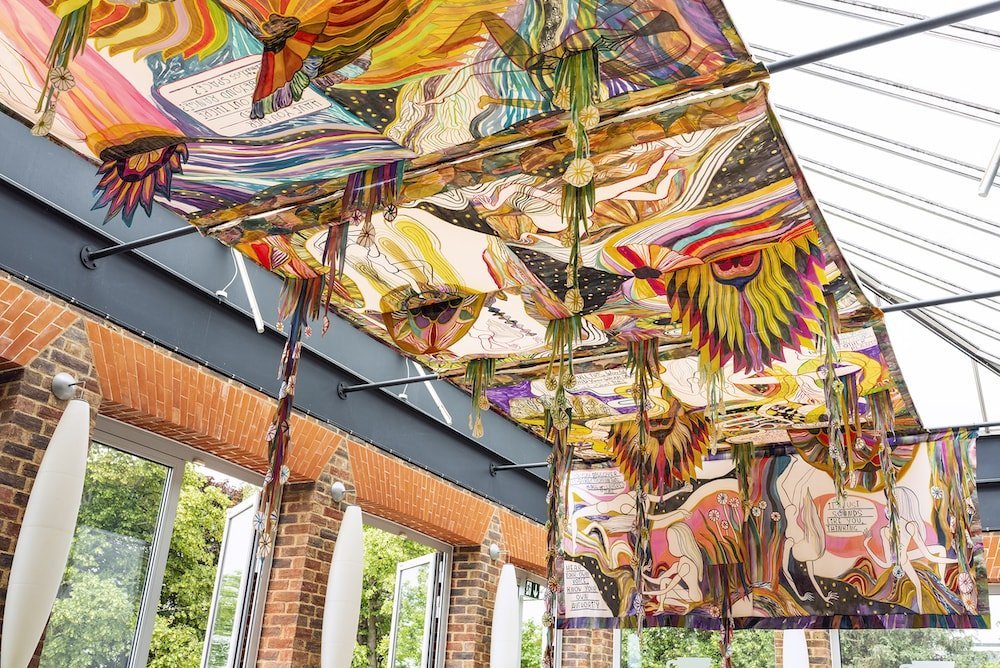 Emma Talbot, 'Your Own Authority' (2019), Art Night commission, acrylic on silk, dimensions variable, courtesy the artist.