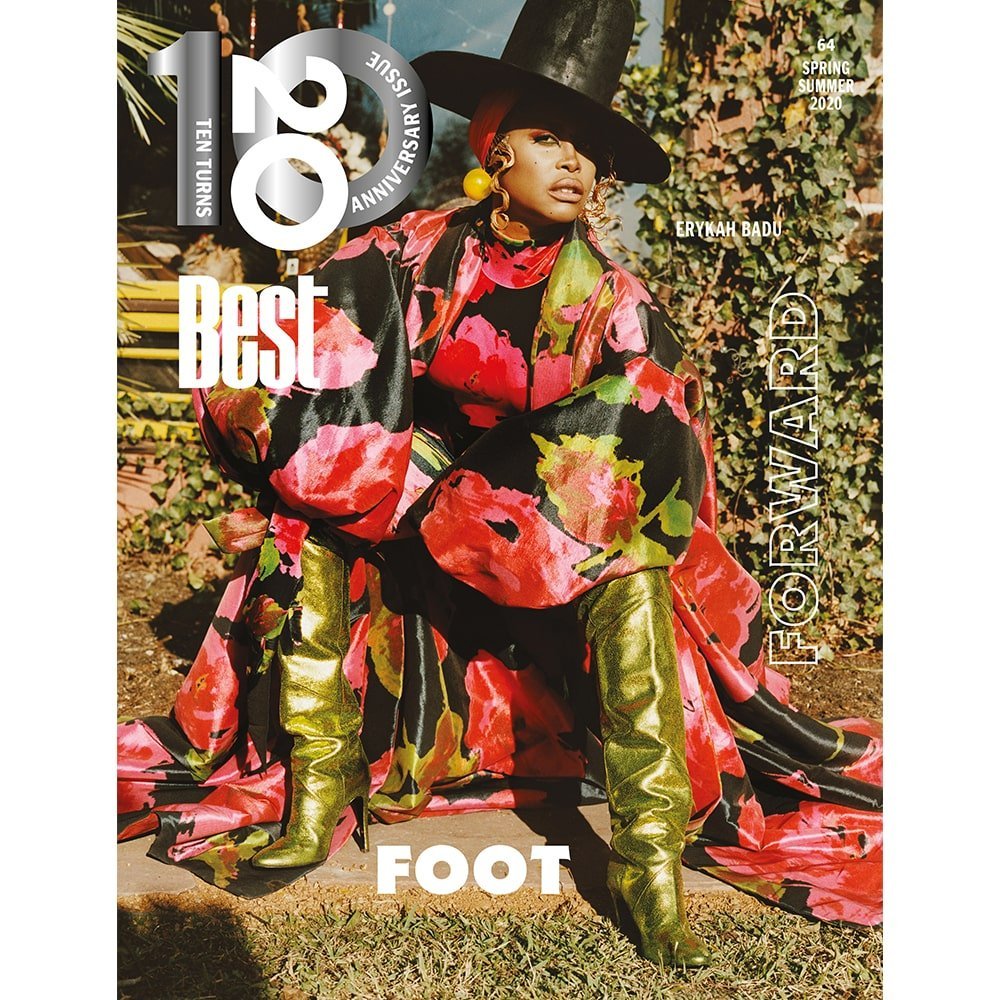 As you can see – we're not taking the term "celebratory issue" lightly. Starring the trailblazing creative polymath that is Erykah Badu, the second of four covers of 10 Magazine Issue 64 is a true feast for the eye, celebrating 20 years of 10 in all its glory. Styled by Anna Trevelyan and photographed by Shaniqwa Jarvis in her personal haven of Dallas, Texas, Badu wears a floral fantasy courtesy of Richard Quinn and proves (yet again) why she is the style icon known around the world. For this Issue, Owen Myers talked to the music legend about her past, present and future – one that includes a vaginally-scented fragrance crafted by burning her own panties…
A special kind of magic flows through Erykah Badu's veins. Her songs can feel like incantations as well as pointed commentary, and she is a singular style maverick. But the high priestess of jazzy hip-hop soul says that some of her most potent spells come from between her thighs. "There's an urban legend that my pussy changes men," she says in a matter-of-fact tone. "The men that I fall in love with, and fall in love with me, change jobs and lives."
Badu is speaking just before the new year from her lifelong home of Dallas, where the four-time Grammy winner was able to shake off the "uneasy" feelings brought on by December's Blood Moon to enjoy a cosy Christmas with her three kids. She likes a chill pace, and has released an album, on average, once every half-decade since the late 1990s. "If I have a baby, you might not see me for five years," she says.
Right now, her focus is Badu World Market, her soon-to-launch online store [opening February 20th]. Badu worked with a laundry list of collaborators on items that include bespoke clothing and accessories, as well as apothecary goods and traditional music merch. And there will be at least one item that pays olfactory tribute to what Badu calls her "superpower". Yes, she is making incense that smells like her vagina.
"I took lots of pairs of my panties, cut them up into little pieces and burned them," she says, again matter-of-factly. "Even the ash is part of it." She insists that the resulting product, simply named Badu's Pussy, will smell as advertised. Badu stopped wearing anything down there a while back, so didn't even mind purging her underwear drawer. But didn't the process feel quite personal? "Yeah, man!" she hoots. "The people deserve it!"
dress by MARC JACOBS, jewellery Erykah's own, boots by DRIES VAN NOTEN
Since the late 1990s, Badu has been sharing her outré, witchy inner world with the public. At a time when innovators such as Missy Elliott and TLC were realigning R&B and hip-hop with a fresh Y2K futurism, Badu's sound on her classic 1997 debut album Baduizm was rooted in elegant lounge jazz, spoken word and slow-cooked soul.
Her third-eye visions stretched far and wide. The record was imbued with references to the Five-Percent Nation, a group who elevate the black man as a deity, and Badu also extolled the beauty of black hair and chronicled "the other side" of drug-dealer life. "And if you don't want to be down with me / then you don't want to pick from my apple tree," she sang, in what is essentially a nice way of saying get on board or GTFO.
Even now, it's easy to lose a couple of hours in a Google Image wormhole of Badu's 1990s style. It was a time of dull, tasteful minimalism, of salmon Ralph Lauren. Badu was the flamboyant star of every red carpet she walked, whether pairing a plunging hot pink dress with a teddy-bear coat, or a Jamaican-flag-printed jumpsuit with a foot-high head wrap to match. "When you come out as an artist, you have to make sure that when you show up, they know it's you," she says. "Not just from your voice, but aesthetically as well." Was she conscious of standing out? "Of course!" Badu says. "All my life."
"I think I'm a nonconformist," she says. "If [there's] something that I'm told I'm supposed to do, I am very much inspired to go the other direction." She put it best on Cleva, a twinkling groove from her second album, Mama's Gun: "My dress ain't cost no more than seven dollars / but I made it fly."
dress by SAINT LAURENT BY ANTHONY VACCARELLO, hat and jewellery Erykah's own
These days, Badu is less restricted by budget. She has been in campaigns for Tom Ford and Givenchy, and made her runway styling debut for Pyer Moss's AW16 show at New York Fashion Week. In a 2012 interview, Riccardo Tisci called her "the exact definition of style". Even so, Badu's broader work as a visual auteur – she conceptualises, directs and painstakingly edits all her music videos – still feels overlooked. For 2010's stunning Window Seat, filmed guerrilla-style, she ran through Dallas and tore her clothes off while dodging passers-by. At the end of the video, Badu is shot dead, and she lies nude on the pavement as pedestrians gawp. "It was pretty much in the vein of performance art," she says of the video. "Like Yoko Ono and Josephine Baker. Usually, nudity is a part of it, because the nudity is what gets the attention of the viewer." Seen today, with horrific images of the past decade's racist gun violence burned into our collective retinas, the video's most lingering impression is of a woman who is punished for daring to bare her black skin. It is an indelible piece of work.
While majoring in theatre at Louisiana's Grambling State University, a historically black college, Badu was deeply struck by For Coloured Girls Who Have Considered Suicide / When the Rainbow Is Enuf, a classic work by the American playwright Ntozake Shange from 1976. As part of her studies, Badu appeared in a production of the play as one of seven women whose recollections of sexism and racism are paired with music and dance. She reinterpreted Shange's play in 2000 for the video to accompany her catchy, neo-soul single Bag Lady. Badu and her dancers wear a stunning kaleidoscope of coloured dresses, and the video also prominently features a handwritten sign that says "Too Black".
"There was a time in the history of this world where [dark skin on black women] was unacceptable," Badu says. "We're still trying to spin out of it now. But I was always too black for the white kids, too white for the black kids." How so? "The way I think is maybe a bit different," she says. "I don't think it has anything to do with colour at all. But how we were conditioned plays a bit part in what people expect of us. And I never do things that people would expect."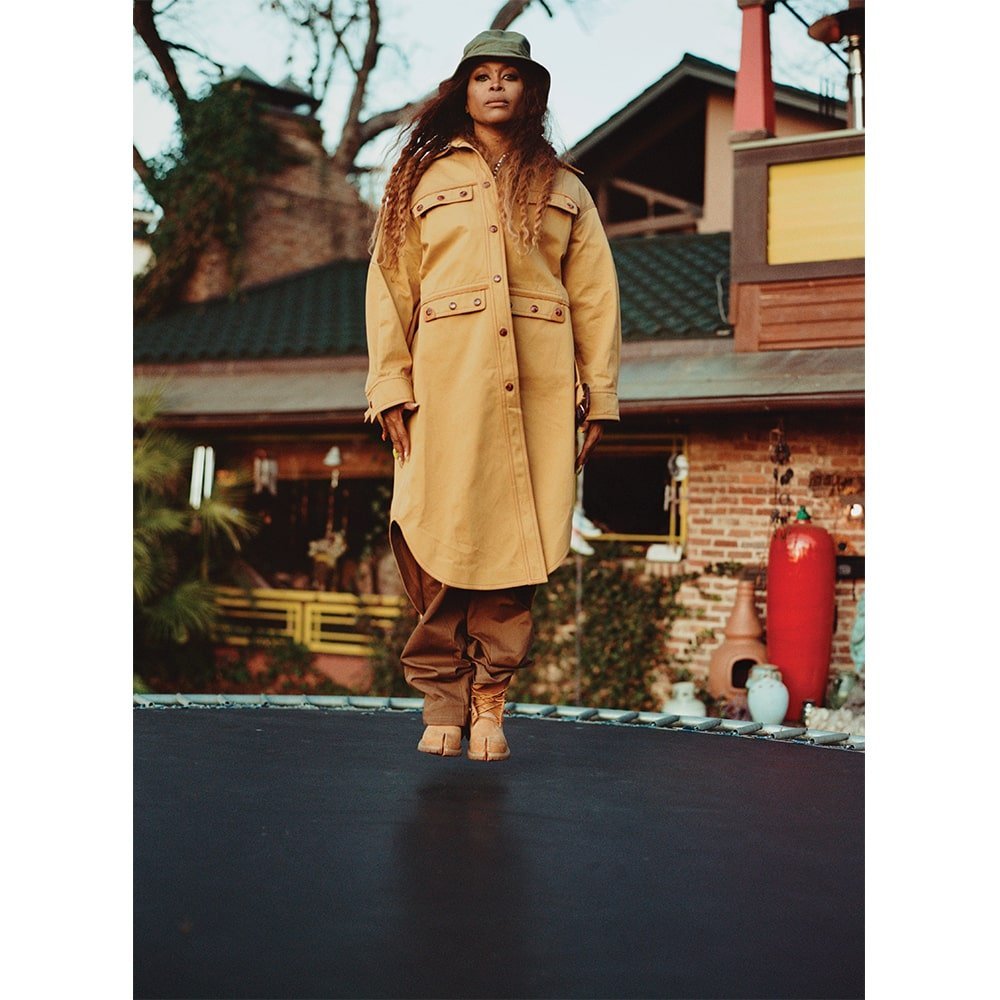 coat and jumpsuit by FENDI, hat and boots Eyrkah's own
Badu's contrarian attitude has led her to voice some disturbing views. In a 2018 interview with Vulture, she described herself as an "empath" with an ability to see the good in everybody. In itself, that's a valuable trait. But Badu pushed it to an extreme. She said that she refused to judge the serial rapist Bill Cosby ("The people who got hurt, I feel so bad for them… But sick people do evil things"). She also described Adolf Hitler as a "wonderful" painter. Her words confused many fans, and wounded others. "People formed the 'offendocracy,'" she says today, seemingly unconcerned. "People are entitled to their opinions, but I think that group lynchings are ridiculous."
Yet Badu has nothing but praise for the pro-women movements of the 2010s. "The intentions of those things are wonderful," she says of movements such as #MeToo. "It is an issue that has been ignored for many centuries. As long as we've known about the history of the Earth, we've seen a caveman dragging a woman by the hair. It's a necessary thing."
Since 2001, she has worked as a doula. Badu fell into the vocation by accident, after sitting with her friend Afya Ibomu (the wife of stic.man, of hip-hop duo Dead Prez) for an exhausting 52-hour labour. "I was thinking, as everything was going on, 'Wow, maybe I'm here because I'm part of the welcoming committee,'" Badu says. "After that, I started to study."
Now, she takes three clients a year, including, in 2018, the free-spirited model and Fenty Beauty poster girl Slick Woods. ("It was beautiful," Badu says. "She's so willing to grow and learn and be initiated into motherhood.") She hopes to open a birthing centre in Dallas one day, too. Is there ever a conflict between her music and the doula work? "It's kind of the same thing," Badu replies. "The creating of it, the respecting of it, the silence that I offer it. There's not a lot of talking. There's more just feeling and flowing, appearing and disappearing when you're needed. As a doula you kind of have to be, like Bruce Lee said, like water, and able to fit in any container."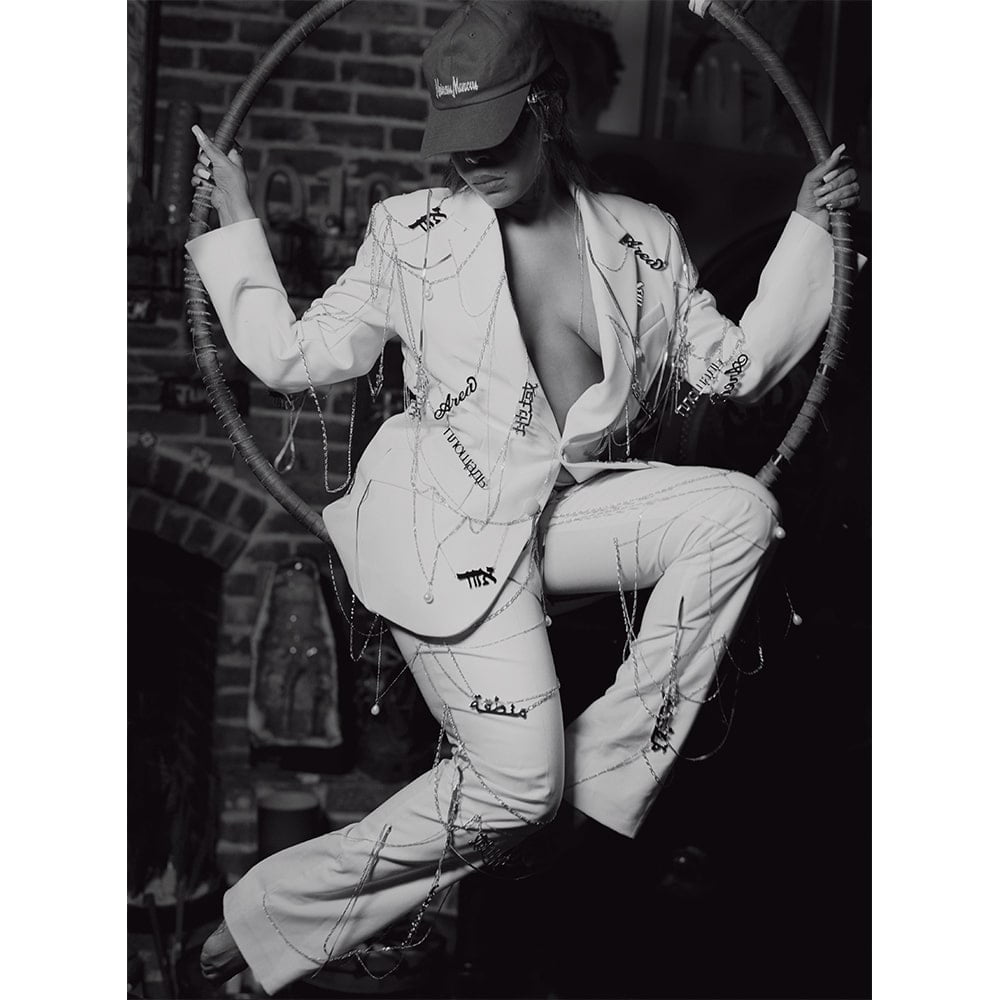 jacket and trousers by AREA, hat Eykah's own
Badu uses green stones such as emerald and jade in her doula work: she explains that their green colour gives them a vibration of 128 hz, the same frequency as the heart chakra. Holistic items are available on Badu World Market – along with that very intimate incense. The store sells glass water bottles that infuse the liquid with doses of amethyst, rose quartz or turquoise. Higher-end items include oversized crocheted coats from Badu's new clothing line Fuh, mouth grills inspired by the winged Egyptian goddess Ma'at, and a streetwear twist on the geta, a traditional wooden Japanese style of footwear. "I've worn traditional getas since I was in fifth grade," she says. "I think I've collected over 70 pairs over the years. Instead of using nails [for construction], we use traditional craftsmanship, where they are fitting the pieces together like a puzzle. That's where artistry meets spirituality meets tradition. Ancient-futuristic fashion."
Badu's last full-length project was 2015's covers-focused But You Cain't Use My Phone mix tape, and when we speak in December she claims to not be focusing on music right now. Naturally, she uploads a homemade video the very next week, in which she performs a longing, soulful new piano ballad titled Plug and Play in Japan. "It's a work in progress," she tells me by email later. "Wanted to get it out of me."
Back on the phone, Badu had told me that she was a live performer through and through. "I discovered myself onstage," she said. "I found my space." What's that space like – does she enter another zone? Her reply was quick. "No," she said. "I'll never forget myself, ever."
coat and bodysuit by RICHARD QUINN, hat Erykah's own, earrings by NINA RICCI, boots by JEREMY SCOTT
Taken from Issue 64 – BEST, FOOT, FORWARD – which is on newsstands from February 6th. 
WEAR YOUR CROWN:
Photographer Shaniqwa Jarvis 
Fashion Editor Anna Trevelyan
Art Director Erykah Badu
Text Owen Myers
Talent Erykah Badu 
Hair Yasmin Amira Davis
Make-up Melanesia Hunter
Photographer's assistants Jordan Zuppa & Jimmy Kim
Fashion assistants Kristtian Chevere & Derek Brown