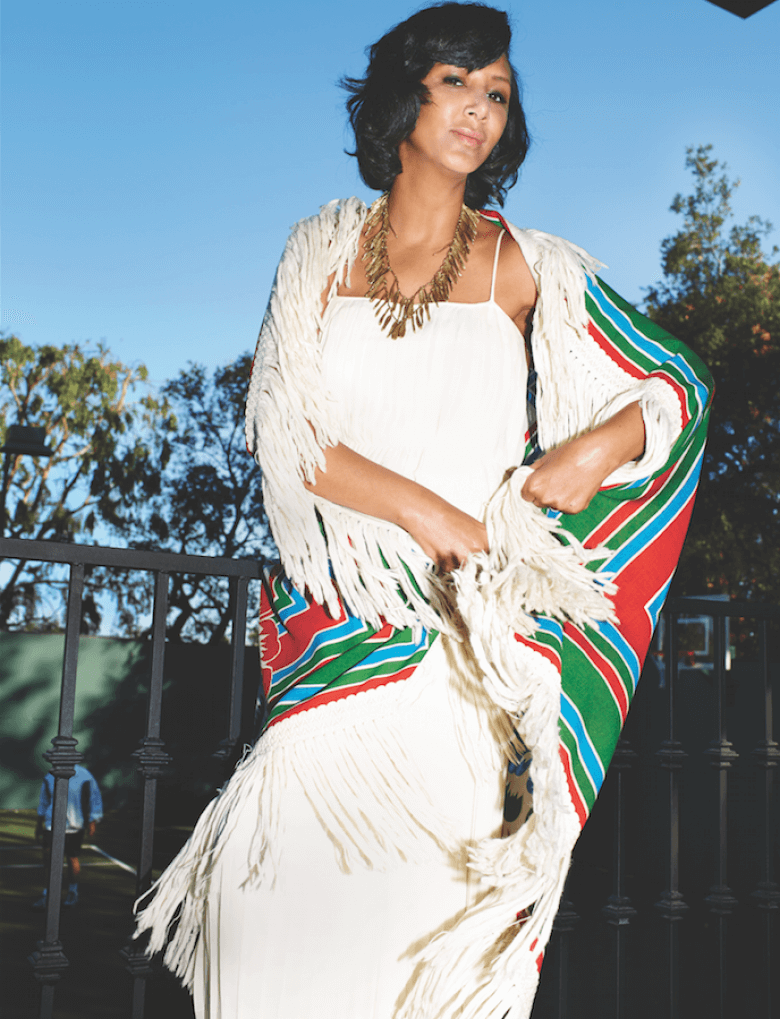 Gelila Assefa Puck has just arrived in London from LA and is feeling a little jet-lagged. She sits down at The Wolseley and orders hot water and some lemon. "I need to rehydrate," she explains, squeezing the lemon. She is on her annual family trip to London, en route for Capri to celebrate her wedding anniversary, and then for family beach time in Sardinia. She is all beautiful, dark brown eyes – in a jacket with a big necklace round her neck made in Africa of horn or shell.
She is carrying an expensive beige leather bag – one of her own designs from the luxury handbag collection she has put on hold for a while, along with her couture collection of eveningwear. "I'm at a crossroads," she tells me in her exotic accent that is mostly American but with a wonderful roll of the Rs from the 16 years she spent growing up in Addis Ababa.
It is odd sitting in a restaurant with the wife of one of America's most celebrated chefs – a bit like sitting opposite Egon Ronay. Mr Puck is Wolfgang Puck, who opened Spago and runs over 20 fine-dining restaurants in America, and now has his own line of foods that are sold at premium supermarkets. He had just come from a long meeting with a branding agency, approving food labels for his tins of soup. She looks after the creative side of his business – she recently commissioned her old friend Ozwald Boateng to make suits for Puck's waiting staff. "I knew Ozwald from his Paris days when he was at Givenchy," she says. "Our waiters look great – navy blue and so chic."
These days, Assefa Puck is queen of the LA social-philanthropy scene, heading up her own charity, the Dream for Future Africa Foundation, which supports 700 orphaned children and a vocational training centre just outside of Addis Ababa. She also supports her local community and is currently fundraising for a treatment centre for the Watts area of LA. Assefa Puck is not content to simply host a dinner, though. She managed to persuade Frank Gehry to design the building, too.
She and her husband and their two children, Oliver, 9, and Alexander, 7, live in a 1920s house in Beverly Hills. They are about to move to a 1930s house in Holmby Hills, which Assefa Puck has gutted and is currently restoring. They live something of a dream life, though she has her feet firmly on the ground.
When Assefa Puck first arrived in LA from her home in Ethiopia at the age of 16, the first thing that struck her was how casual everyone was. She had had a Catholic upbringing with a strict school uniform (which she liked to adjust to her own taste) and a businessman father who was always dressed immaculately in a suit. Her mother, an air stewardess for Ethiopian Airlines, was hand chosen for the job by King Haile Selassie himself (the flight attendants were considered important ambassadors for the country, so had to be beautiful as well as charming). Assefa Puck was used to a certain amount of formality.
"The first time I travelled to LA was in 1986, for a vacation," she said. She returned the following summer to live with her uncle and aunt and her two cousins. "I had culture shock, yes of course. But the country I come from – we are a very traditional Ethiopian family – we are very proud of our heritage, so no matter where we go we have a sense of a different kind of identity and are extremely proud of who we are." But LA was not how she imagined it. "The very first time I went to America I was in shock." She expected high-rise buildings. "It was like, flat. I thought, 'Whoa! This is not America.'" She grew up in a capital city and would have felt more at home in San Francisco or New York – somewhere with a centre. "LA is like, you are in a car and you go there and you don't see anybody. You know? That was a culture shock for me – you don't have a connection. I still don't like that about LA."
But what struck her most was the informality of the way people dressed. "People walked around in flip-flops and shorts. I grew up in Africa. My father wore suits, a certain kind of way of being, and there they were very casual – which is Californian style." It is a style she has come to embrace. "In California, there are a lot of creative spirits. You can be whatever. It's a sense of freedom in that you can be underdressed and you are perfect. That part I like." She likes nothing better than to throw a vintage kimono over an Azzedine Alaia all-in-one "tracksuit" or pair of leggings and she's ready to go.
When she came to LA, she lived with her uncle and aunt and cousins, and her love of embroidery and fabric as a child (she remembers making clothes for her dolls from scraps of fabric from her mother's tailor) led her to go to fashion college. After college, she moved to Paris to find work, and then back to LA in the late 1990s, where she got a job as a designer for a fashion brand. When the company's owner and buyer came to LA, she took them to Spago on Sunset Strip. Wolfgang Puck was there and came out to sign a cookbook for them. "That was the very first time I met him," she recalls.
Not long after, she quit her job and set up her own atelier making couture dresses from her living room. Her mentor, she says, was the grand, LA-based couturier James Galanos. "He was my idol. We became really good friends and in my school days I used to spend a lot of time in his studio. I had amazing exposure [to] high-end couture."
At that time, she took a part-time job on the front door of Spago. It was a great place to meet people, and she worked there for about nine months. "[Wolfgang] obviously had a crush on me, which I didn't know about," she laughs. "That was almost 17 years ago." They've been living together for 12 years, and got married in Capri after the birth of their first child, Oliver.
Assefa Puck has put her career as a designer on hold for the moment, preferring to spend her time between her children, her husband and her charitable work. But she still keeps her atelier at the back of her house. She is a big collector of vintage clothes and she uses the atelier to restore her purchases, occasionally altering them to make them more up to date. "I collect from the 1920s, 1950s, 1960s," she says. "I rarely buy anything new."
Wherever she goes, she shops. The previous day in London, she saw her friend Rachel Zoe over dinner and she showed Assefa Puck a coat, which she ended up buying. "Look, there it is," she says, flicking through the photos on one of her three phones to show me a picture of a black and white striped mink coat by Galanos. "It's crazy. It's vintage; it's to die for," she trills, obviously beyond excited about her new purchase, and wishing she was wearing it now. "I was complaining about how freezing it was here [I explain that this is warm for us – it's July!], and she says, 'I know a coat you can have.' So I'm in London buying vintage," she laughs. "I'm shopping all the time. It's divine. It's 1950s – isn't that gorgeous? Look at the matching of the stripes everywhere. You can't imagine the workmanship in that. So delicious." She bought it without actually seeing it in the flesh. "With coats, I have three rules – the first thing I do is change the lining if it's light colours; I make sure there are no holes; I always update them. I have a lot of fun doing that. It's a very expensive hobby."
Assefa Puck's vintage-clothing archive is clearly extensive, a collection she has being building for years. Her favourite decade is the 1920s, but if it catches her eye she'll buy it. "All the vintage stores know I collect, so there's The Way We Wore on La Brea; I buy a lot of stuff from Resurrection on Melrose; I used to buy a lot of stuff from Decades. Yves Saint Laurent peasant period, I love." She could go on. She also buys from Torso Vintages in San Francisco. She particularly loves their kimonos – she says she is obsessed with them.
She flicks to another picture on the iPhone and stops at a heavily embroidered, seriously antique-looking kimono. "This is my baby," she says, pausing for dramatic effect. "That's coming home!" She tells me she has a matching headpiece from a ceremonial opera costume she bought five years ago and is already mentally planning an occasion to wear them together.
While she clearly loves her clothes, she insists the glamour of her life is all about a means to an end. "Sponsors will come to me and say, 'Do an event for us', and they give us funding for the school. During the Oscars I do a party, but the purpose is always meaningful. I know clearly I'm not a socialite, where I get dressed up and go to the next party. There's nothing wrong with it, it's just not my life."
But it's no bad life and she clearly enjoys the balance she has achieved. And right now, she says, LA is where it's at. "It's a great time. I really think LA is having its moment now. If you were to be living in LA now is the best time to be there. Not 20 years ago, but now it's great." And with that, she calls her driver to collect her and off she goes to another charity dinner before hanging up the furs and the phones for a break from it all with her boys in the warmth of the Mediterranean sun.
Photographer: Maria Ziegelboeck
By Tamsin Blanchard