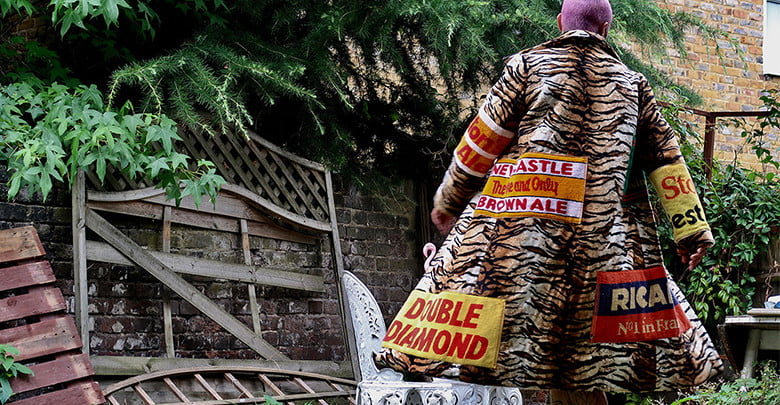 This is England, where we love nothing more than a cold draft pint being pulled into a branded glass in our local boozer. As we get ready to witness the bartender perfecting our head *lol* come today April 12th (without the need for food this time), we are taking you on a visual pub crawl around all the times our beloved fashion industry took themselves to the boozer. Take a sip of this.
Adam Jones
This list simply could not happen without featuring Adam Jones – fashion's own pub landlord. The Welshman provides us with the perfect garments to be served with a side of beer: from sweater vests, bags and scarves made out of bar towels, originally taken from a local pub back home in Wales, to his tiger print overcoat seen on Tinie Tempah and adorned with beer brand logos.
We asked him why the public house is such an inspiration and Jones told us, "it's a place where you can switch off, I often used to go to the pub alone just to sit and think, that's when the best ideas come to you. Your mind is free, thinking about nothing than the pint in your hand and when you're gonna have your next ciggy". Stopping for a pint has now become work, "it's research. The paraphernalia on the walls, the colours, the branding, the local characters and the way they dress. The lads that come in after a footy match, the old lady in the corner in her leopard coat, the builder in his high vis and jeans covered in paint. It's that mix of styles or lack thereof, people are comfortable in a pub, they don't really dress up, or at least they don't in the pubs I choose to frequent – that's when people are at their most interesting aesthetically".
Don't worry the pub won't be lost in future collections, it will develop alongside other sources of inspirations. And in terms of 12th April, Adam Jones' order will be "the most boring basic lager I can get my hands on, Amstel, Stella, Carlsberg by the bucket!"
P.S. "I would like to thank the traditional boozer, especially those that have remained mostly unchanged. Thank you for not changing, thank you for the materials you have provided, both research material and physical material, most notably bar towels". Adam Jones x
10 Men  Issue 40
Cast your mind back to 2014, when 10 scribe, Richard Gray and super stylist Mr Julian Ganio spent the day drinking beer in their favourite Soho establishment, The Kings Arms on Poland Street. The drinking buddies commandeered their favourite boozer (also known as the 'Bear Bar' because of all the bearded gentlemen who frequented it). The pair posed in the season's finest menswear looks for the all-seeing eye of photographer Maria Ziegelböck. The lager and the lols flowed.
10 Magazine Issue 50
In 2014 – if you wasn't already aware, we combined two of our favourite activities, karaoke (our ballsy rendition of Hey Big Spender is legend) and fashion, for a shoot at the classic East End boozer, The George Tavern. We took that season's Prada collection out with us and photographer Cedric Buchet and had ourselves an all day sing-along. Ice and a slice. Always.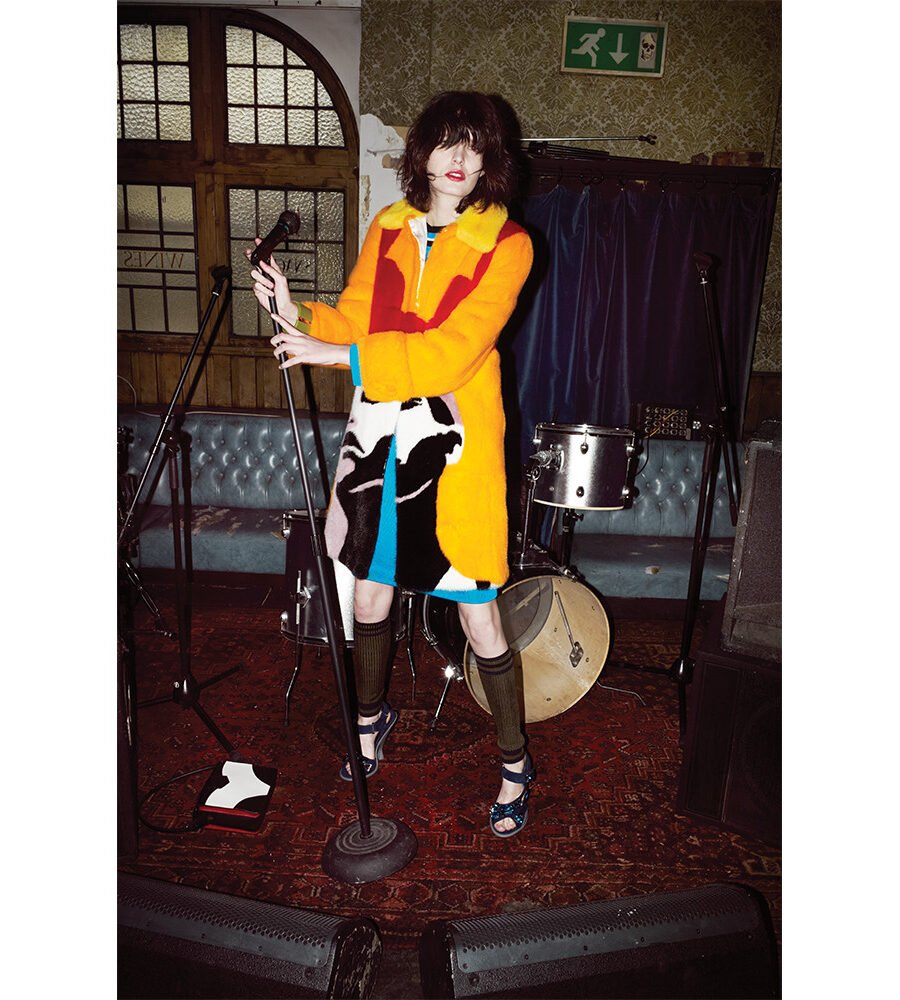 Sam Nowell Studios
You would never guess after all the hype Sam Nowell received last year, that he is still yet to release his first collection would you? Well yes, it's still pending and all sales have been halted to live up to the expectations he made for himself – not that it was ever about sales he told me last year. Worthy to be in the running for the sustainability King title, he recycles anything and everything he can get his hands on, "I'm at car boot sales, warehouse job lot sales, eBay, Depop, Facebook Marketplace. Anywhere". But for us this time obviously it's all about his killer trousers made out of beer mats turned into a trendy, wearable piece of clothing ready to keep you apart from the crowd. In response as to why beer mats Nowell revealed, "it's always been and probably always will be able to what interests me and what I find interesting. I don't want to buy into trends or make stuff for other people. I'm really grateful that people like what I make though". And we can't wait to see what is next.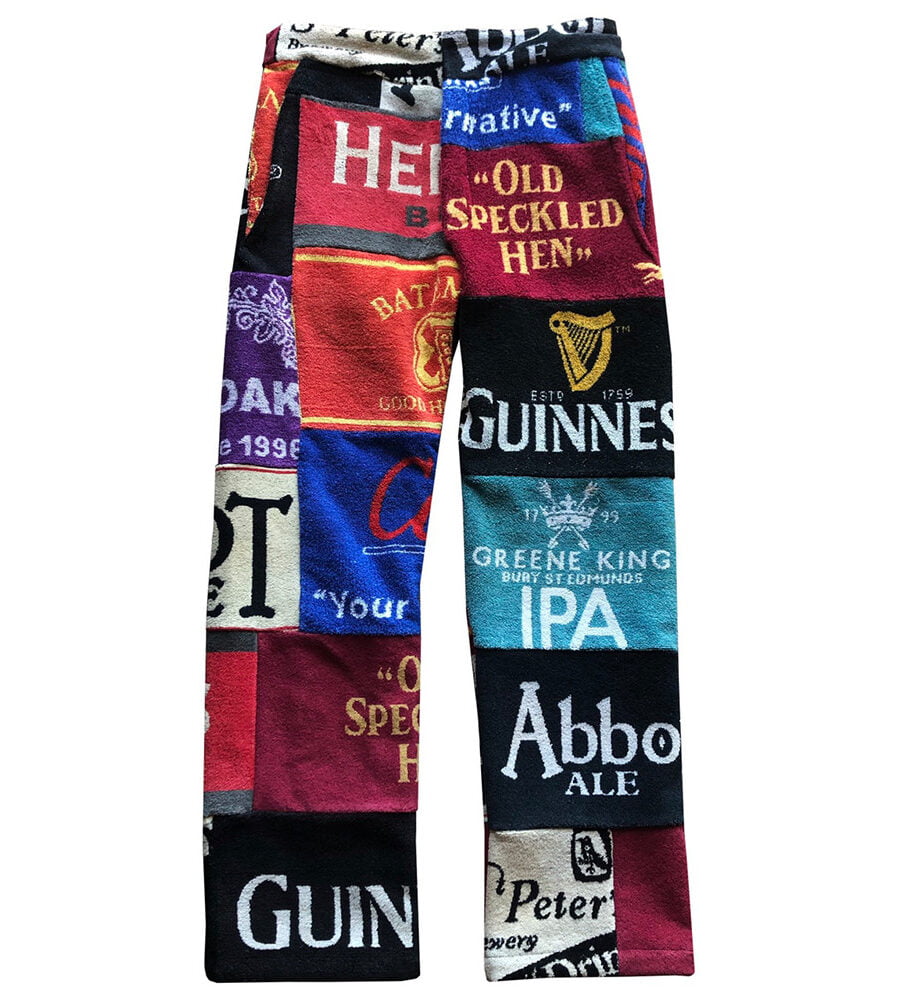 Martine Rose
Martine Rose is such a fan of the boozer she's twice used it for inspiration. First seen in 2013 Rose's models were dripping in beer mats in every silhouette you can imagine. Rose brought the beer mats back for Autumn/Winter 18 but this time the likes of Heineken, Murphy's and Carlsberg were replaced by Martine Rose's own tinny specific branding. The vibrant print was again found across a range of items, bomber jackets, hoodies and trousers, you name it, Martine Rose had it. Cheers!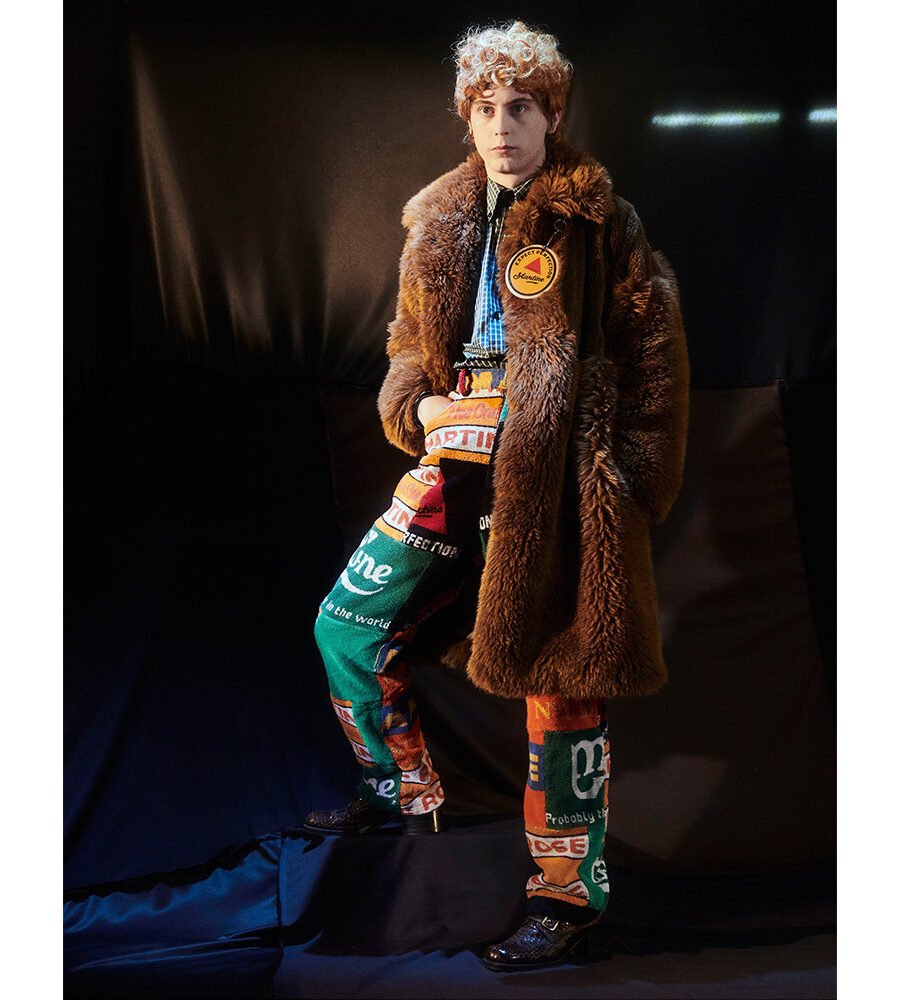 Richard Malone AW18
Back in 2018, Richard Malone imagined his cast of characters gathered around a pub table. Those sat around the table took you on a journey through the market stalls of the working class towns of Malone's youth. Inside the designers mind of pub-goers they wore hand-woven aprons and trousers in recycled viscose and repeated checked fabrics in every shape and size reminiscent of factory floor fabric scraps. We personally would love to see people toppling over trying to reach the toilet in Richard Malone's AW18 collection.
MM6 AW18
It seems as though Autumn/Winter 2018 was the season of the public house (pub). But this time the clothes were not under the influence. Instead Mayfair's The Running Horse was turned from a traditional London pub into a simulacrum of Andy Warhol's Silver Factory. The MM6 crew lined the place entirely in reflective foil, while bar men still continued to pour pints from behind the silver bar. The clothes also received the high tech memo, everything from parkas to tabis was covered in reflective goodness. In terms of the boozer, we are totally here for the new shine. Landladies and landlords take notes, I'm sure the Instagram girls would come flocking.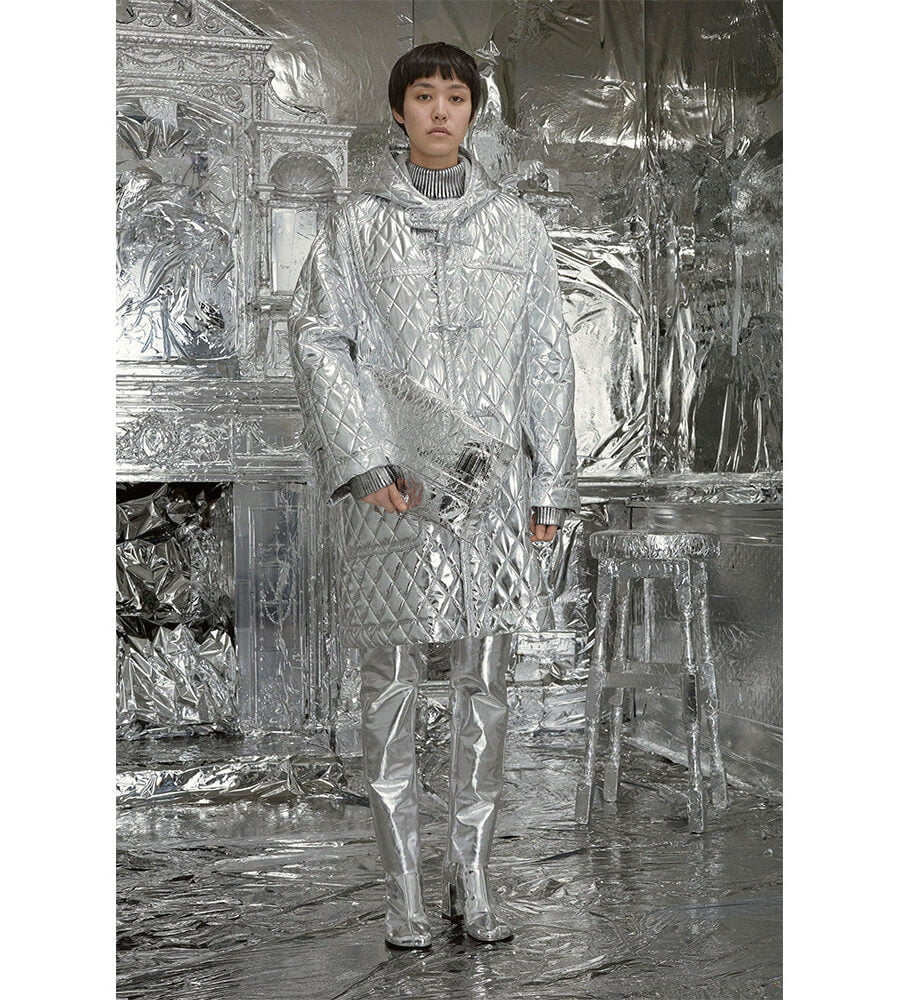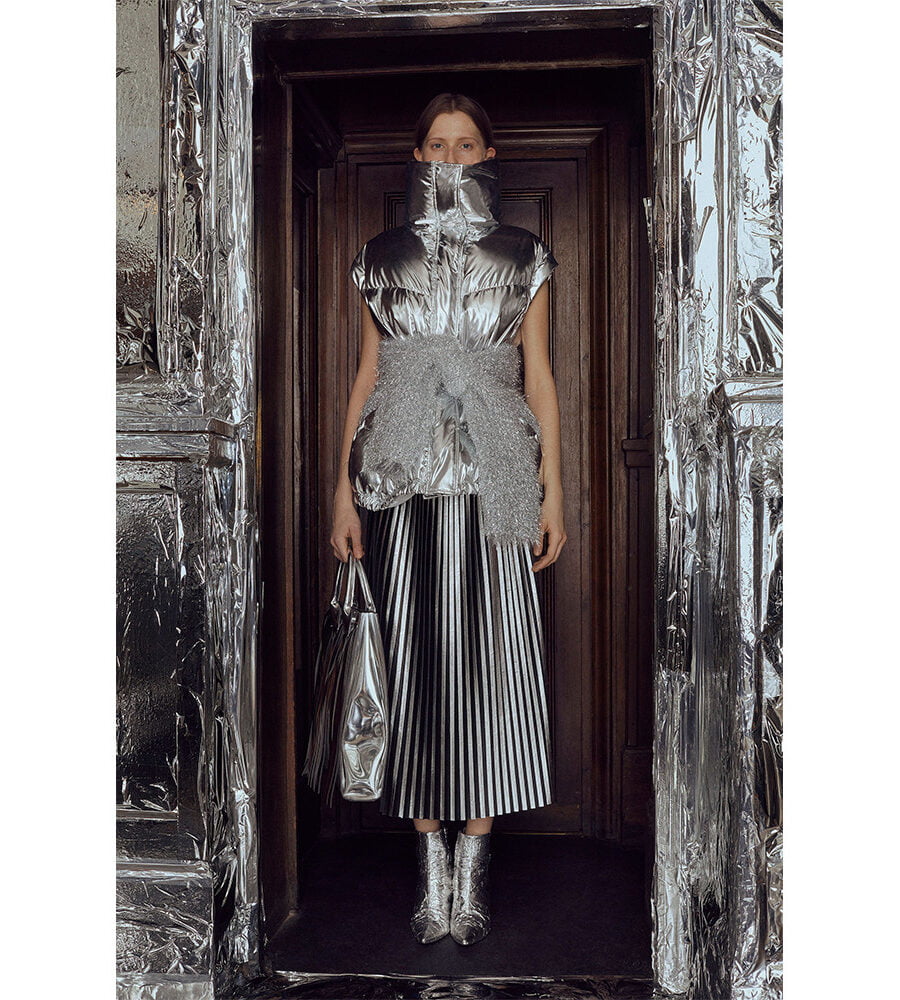 Bruta AW17
Their stint in the fashion realm was short but memorable. Back in 2017 for Autumn/Winter, Bruta took their campaign to the pub. But not any ordinary pub, the brand best known for their embroidered shirts followed a young man's unusual afternoon met by wandering nudists, harp-playing OAPs and schoolgirls siamised together by their braided red hair. Mad.
Broski
Quickkkk calling all King Krule fans for a pint. Since 2016 Archy Marshall aka King Krule and Elliott Hutchinson have been the brains behind streetwear brand Broski. This one was cooked over beer sipping at their local, The Gowlett Arms in Peckham and ended up as casualwear essentials inspired by their pub lifestyle – from the popular beer mat branding to matchboxes and pool chalk found in your sports pubs. We can definitely see these garms on the boys down the boozer.
John Alexander Skelton AW19
John Alexander Skelton joined MM6 in hosting his collection in a London pub but this time leaving it to beam historical context, so much so that the pub is a listed building. The CSM graduate paid homage to the area of the Ye Olde Cheshire Cheese Pub in Fleet Street, a haunt of Charles Dickens among other writers. The pub was dimmed to candlelight and transformed into a sort of immersive theatre for Skelton's AW19 presentation. Wouldn't you of loved to have been slapped in the face by a hunky model?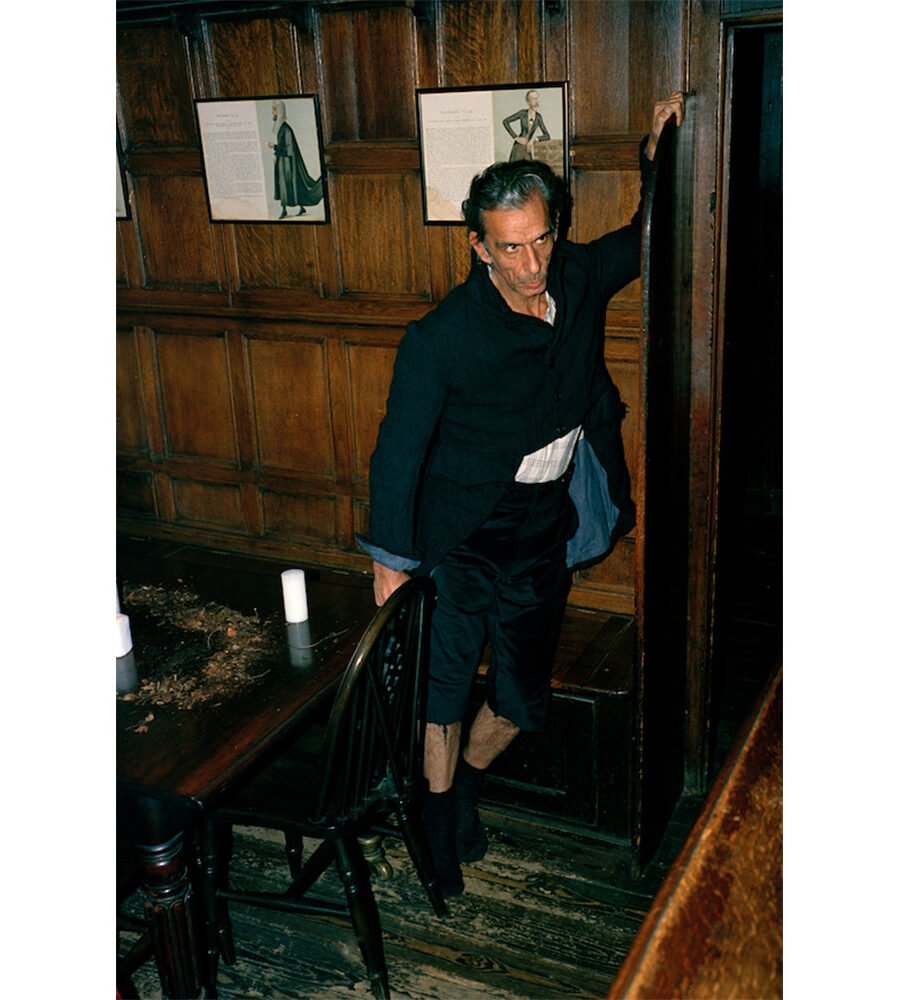 Anyway, now anyone for a pint?